8 Ways to treasure the diamond pattern at home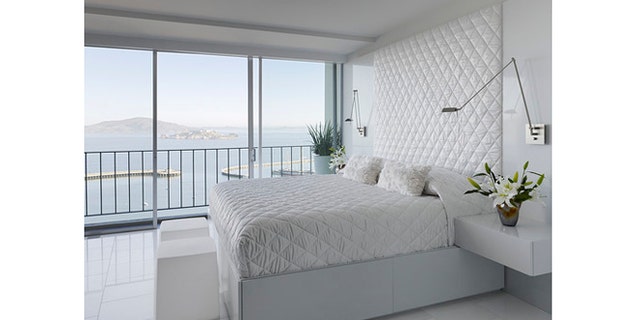 NEWYou can now listen to Fox News articles!
The diamond pattern is a standout and classic geometric design. Used for centuries as a motif on things like clothing, quilts and even knitted garments, this pattern is still just as popular now as it was hundreds of years ago. Whether you have a contemporary, modern, eclectic or traditional interior, this timeless pattern can find a home on your bathroom walls, carpets and furniture -- even on your dinner table.
Here are some examples of how the simple diamond pattern can translate into unexpected finishes around the homes.
1. Decorate your furniture. Classic pieces of furniture like this demilune cabinet work extremely well with many different decor styles. This beauty has a diamond pattern carved into its facade, so it harmonizes with the black and white diamond-shaped floor tile in the hall.
2. Furnish your sitting room. Comfort is paramount when choosing seating for a room. What we upholster our furnishings in can make or break that comfort.
These wingback chairs look welcoming and luxurious. Plain white fabric can sometimes seem a little dull, but on these the diamond pattern and chrome studding invite plenty of personality into the room.
3. Splash your kitchen. Stainless steel backsplashes have been popular for a while now -- they're a great way to jazz up a standard backsplash without going overboard.
If you have a lot of stainless steel in your kitchen, using something like the diamond pattern on this backsplash will add a softer texture and help create a focal point.
4. Set your table. If you have quality tableware, use it! Even if it is an heirloom, life is too short to wait for a special occasion.
The diamond pattern on this cut-glass decanter and these glasses brings a stylish and tasteful element to this serene table setting.
5. Mirror your walls. A mirror wall can help make a bathroom look larger than it really is -- this room certainly ticks that box. The diamond pattern with an antique finish on the mirror steps it up another notch.
6. Make your bed. This plush custom-made headboard and the bed cover take the simplicity of the diamond pattern and turn it into a truly spectacular statement.
7. Tile your walls. Bathrooms are often the smallest room in the home, so choosing a tile that creates visual height is essential.
These diamond-pattern ceramic tiles draw the eye up and add character to this bathroom.
8. Carpet your bedroom. A pattern in the carpeting adds texture and interest to a room, especially if you like a toned-down color palette.
In this sophisticated bedroom, the diamond pattern complements, rather than overpowers, the furnishings.
Related:
Houzz is the leading online platform for home remodeling and design, providing people with everything they need to improve their homes from start to finish -- online or from a mobile device. From decorating a room to building a custom home, Houzz connects millions of homeowners, home design enthusiasts and home improvement professionals around the world. Gabrielle Di Stefano is a contributor to Houzz.