8 inexpensive ways to perk up your porch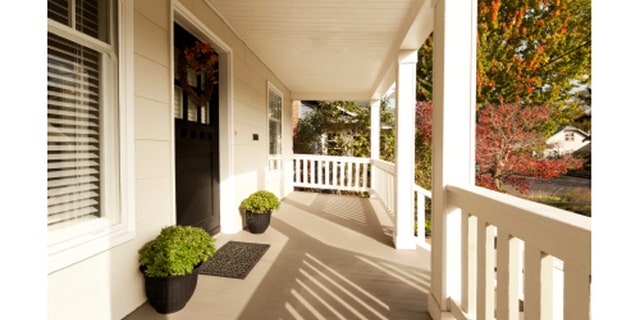 First impressions are everything when you're trying to sell your home. Even for homes that aren't on the market, owners know that neighbors often make snap judgments based on a glimpse at a front porch or yard. Litter and overgrown landscaping are doing nothing to increase your curb appeal.
The great news is that it doesn't cost a bundle to make some big changes in your home's exterior appearance. Each of these eight fixes costs less than $50. Make one improvement or a handful, and before you know it, your porch will be perkier than it's been in years.
Get shipshape
Yes, you have to live in your house, but that doesn't mean your yard and entry way should look like an obstacle course of hoses, bikes, sports equipment and tools. Clear the clutter and, while you're at it, clean up any trash in front of your house. Regularly cut your grass and keep hedges trimmed.
Brush up
You can buy a gallon of quality exterior paint for around $25. That should be enough to add new color to -- or simple freshen up -- your front door, shutters and trim. Don't be afraid of bold colors; just make sure they complement the other shades on your house and in your landscape.
Postal perfection
Weather and daily use can wreak havoc on a mailbox. If your mailbox has seen better days, it may be time to consider an upgrade. If you're buying a new mailbox, look for the Postmaster General's seal of approval; every new mailbox design should be reviewed and approved before it goes to market. If you decide to build your own mailbox, be sure to run your plans by your local postmaster. Overall, the mailbox you build will need to meet the same size, strength and quality standards as manufactured boxes.
Address the address
Old, faded or missing house numbers detract from your home's beauty. Many styles and options are available, from individual numbers in wood or metal to custom-ordered plaques and markers. Choose house numbers that are distinctive and suited to your home's architectural style.
Retread lightly
Doormats fulfill an important role: keeping mud and leaves outside and off your floors. Additionally, they can provide personal flair to your home's entrance, giving visitors an idea about the people who live inside. Love to sail? Invest in a nautical-themed mat. Does a cat rule your home? Select a mat that says so. For a more formal look, consider a monogrammed or architecturally inspired design. Doormats are made for either interior or exterior use and are constructed to handle different levels of debris. Be aware that weather and repeated use will take their toll on even the sturdiest exterior mats. Homeowners should plan to replace doormats annually or bi-annually.
Outdoor decor
If your front porch space allows it, add a comfortable place to sit. Start with a cozy outdoor rug, which visually designates a seating area. Next, add furniture. If your outdoor furniture isn't clean and well-kept, use paint to freshen it up. Colorful cushions and pillows in outdoor fabrics will add punch to the space; select cushions with removable covers so you can wash them or swap them out as seasons change. Select all-weather art to add the finishing touches to your outdoor space.
Lighten up
Worn, non-functioning or outdated lighting can put your front porch in, well, a really bad light. New exterior fixtures can add curb appeal to your house -- just be sure to consider both the style of the light fixtures and the function of them when you're making your selections. Also, be on the lookout for fixtures that have the same mounting system as your current ones: This will save you time when it comes to completing this DIY project.
Dig in
Plant some flowers along your front walkway or add planters by your front door. Window boxes are another great way to add color and interest to your home's exterior. Just be sure you tend to your flowers after you plant them. Wilted or dying pansies will not do much to enhance your home's appeal.
Related:
Mary Boone is a freelance writer for Zillow Blog. Read more from her here.