8 Epic Ikea Fails That Are So Bad You Can't Look Away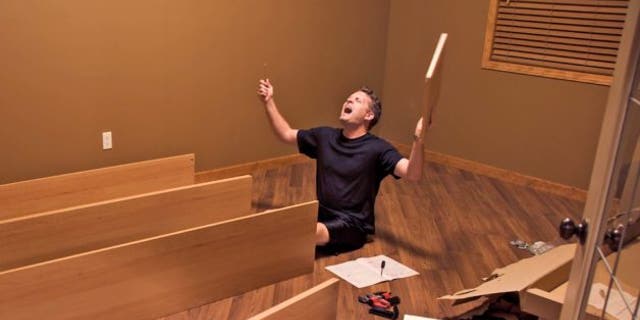 Anyone who's ever shopped at Ikea knows the joy of finding a cute bookcase—or hey, a whole living room set! And your new furniture usually fits into even the most modest budgets. What's not to love?
Well, once you cart your new furnishings home and begin the elaborate unboxing process, your enthusiasm may quickly take a dark turn. For one, this Swedish furniture retailer's wares come in parts. Many, many parts. And even if you do manage to cobble them together, there's no guarantee the finished product will look like what you saw in the store, or not collapse once you place a vase on top.
Still, if you've ever lost your cool over a Malm dresser or Lack side table, it's comforting to know you're not alone, right? Just check out some of these memorable Ikea fails.
So close, yet so far
Despite having the very same name and product number, these clearly are not the same chairs. Unless there's a huge height disparity between individuals seated in these two chairs, it's going to be a pretty awkward dinner date.
Instagram
———
Leaning tower of LPs…
Who says vinyl is dead? Well, maybe the owner of this wall unit storage system. Maybe the old milk crate idea wasn't so bad after all.
Instragram
———
… Now to the right
Let's try that one going the other way! Just to prove the disaster above was no one-off, this music lover had the same problem. If only this customer had seen the photo above, which was posted one year before his own "accident," he could have known what was coming.
Instagram
———
Nose to the grindstone
This chair may be great for workaholics who really "lean in" to their work—like Sheryl Sandberg. But for anyone who actually cares about their back, this ergonomic nightmare should end now.
Instagram
———
Sweet dreams?
When you buy a new bed, chances are you're really looking forward to cozying up in it and getting a good night's sleep. No so fast, dear Ikea customer! It looks like zfamof7 will be sleeping on the floor, since the all-important mattress support piece was not included.
Instagram
———
Floor samples, indeed
How frustrating is it to wait three weeks for delivery only to receive a couch without legs? If this frustrated customer is planning on having guests over, she may want to make it a BYOC (bring your own chair) affair.
Instagram
———
A sharp Catch-22
Here's the thing about buying a pair of scissors: You probably do it because you don't have scissors. Which begs the question: How will you ever open these?
Instagram
———
This one isn't Ikea's fault
How many ladies does it take to put together an Ikea chair? Apparently more than two. Couldn't they see this wasn't panning out before they attached those last two legs? Nonetheless, whoever's fault it is, we think these women should steer clear of Ikea from now on or they may not stay smiling for long.
Instagram
The post 8 Epic Ikea Fails That Are So Bad You Can't Look Away appeared first on Real Estate News & Advice | realtor.com®.