7 college dorm design ideas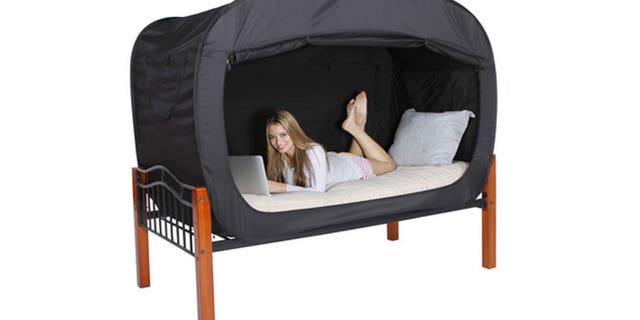 As the season changes and the summer comes to an end, it's also time for many parents to say goodbye to kids heading off to college. If you have a kid destined for dorm life this fall, here are some tips, tech and gear to ensure they are comfortable in their first home away from home.
Dorm Room Linens
Before you send your child off with a fresh set of linens and an extra blanket, taker note: Most dorm rooms come equipped with a uniquely sized bed. To accommodate a cramped dorm, but still give enough space for tall teenagers, many dorms have twin XL beds, a size with the width of a twin mattress, but that runs several inches longer than a standard twin. Before you head to to the store for a new set of sheets, check with the college to see which bed size you can expect.
Extra Storage
Storage space in limited in a tiny dorm, so to ensure that your kid's room isn't overflowing with stuff by the end of the first semester, invest in a little extra storage space. To make a cramped dorm room feel a little more spacious, make sure to use all of the vertical space available. Adjustable bed risers are a cheap way to increase storage space beneath the bed. To make better use of wall space, 3M's Command Hooks will give you more places to hang things without having to put holes in the wall.
Induction Cooktop
Most dorms forbid hot plates because they are a serious fire hazard. However, unlike conventional cooktops, an induction element never gets hot. Instead it uses electromagnetism to heat up the pot or pan, making it a much safer alternative. At $70, the Duxtop induction cookto is an affordable way to satisfy a craving for a bowl of soup or ramen after the cafeteria has closed.
A Little Privacy
In a shared dorm room, privacy is a resource in short supply. As the school year wears on, endless hours spent with a roommate can start to fray nerves. The Privacy Pop is a bed tent that fits around a mattress, giving dorm-room dwellers their very own canopy bed in an instant. Whether you're looking for a little alone time or a distraction-free place to study, the Privacy Pop can be a great way to carve out a little personal space in a shared room.
Keeping it Clean
Sure, most teenagers have never willingly cleaned a surface in their lives, but you still want to ensure that they have the tools to do the job. A dorm room is much too small to justify a full-sized vacuum, but the Dyson DC44 is the perfect battery-powered vac that still packs enough horsepower to tackle a teenager's mess. Of course, there's a good chance your child will never once pick up the vacuum. Rather than let you kid live in filth, you can spring for a Roomba or Braava. These little cleaning bots will make sure the cleaning is done on schedule, without taking time away from studying.
A Comfortable Night's Sleep
College beds are notoriously lumpy. To ensure that your child has a good night's rest while away from home, invest in a quality mattress topper that can smooth out a misshapen dorm room mattress.
Bluetooth Speaker
During an all-night study session, music is a crucial component of staying awake. Most dorm rooms don't have the space for a full-sized stereo setup, but a small Bluetooth speaker like the Jambox should be more than enough to keep the music blasting all night long.