5 Worst Moving Company Reviews Ever (and What We Learned)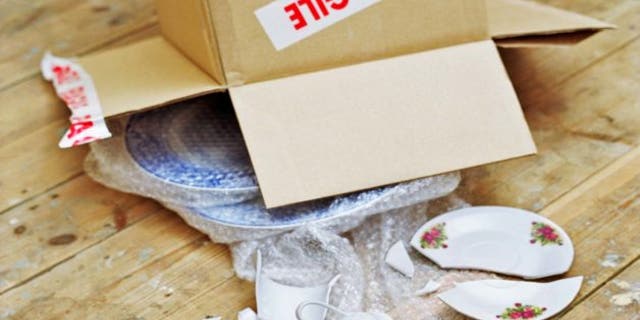 As exciting as it can be to pull up stakes and move into a new home, the thought of actually packing up your treasured belongings and getting them from point A to point B is as stressful as it gets. This is true even if you hire movers—painfully so if you hire bad ones. Yet at least in the internet age where unsatisfied customers air their grievances in online reviews, we can read their horror stories and learn a ton.
Check out these awful moving company reviews, and the pearls of wisdom these poor people want to pass on to movers-to-be like you.
giphy.com
Bargain hunters beware
One unnamed Cleveland resident initially thought she had lucked out with her movers, who seemed promising at first blush. However, as her 2013 moving review on Yelp makes clear, these advantages may have been warning signs instead.
"The Good:
1—- They were the only movers who would agree for the moving job in just one hour's notice
2—- The charge per hour was by far the lowest
The Bad:
1—- I got what I paid for – the CHEAPEST service possible. They were unprofessional, and ruined my mattress and bedding (got them soggy and wet) and damaged one entertainment center."
Lesson learned: While a low price and service on demand might be tempting, keep in mind that you usually get what you pay for—and you need to pay extra attention to the service they deliver (like telling them to not get your mattress wet).
———
It may boil down to your word against theirs
When movers ended up damaging the belongings of Donna of Oak Harbor, WA, during her move, you'd think she wouldn't have a problem getting reimbursed. Not according to her moving review, which was posted on Consumeraffairs.com in September 2016:
"Basically, the Claims Dept called me a liar concerning the condition of items. A long series of letters back and forth with no movement on their part. Basically I got a settlement which they said was for all the damage, but which paid only to replace a vacuum cleaner."
Lesson learned: Document the condition of your belongings before the move. As Donna urged in her review, "Take photos of EVERYTHING before they pack it and get the driver to sign condition."
———
Time is money—your money, that is
If you're swept off your feet by a mover's low per-hour rate, remember that your final bill depends on how long the move actually takes. Jennifer R., who moved within Nevada, was not pleased with the time it took her movers to transport her furnishings, according to her review on Mymovingreviews.com in 2011:
"They charge less hourly than most companies, but they move 5x slower than any grandmother."
Lesson learned: The more time a move takes, the more you'll be charged. So ask movers to estimate the length of time it'll take to get the job done, and request a moving cap if possible to keep expenses in check.
———
More movers = more money
Carole G. of Cambridge, MA, ended up with more than she bargained for—and not in a good way—with her movers. Her review, posted on Yellowpages.com in January 2016, recounts the ordeal:
"I was quoted one price with two movers. Three movers show up saying they will get the job done faster. It took 9 hours to move my one bedroom apartment which included a 40 minute travel time. They charged me over double what was quoted. … Then the three movers coerced me into giving them tips, saying if I give them tips, they won't charge me for the last hour (they did anyways)."
Lesson learned: Beware the bait-and-switch. To avoid this issue, get your moving terms in writing—particularly the number of movers, price per hour, and other particulars.
———
Read the reviews already
Sarah L. of San Jose, CA, figured her parents had their move under control. She was in for a nasty surprise when she showed up to pitch in, prompting the following review on Yelp in July 2016:
"The movers were 2.5 hours late with no apologies, and they never informed my parents that this was going to be a two-day job, as a result to their tardiness (more money for them) … they half assed wrapped the furniture and didn't even bother boxing or wrapping either of my parent's computers. As they were exiting, they hit my neighbor's car and we had to call them back to deal with the accident. On top of all of this, my parents had to rent an additional storage space because the movers refused to stack the boxes on top of each other. The manager at the storage unit was even appalled at job the movers had done."
Lesson learned: Do your research and read some moving reviews already! As Sarah admits, "I wished my parents had looked at the reviews prior to hiring these worthless [people] … After reading the reviews, I am not sure why this company is even in business."
When in doubt, don't hesitate to contact the Federal Motor Carrier Safety Administration hotline at 888-368-7238 to get the lowdown about complaints against the moving company you're considering.
giphy.com
The post 5 Worst Moving Company Reviews Ever (and What We Learned) appeared first on Real Estate News & Advice | realtor.com®.