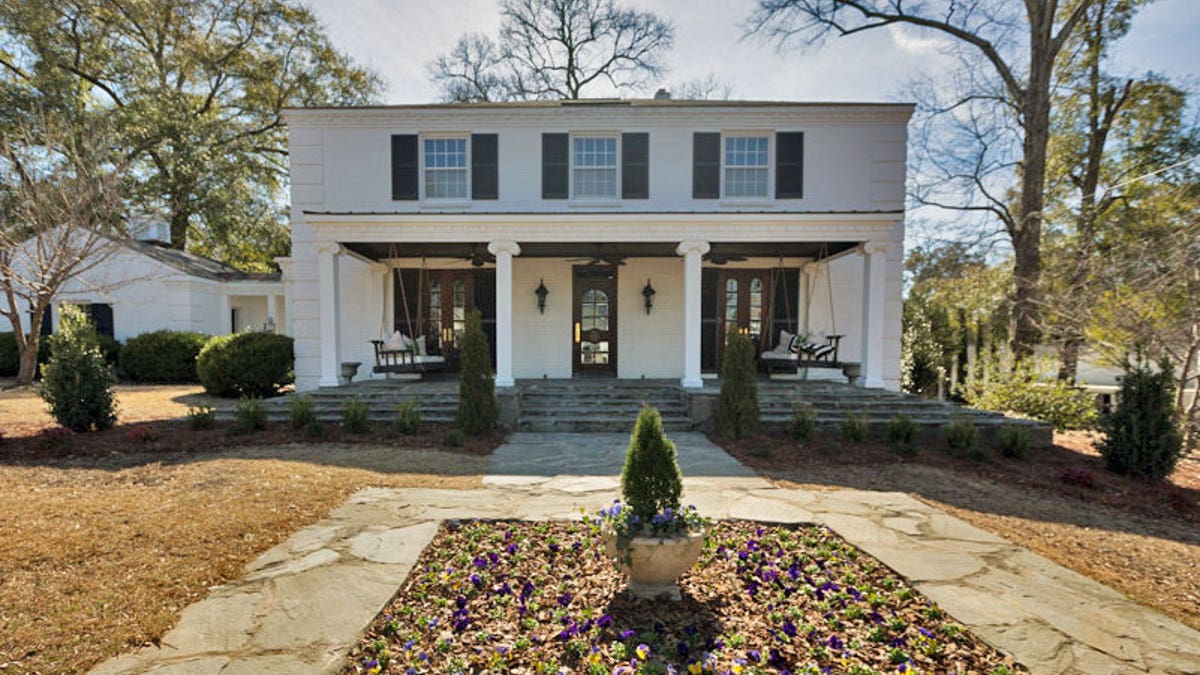 Ever dream of sipping tea on the wraparound porch of a Queen Anne Victorian, or gazing at the soaring ceilings of a Gothic Revival after an endless workday?
Historic homes carry tons of charm, but here's the thing: They're old. And that means they often come with truckloads of hidden or weirdly unexpected issues -- and may require exorbitant upgrades.
But fear not! With smart planning and a few expert tips, you can renovate the historic home of your fantasies. And, hey, why not create some new history while you're at it?
Shaunna and Matt West, the restoration team behind the HGTV show " Sweet House Alabama," have some ideas to get you started. The Wests have been involved with countless remodeling and design projects through their successful shop, Perfectly Imperfect in Troy, AL, so they know a thing or two about polishing up historic gems. (Above is a Southern Colonial-style home they worked on for the show.)
Before you get your heart set on updating a sprawling Georgian manse (like the "Home Alone" house in Chicago), don't! Instead, read this list of things to avoid:
1. Don't fall in love before you really know the deal

Before you make an offer, know what you're getting into, Matt West says. Sure, you (presumably) already know about getting a standard inspection, but a historic home requires something more.
"Have a team of top-notch professionals -- an agent who specializes in historic neighborhoods, a good home inspector, and a general contractor with experience renovating older properties -- walk through and identify all critical issues," West says. Topping the list: lousy wiring and plumbing, drafty or otherwise inefficient windows, badly sloping foundations. "Get estimates from at least three contractors for repairs," West says. "You might find that the extra costs and time involved are just beyond your reach."
Also, West recommends tapping your city's code enforcement office as a resource for determining whether a historic property is up to code. If you're obtaining an FHA loan and don't have the extra cash for renovations, ask your lender if you qualify for the 203(k) loan program. The program allows borrowers to wrap renovation costs into their home loan if the property meets FHA standards.
2. Don't create a budget with no wiggle room
As with any older-home renovation, expect the unexpected when you open up walls and floors, West cautions. Chances are, something's lurking behind them.
"When you undertake a reno project, you always need to leave some space in the budget for those unforeseen hiccups, like a lead pipe in a wall you were going to tear down, or water damage in a ceiling," he says. "Factor in an extra 10% into the budget to tackle those problems, as well as some extra time to get unplanned work completed."
If the renovation goes sideways, remind yourself it's more important to get the work done right the first time.
3. Don't lose sight of the place's character
What makes older homes so enticing? They have personality, uniqueness -- and most important -- history. Preserving all those characteristics while refreshing the look and floor plans is an important piece of the renovation puzzle.
"Some of these homes have design elements that can't be replicated easily such as detailed crown moldings or ornate fireplaces in nearly every room," West says. "Design around those details instead of removing them."
Keep in mind, too, that there might be limitations on what you can change if the surrounding area is designated as a historic neighborhood by your city or state, or if it's listed on the National Register of Historic Places, which contains more than 90,000 listings across the United States. Make sure you run your renovation plans by code enforcement and your local historic preservation board before any work gets underway.
4. Don't try to save money by doing it all yourself
Sure, you might be an arena-level rock star when it comes to painting walls and installing light fixtures, but leave the major projects to the pros. Electrical rewiring, foundation and structural repairs, and reconfiguring plumbing aren't tasks suited for the casual DIYer. Bring in experienced contractors who have worked on older homes before (ask for references!) -- unless you want bigger, more expensive headaches down the road. Trust us on this one.
5. Don't ignore the things you can't see
Asbestos, lead, radon, wood rot, and mold are common environmental issues that crop up frequently in historic home renovations, especially if a property has been vacant for a long time. Hire a licensed home inspector who can catch these issues early on and recommend companies to address them. If significant mitigation work is required, you'll be in a good position to negotiate those items (or the price) with the seller.
Need even more ideas? See 35 tips for restoring older homes from OldHouseJournal.com.
Now, go forth and get historic.