5 New cocktails inspired by cities we love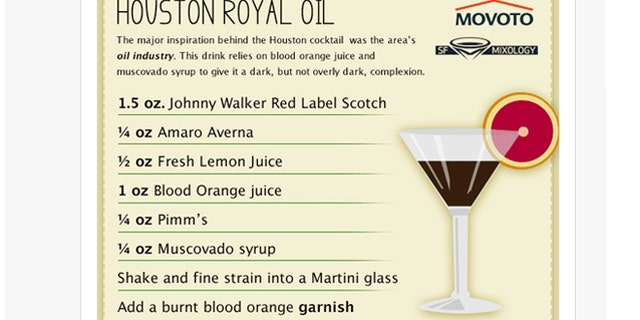 I'm a firm believer in cocktails. I wouldn't say I'm a lush, but a mixed drink after work is one way to mark the end of the day -- especially a Friday. I'm also a fan of drinks named after places. Unfortunately, not all cities have the distinction of having a cocktail named after them. In my opinion, it's distasteful.
A few weeks ago, the hooligans at the Movoto blog went out for a nip after work, and we got on to the topic. Among the critical questions we asked: How does a city get a drink named after it? And: How can a city go about getting a drink named after?
We pondered, sipped, and pondered. By the end our impromptu brainstorm we'd decided to help out some of our favorite cities by creating drinks in their honor -- which we hoped would capture the uniqueness of each cosmopolitan (but not actually taste like a cosmopolitan).
Here's the list of cities we picked:
However, before we get to the party, I'm going to take a pit stop at SF Mixology, the fine gentlemen who we turned to when your favorite novelty real estate bloggers realized our mixing skills didn't go beyond tonic water and whatever libations we had present.
Enter the Folks at SF Mixology
If you live in Movoto's neck of the woods and do a Google search for mixology, you'll come across SF Mixology. This friendly gang of cocktail slingers teaches mixology classes as well as bartends events. To my chagrin, Shawn Refoua, company founder and all-around mixology guru, didn't laugh me out of the town when I went to him with our hair-brained idea.
Three weeks ago, I spent three hours with Shawn and his crew as they worked their magic. If cocktails aren't your thing, which they weren't always mine, you'll be surprised at how a cocktail tastes when created by someone with master-level knowledge. I've been on a cocktail kick ever since.
How We Picked Our Cities
To come up with the five cities for our list, we first researched cities with popular names. We were pretty surprised by the major cosmo without a drink to call their own. Once we came up with a list of cities, we researched what made the areas unique. SF Mixology took our crazed scribblings and turned them into the following drinks. You'll see how these tidbits found their way into the cocktails below.
Before we get started I'm going to emphasize a point. You can make these cocktails at home, but do your best to use the exact ingredients listed. The SF Mixology crew were adamant about this. If it helps, I agree with them.
Get your shakers ready -- here we go.
Five Cities That Taste Delicious
Houston, Texas
The major inspiration behind the Houston cocktail was the area's oil industry. It's difficult to make an appetizing drink that looks like black sludge. Thankfully, Shawn understood. The drink relies on blood orange juice and muscovado syrup to give it a dark, but not overly dark, complexion. As Shawn said, "I wanted it to look as close to oil without it looking bad." The result is a sweet, balanced cocktail.
In a mixing glass add:
1.5 oz. Johnny Walker Red Label Scotch
¼ oz Amaro Averna
½ oz fresh Lemon Juice
1 oz Blood Orange Juice
¼ oz Pimm's
¼ oz Muscovado Syrup
Shake and fine strain into a martini glass
Add a burnt blood orange garnish
Washington, D.C.
My favorite of the SF Mixologies' creations, this drink draws inspiration from the National Cherry Blossom Festival. This cocktail is crisp and perfect for muggy summer days. Its coloring is light caramel. Shawn pointed out that this isn't the easiest drink to make on the list. I'm no mixologist, but I can tell you if you do it right, you're in for treat.
In a mixing glass add:
½ oz Cherry Liqueur
1 oz Vodka
1 oz Leopold Sour Apple
¼ oz fresh Lemon Juice
1 dash Rhubarb Bitters
Shake and strain over fresh ice
Top with Tonic water
Add a Lemon Twist
Portland, Oregon
The inspiration for this excellent cocktail (seriously, one of the best drinks I've had in some time) was Portland's rich history, especially its budding beer industry, and nickname as The City of Roses. The beer makes this savory drink a perfect winter drink. If you're worried about mixing rose water and beer, don't. Just go with it.
In a mixing glass add:
1 ½ oz Whiskey
½ oz Portland Beer (Deschutes Redchair NWPA)
½ barspoon rose water
½ oz fresh Lemon Juice
¾ oz simple syrup
Shake and strain over fresh ice
Top with the same beer
Boston, Massachusetts
The idea behind this cocktail was Boston's thriving coffee industry and Irish heritage. The splash of grenadine at the end adds a vivid element that makes it visually appealing. Shawn did his best to keep as many words with "R" out of the ingredients.
1 ½ oz Irish Whiskey
½ oz Firelit Coffee Liquor
1 dash Coffee Pecan Bitters
½ oz Agave Syrup
Shake and fine strain into martini glass
Add a few drops of Grenadine
San Francisco, California
This ivory colored cocktail is partially inspired by San Francisco's large Asian population and the city's health consciousness. The drink relies on lychee juice for a deliciously sweet flavor. Shawn and company emphasised the importance of using the Perfect Puree brand of lychee juice. They insist it's a night and day difference. The blackberries add a refreshing tartness at the finish as well as hints at the city's numerous farmers' markets.
In a mixing glass add:
2 oz. Lychee Juice (Perfect Puree brand)
2 Blackberries
½ oz Fresh Lemon Juice
½ oz Simply Syrup
Muddle
Add:
1 ¾ oz 209 Gin
2 dashes Peychaud's bitters
Shake and strain over fresh ice
Top with Soda water
Now armed with this knowledge, you can impress your friends by ordering an out-of-the box cocktail. And if you can't remember the ingredients, just print out the recipe and take it with you.
If you have a local drink you want the world to know about, let us know. We're always on the prowl.
Related:
The Movoto blog is a service of Movoto Real Estate.