5 Brutal Lessons We Learned Moving 3 Days Before Christmas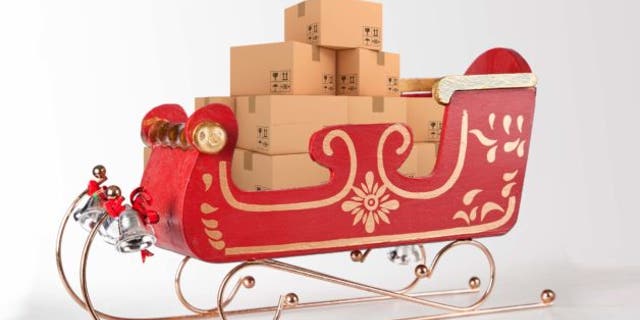 NEWYou can now listen to Fox News articles!
When my husband, Rob, and I scheduled our move from Boston to New York City on Dec. 22 four years ago, we knew it would be hard to get settled in time to enjoy the holidays. Hard, but not impossible, right? Alas, moving is never as seamless as you might hope it will be—particularly if it happens during a week when most of our friends and family are gift shopping, cookie baking, and making merry rather than hustling to help us get the undeniably grueling job done.
Never mind that my husband and I had two young kids at the time—Samara, 6, and Alan, 4—who were fully expecting their best holiday ever in our new home. No pressure, right?
Sasha Brown-Worsham
There's a reason people move during the summer—a time far, far away from the winter holidays. Here's what I've learned in the hopes that it will persuade the rest of you to stay put—or, if you must move, to try a few of my stopgap measures to make things a bit more merry and less miserable.
Lesson No. 1: When in doubt, improvise
We moved the first night of Hanukkah (we celebrate Jewish and Christian holidays), and our menorah was buried deep in a box, somewhere in a New Jersey storage facility. Still, we had candles. And we had bread. So we made do. See below:
Sasha Brown-Worsham
Each night, we removed a piece of bread and carefully placed candles in it, saying our blessings over the makeshift menorah. For Christians, this might mean a last-minute popcorn garland or a ribbon or rings made from construction paper. It might mean salt dough ornaments if you can't find the real ones. Be flexible. It might not be the holiday of your dreams, but it might give you new traditions. We have a bread menorah every year now to honor the one that got us through our move.
Lesson No. 2: Get to know your new appliances
We moved from a renovated condo with nearly new appliances into a 1920s house with a stove from, oh, 1955. It had thick steel doors and insulation like nothing sold in a modern store. Four years after our move, I adore these double ovens. But back then, I didn't know that you had to light these ovens with a match.
Sasha Brown-Worsham
So when I went to bake my grandmother's famous butter cookie recipe that first night in our new house, I stuck my head a little deep into the oven after I turned on the gas. I lit the match. The next thing I knew, I heard a woosh and smelled burning hair. Rob came running in, terrified, but he was soon laughing since I apparently looked funny without eyebrows.
I know now not to stick my head in the oven. But I burned three batches of cookies before I learned how to use the oven properly, which taught me that you should always test new-to-you appliances before you attempt to whip up a huge holiday feast. Not all ovens are created alike!
Lesson No. 3: Understand your basic utility situation early
In our old city, the trash situation was simple. Take it to the curb on Tuesday morning, bring back the emptied cans that night. But our new place was not so simple. Not only did we have to pay for the trash service, we also faced a monumental task in actually getting the service to pick up our trash. We dutifully brought out our trash on the right morning, only to find it still sitting there that night. We called. They said they'd come. They didn't.
This went on for weeks. Our garage was soon filled with trash and moving boxes. Our car could no longer fit in there, and we were furious. Now we know that if we move again, we should schedule trash collection and all utilities way ahead of time—because the same inertia affects our water, gas, and electric service. Waking up on Christmas morning to a cold house and freezing shower is no one's idea of fun.
Lesson No. 4: Double your holiday cards as moving announcements
Didn't have time to do your holiday cards in the rush of getting ready to move? Neither did we. So we sent out Happy New Year cards that doubled as our move announcements. So instead of paying $200 twice for holiday cards followed by change-of-address cards, we just bundled them and paid $200 once. Bonus!
Lesson No. 5: Get the dang tree
The biggest question we pondered up until our move: To tree or not to tree? My answer: Get the tree. We got a small tree, one of the last ones on the lot, and only one of our boxes of ornaments made it out of storage in time for the holiday. But to our kids, it was everything.
Sasha Brown-Worsham
The post 5 Brutal Lessons We Learned Moving 3 Days Before Christmas appeared first on Real Estate News & Advice | realtor.com®.