4 Things to Consider Before Buying a Literary Home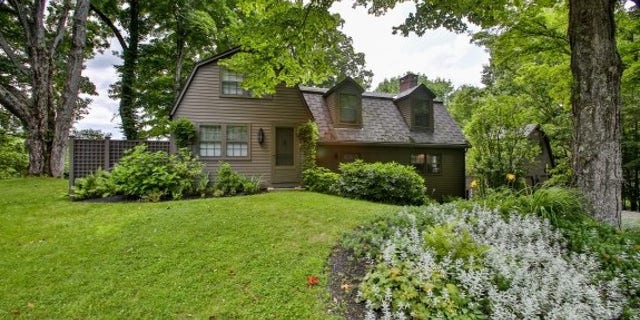 If you've ever wondered what life would be like as a literary recluse, now's your chance to find out. The Cornish, NH, home where J. D. Salinger lived in deep, hermit-like isolation after penning his blockbuster "The Catcher in the Rye" is on the market.
But his is not the only literary home for sale. The picturesque cottage in Nova Scotia where poet Elizabeth Bishop lived as a child is up for grabs. So is the estate in Montecito, CA, where Thomas Mann, winner of the 1929 Nobel Prize in Literature, entertained the likes of Albert Einstein and Winston Churchill (and, let's be honest, even more significantly later served as the home of Tony Montana in the Brian De Palma remake of "Scarface").
Living in a house with a literary pedigree sounds, well, poetic, but there are definitely some things to think about before moving into a literary home.
1. Are you buying it for the literary lesson?
Some reasons for owning a home with a literary provenance are obvious: the cachet, the history, the inspiration to craft a novel worthy of the home's previous inhabitants. In 1988, when Dana Hawkes and her husband Jerry Weist bought poet T.S. Eliot's former summer home for $650,000 in Gloucester, MA, they reveled in the literary legacy. Weist, a close friend of Ray Bradbury, had a burning desire to write a novel of his own.
"Maybe the spiritual energy of the house will engulf me and inspire me to finally write that book," he thought. But, alas, it didn't. (Note: Living in a literary home can be a crushing experience too.)
In 2005, businessman Chuck Callan paid $1.63 million for the Italianate-style home in Grandview-on-Hudson, NY, where Betty Friedan lived while writing "The Feminine Mystique"; the connection to Friedan was a selling point. He told The Wall Street Journal that he hoped the link to the famous feminist would inspire his four daughters by sending a message about women "standing on their own two feet."
2. Are you willing to be a tour-bus stop?
For some people, the appeal of owning a literary home comes from the reflected glory of the property's fame. "It's like being a celebrity yourself," says Virginia real estate agent Kathryn Cumming, who specializes in historic properties. "By owning a famous property, you become part of its history. People want to talk to you. People want to come inside."
When the Elizabeth Bishop property was last on the market in 2004, Bishop scholar Sandra Barry and 11 fellow enthusiasts (including an actor from New York, a librarian from Texas, and an oncologist from Nova Scotia) pooled their resources and bought it for $90,000. Though a private, single-family home, it had been officially designated as a Registered Heritage Property by the Nova Scotia government and was the site of frequent pilgrimages by Bishop fans. The purchasers didn't mind and felt the property should be preserved in the poet's honor.
"Walking into the kitchen is like walking into one of Bishop's poems," says Barry. The room has barely changed since Bishop's childhood. "I've seen people weep as they enter the room." The owners took turns staying there and offered it as an informal retreat for writers and artists -- and as a pilgrimage site for Bishop devotees from as far away as Poland, Japan, Brazil, and the Middle East.
But for others, a steady stream of visitors is a big drawback. Callan eventually became apoplectic when confronted by a constant stream of Friedan fanatics stopping by his place. When the National Organization for Women wanted to install a historical marker in front of the property, he objected. (They placed the marker near the village hall instead.)
The key is for prospective purchasers to decide upfront "how much history they are willing to live with," says Cumming. Translation: They need to be open to being part of the literary community. "You have to be willing to share," she says. "You don't get to marry Prince William and keep him all to yourself."
3. Does a literary association add value or take it away?
When it comes time to sell a famous house, the celebrity factor can go a long way to help spread the word but it might not always fetch you a hefty profit.
In April 2014, Elizabeth Gilbert, author of the blockbuster memoir "Eat Pray Love," placed her Victorian-era home in Frenchtown, NJ, on the market. Taking full advantage of her famous name, Gilbert created a website called "Eat, Pray, Crib: One Woman's Journey to Sell Her House," with a video of her giving a personal tour of the house, including the attic library -- she called it a "Skybrary" -- where she wrote her follow-up bestseller "The Signature of All Things."
Gilbert's marketing plan drew a flurry of media attention. The listing was featured in publications from The New York Times to Entertainment Weekly. The home quickly found a buyer, but the sale price was $860,000, well below the asking price of $999,000 (still,the current average price in the area is $492,094).
"Buyers focus on fundamentals of value," explains New York real estate appraiser Michael Vargas. "It's about where you want to raise your family, how easy it is to get to work, how good the school district is." Most people, he says, will not sacrifice these considerations or pay more just to own a famous property.
Salinger's house, despite its allure, has been listed on realtor.com for almost a year, and the price has dropped $100,000 in that time. In fact, the association with Salinger didn't seem to add much cachet -- one prospective buyer, says the agent, didn't even know who the author was.
4. Can the house's history tie your hands legally -- or emotionally?
Depending on where the property is located, there may be historical regulations on its uses, what kinds of renovations can be made, or even what happens to pets lingering around the place. At the Ernest Hemingway Home and Museum in Florida -- no longer a privately owned home -- a visitor complained to the Department of Agriculture about the care being provided to the property's famous six-toed cats, direct descendants of Hemingway's own extra-digit pet. A federal court ordered the caretakers to build a higher fence, provide the cats with individual sleeping cages, or to retain the services of a guard to keep watch over them at night.
Even if there are no legal restrictions in place, a house's famous former resident can cast a shadow over its new owners. In May 2014, author Ray Bradbury's former home in Los Angeles was put on the market for $1.495 million -- the listing touted it as the neighborhood's "most important address."
But the couple who bought the place for $1.75 million -- architect Thom Mayne and his wife Blythe Alison-Mayne -- found the simple three-bedroom house boring and weren't entranced by its connection to Bradbury's work. So they tore the place down to make way for a new one.
Bradbury fans and preservationists were appalled. Sam Weller, Bradbury's authorized biographer, lamented on Twitter, "He lived a very long life and more than half of it was in that house. His energy was still there even after he had died."
Hawkes, the former owner of T.S. Eliot's summer home, had visited the Bradbury home and was shocked to learn the important cultural resource had been destroyed. "Yes, the house was very humble," she says. "But its simplicity reflected the person who lived and worked in it. The simplicity inspired the work."
When the owners of the Elizabeth Bishop property decided to put the house on the market because of changing life circumstances -- aging, illness, job changes -- they considered whether to place any restrictions on potential buyers. In the end, the group decided to not market the property as a historic site or place conditions on the sale. Nor did they try to ratchet up the price in any significant way based on its fame factor. It's priced at $109,000. "If we expect to find a buyer, we have to be practical about it," says Barry.
Jerry Weist never did write that novel, but when he and Hawkes sold Eliot's old home for $1.3 million, they were thrilled that the T.S. Eliot Foundation acquired the property to turn it into a writer's retreat.
Every house comes with limitations and trade-offs. Living in a famous literary property is no exception.
"If you feel excited about living in your literary hero's house," Cumming says, "then the bother will likely be more than worth the while."