4 Ecological, Recession-Friendly Outdoor Halloween Decorating Ideas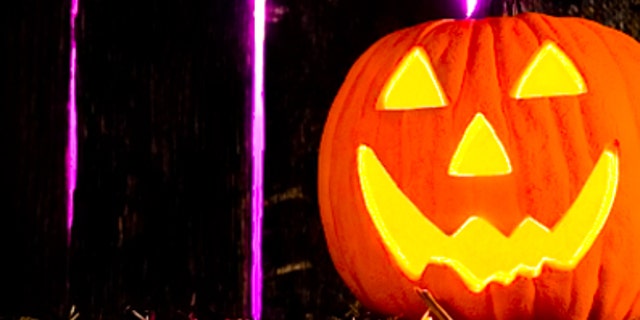 I'm a decorator, and I believe that Halloween decorations should not require electricity. No fog machines, no blow-up witches, ghosts, goblins or giant illuminated pumpkins. And certainly no twinkling orange lights outlining the house or adorning trees that are still hanging onto their leaves.
Halloween is supposed to be a little dark and spooky and while we don't want to go overboard and scare the little children, it's fun to offer a modest sense of dark drama.
Over the last few years, Halloween has begun to rival Christmas when it comes to pricey decorations. However, we still don't refer to October as the "Halloween Season" as we refer to December and the Christmas season. Christmas and holiday parties stretch from Thanksgiving through New Years and so those inclined to decorate can take advantage of several weeks of display time. But Halloween is a single day. Parties are geared towards that day alone and to do over-the-top expensive and energy consuming decorations for a single day seems to me to be overkill. In this economy, who can afford to dress up their porch or deck for one measly night?
Here are some fun outdoor Halloween decorating ideas that are high impact, yet low cost. Sometimes the old-fashioned way is the best way!
1. Construction Paper Bats
Personally, I cannot get behind the spider decorations that have become all the rage in Halloween décor. Being spooked is one thing but downright fear and horror are just too much-especially when I'm driving! I do, however, love the classic bat theme. Bats are so easy to make out of black construction paper. They can be suspended from trees limbs and left to flutter in the breeze, or they can decorate the walls or windows. If rain is in the forecast or you want to reuse your bat cut-outs year-to-year, heavy-duty black plastic contractors' bags or weed barrier plastic will do the trick. Just remember, the more you make, the spookier the result!
2. Spooky Window Silhouettes
Many of the most effective Halloween decorations have an old-world or old-timey feel to them. One of my favorites is window silhouettes that feature crazy creatures or witches and hags in silhouette against a white or glowing backdrop. This is a fun family project for all ages and can be reused year after year. Hometalk.com member Amanda posted cool photos of her DIY window silhouettes. Head over there to check out her DIY Halloween decor.
3. Body Outlines and Caution Tape
A very easy and quick decorating idea for those with a long driveway or walkway is to mark the pavement with dead body outlines, done in white tape, pointing the way. The "massacre" feeling is enhanced by wrapping the front door in "Caution/Danger" tape and cap it all off by playing a tape recording of screams coming from within.
4. Old Fashioned Harvest Scene
A classic autumnal motif focuses on the harvest and bounty of the earth. Bales of hay, piles of pumpkins, mums and scarecrows adorn homes throughout the fall. I love the idea of decorations doing double duty and not just working for a single day. It would be very easy to "amp up" the decoration for Halloween by adding "dead bodies" in the form of mannequins strewn about, or rigging up ethereal ghosts rising from behind the bales of hay. A great tip for ghostly displays: use cheesecloth instead of old sheets to make ghosts. Cheesecloth is inexpensive but light and will waft the in the breeze for a more "life like" affect.
How do you decorate for Halloween? Tell us!
Linda Merrill is a Networx - http://www.networx.com - writer. Read more articles like this - http://www.networx.com/article/4-ecological-and-recession-friendly-outd - on Networx.com.
Halloween is creeping up on us and we want you to send in a picture of your favorite Halloween costume. We may even feature it on-air -- so no tricks, only treats!