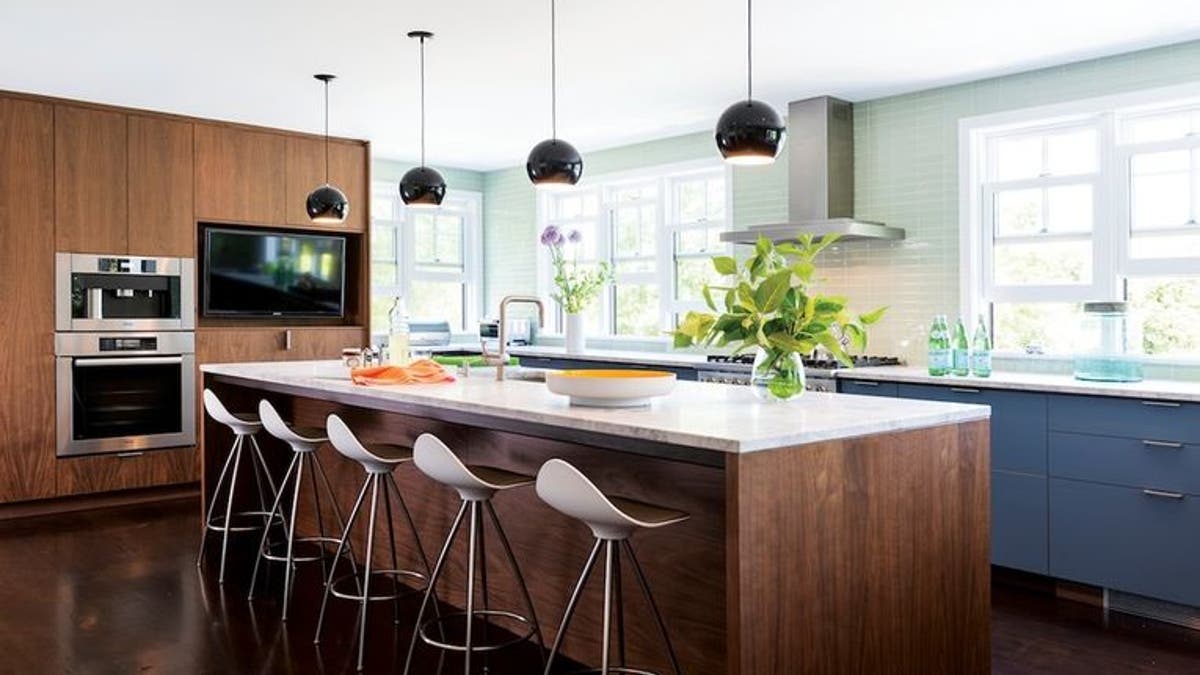 The television plays a crucial part in our day-to-day lives, so it's important to keep its placement in mind when planning out a room. Given the shape and massive size of today's TVs, the big screen has become a massive eyesore without many places to go other than smack dab in the center of a wall. If this is sounds familiar, get ready to get inspired by these three inventive tricks to hide your TV in plain sight.
1. Camouflage it with a black wall. One lone rectangular block of black in a room can create a striking feature that is unfavorable in many designs. By extending the dark hue across a bigger space, you can create a fun accent wall and play down the glaring, shiny black electronic screen. All it requires is a bucket of paint from your local hardware store and a little know-how on basic painting techniques.
If a full black wall is too bold for your design taste, painting just the horizontal strip of the wall that the TV occupies is a nice compromise. Then, you can balance the room with black home decor pieces. Keep it minimal with a black-and-white palette or add some color to lighten the look.
2. Pair it alongside other appliances. If you're faced with the scenario of having two or more gaping black holes in your room, the best solution may be to simply combine them as an intentional arrangement instead of an odd-one-out situation. For example, you can juxtapose a fireplace with a TV above the mantel. Get a gallery look by hanging similarly-sized pieces, such as a cabinet or oversized artwork. Alternatively, if you enjoy watching television in the kitchen while you prepare or eat dinner, nestle it in with other appliances, such as an oven or wine fridge.
Be sure to take some safety measures when displaying electronics above appliances. Protect your TV from rising heat by mounting it above a mantel or enclosing it in a well-ventilated cabinet. Also make sure the television is still at a comfortable viewing angle to reduce neck strain or consider investing in a flexible wall mount.
3. Invest in built-ins. This is a more customized approach to hiding a TV. Sliding doors, swiveling panels and folding cabinets are carefully measured to the device for a sleek disguise. One of the simpler strategies is to cover the TV with sliding doors that can be matched to the rest of your wall or stand out as an interesting focal point. Other popular ideas include a snug art panel that slides to reveal or conceal a TV. Or if you'd rather opt for a cabinet enclosure, you can conceal additional media components, like speakers or game consoles. Although these options are more expensive and time-consuming, they will completely conceal your TV from view. Do your research and consult an experienced cabinetmaker, electrician or media professional to make the job more manageable.