13 all-white bathrooms with clean and classic style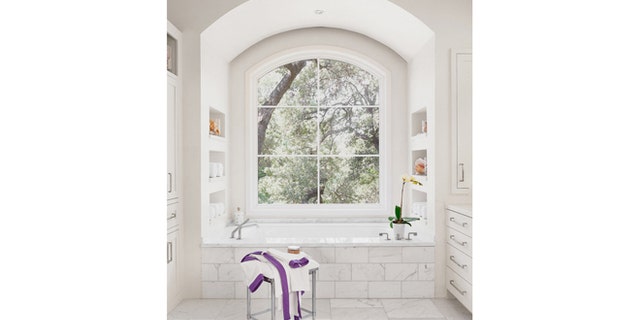 Bathrooms are the smallest rooms in the house for most of us. They also require the most cleaning and upkeep. That's part of why white is so seductive in a bathroom: It creates a sense of space, and it looks clean and bright.
But there are other reasons to love the all-white bathroom. Like a gallery, it showcases whatever else you put in it, whether that's art, flowers, books, towels or rubber duckies.
Plus, it's a classic. No one can argue with a white bathroom. At worst, it's inoffensive. At best, it's elegant, clean, simple and beautiful.
This simple white bathroom gets its modern flair from the floating vanity, the wall-size mirror and the total lack of flourish. All the clean, straight lines help highlight the view.
As soon as you add beadboard to a white bathroom, you are going to get a touch of the marine. That, along with the tooled legs of the vanity and the recessed cabinets, gives this contemporary bathroom a classic look.
Picking a warm white and adding natural accessories like this basket and these touches of wood and browns make even an empty white room like this feel welcoming and cozy.
This is nearly identical to the bathroom above, but the tones are gray, and the lack of personal touches makes it seem cold and sterile in comparison. Some of the difference is due to the style of architectural photography, but tone makes a huge difference.
Natural wood glows against white. And natural light is white's best buddy.
White doesn't have to mean unadorned. Carrara marble floor tiles, a subtle wallpaper and that chandelier add a luxurious and opulent feel to this not-so-simple white room.
This bathroom is also adorned with Carrara marble tile, but it is much more of a blank slate.
It must be said yet again: Color takes on new power against white.
So does art. This bathroom is a gallery that you happen to be able to shower in.
This tiny eclectic bathroom can afford to mix and match styles and eras, because the color brings it all together.
A classic, creamy white bathroom adorned with every possible molding and flourish. Even though it is all white, it has a feminine plushness.
Check out the gold-tone fixtures, a cool and unexpected choice that might go Las Vegas against anything but bright white.
If you have a view like this, it is best highlighted with a white frame.
Related:
Houzz is the leading online platform for home remodeling and design, providing people with everything they need to improve their homes from start to finish -- online or from a mobile device. From decorating a room to building a custom home, Houzz connects millions of homeowners, home design enthusiasts and home improvement professionals around the world. Samantha Schoech is a contributor to Houzz.