10 Tools to Help You Survive Thanksgiving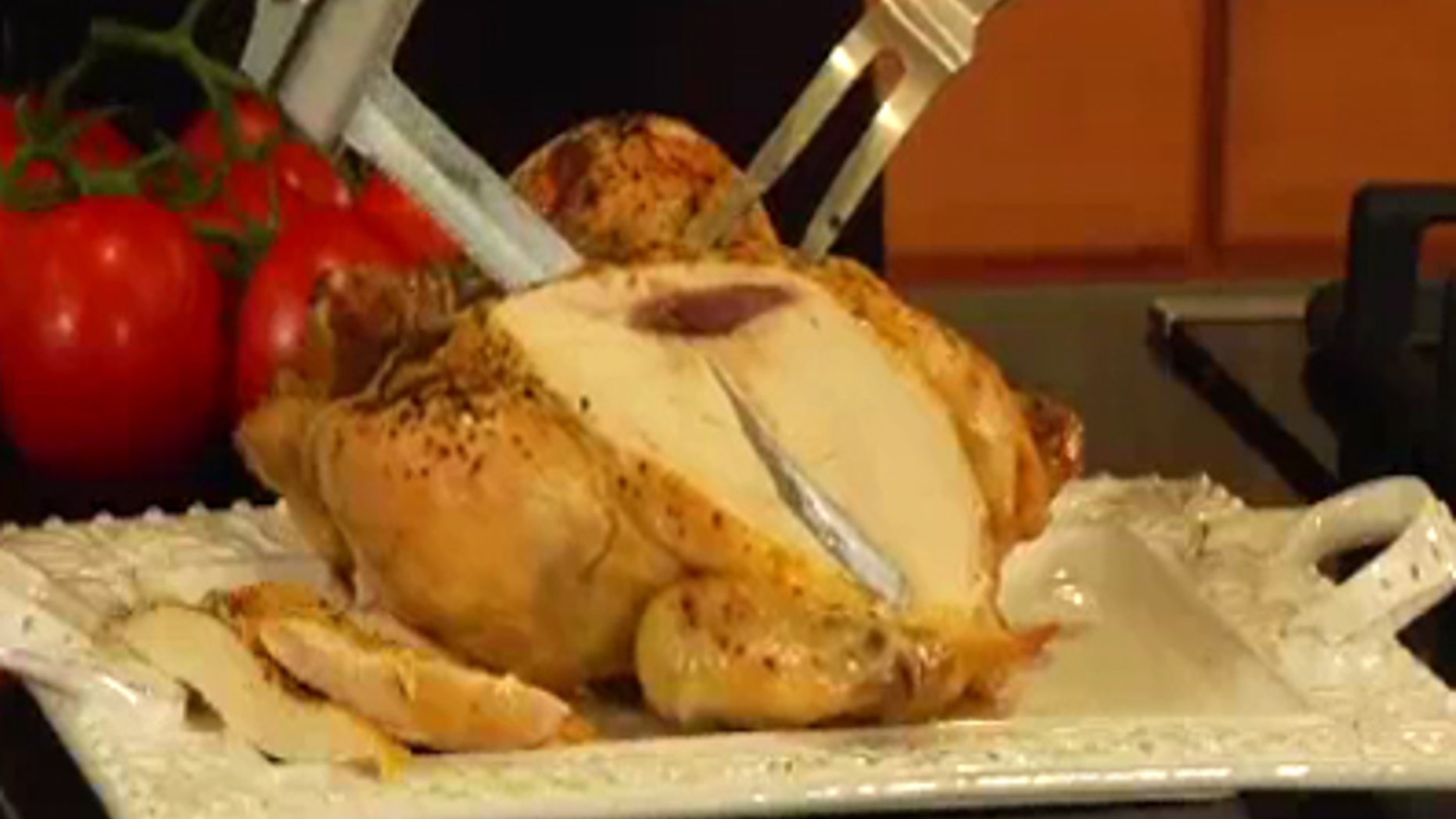 Thanksgiving is a time for family, food, and, of course, stress. Lots and lots of stress. If you'd like to make this year's event a little more worry free, check out these 10 tools that will help you get dinner on the table quickly and deal with visiting relatives.
Masterbuilt Deep Fryer
There are few things as delicious as a deep-fried turkey. But deep frying is dangerous work, involving vast amounts of flammable fat that, if not handled correctly, can lead to disaster. To play it safe, most people fry their bird out on the lawn or driveway, which can be downright miserable on a frigid November day. Masterbuilt's indoor deep fryer ($120) seeks to solve this problem by making a safer, more compact deep fryer. The Masterbuilt can put a mouth-watering 14-pound bird on the table in about an hour.
Flavor Injector
If you opt to roast your turkey the traditional way you'll want to get a little extra flavor and, more importantly, fat into that bird so that it doesn't come out dry and tasteless. Fill the Williams-Sonoma flavor injector ($20) up with butter and herbs to put down a critical layer of fat beneath the bird's skin, keeping it moist and flavorful as it roasts.
GE Profile Oven
It seems like there's never enough space in the oven. On top of that, you often need to cook the turkey at one temperature and roast vegetables or bake a pie at another, making it nearly impossible to get all the food on the table at the same time. The GE Profile Double Range ($2,100) solves this problem by adding a separate cooking chamber to your oven. It's like cooking in stereo.
iGrill Probe Thermometer
Turkey is a tough bird to cook. Too much heat and you risk making the meat drier than a desert, but too little and you risk sending your guests to the ER with salmonella. Take the guesswork out of cooking your bird this year with a probe thermometer. The iGrill ($99) takes your turkey's temperature and beams the data back to your iPhone, freeing you to entertain Aunt Edna while still keeping an eye on the cooking bird.
Cuisinart Electric Knife
If it's your job to carve the bird, you know that the crush of family members elbowing to get a slice of meat can feel like a howling pack of wild dogs breathing down your neck. With Cusinart's CEK-40 electric knife ($50), you'll be plowing through that bird like it's made of butter. Your family will be eating in no time.
Shun Knife
For those that prefer to carve the turkey the old fashioned way, there are few better knives on the market than the Shun Ken Onion carving knife ($288). Not only is it razor sharp right out of the box, but this piece of premium Japanese steel will stay that way for a long time.
Air Mattress
While Thanksgiving is a time for gluttony, it's also a time for family. If you have relatives spending the night, make sure they have a comfortable place to sleep. The Wenzel Insta-Bed[1]  ($99) is a queen-sized air mattress with an electric pump built right in, sparing you the trouble of pumping it up by hand.
Breville Personal Pie Maker
Pumpkin, pecan, apple or blueberry – nothing is as likely to set off a holiday argument as warring tastes in pie. Well now you don't have to choose. Capable of making up to four mini pies at a time, the Breville Personal Pie Maker ($99) ensures that everybody gets theirs and you keep the peace.
Calphalon Roaster
No matter how good your oven is, you need quality cookware to produce the prefect roast turkey. If you've been relying on flimsy pans, or worse yet, disposable aluminum roasting trays, maybe it's time to invest in a solid piece of cookware. Calphalon's Contemporary Series roasting pan ($130) is a fantastic and solid roaster that will cook your bird evenly.
Wine Cooler
While the turkey may hog all of the attention, everybody knows that wine should be the real star of Thanksgiving dinner. To ensure that your choice of vino really shines this year, get the EdgeStar Dual Zone Wine Cooler ($300), which will chill both whites and reds to the perfect temperatures.
Nothing says Thanksgiving like the sweet-smelling aroma of a Thanksgiving dinner. From plump and juicy turkeys to delectable desserts, send us photos and videos of your Thanksgiving meals.