10 of the most haunted homes in the US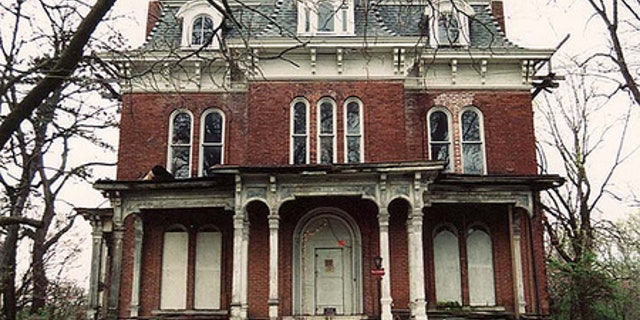 Creaking floors, inexplicable cold drafts and eerie sounds usually don't top the list of dream house features.
Unless, of course, we're talking about dream haunted house features.
It's October, and we're forgoing the usual roundup of eye candy in favor of some cobweb-draped places most people wouldn't dare put a down payment on.
Tales of horror, glimpses of ghosts and a bevy of cobweb decor -- it's all here.
Winchester House
It's as if original owner Sarah Winchester wanted her home to be haunted. The eccentric widow of William Winchester, founder of Winchester rifles, held nightly seances to gain guidance from spirits and her dead husband for the home's design. The end result? A maze-like structure that took 38 years to build and includes twisting and turning hallways, dead ends, secret panels, a window built into a floor, staircases leading to nowhere, doors that open to walls, upside-down columns and rooms built, then intentionally closed off -- all to ward off and confuse evil spirits.
Gardette-LaPrete House
716 Dauphine St, New Orleans, La.
This Greek revival home was the site of the one of the grisliest murders in New Orleans' history. A Turkish merchant, renting the home, was buried alive in the backyard and his harem entourage murdered. Years later, the French Quarter home is still said to be the site of the merchant's wanderings, and on certain nights, exotic music and incense from ancient parties waft from the home.
Hampton Lillibridge
507 E Saint Julian St, Savannah, Ga.
This historic home was moved to its current location in Savannah by a local restoration expert. As work began on the house, workers reported odd noises and a male presence. Early on, they discovered a crypt on the building site half filled with water and covered it.
Despite the rumors of hauntings, the home was finished and was last on the market for $2.2 million in 2011. Although it's off the market now, there's no word of a buyer.
LaLaurie House
1140 Royal St, New Orleans, La.
The LaLaurie House, like many haunted homes, has a pretty horrific backstory. Owned by socialite Madame Delphine LaLaurie and her husband, Dr. Louis LaLaurie, the house was the reported setting for vicious cruelty against the couple's slaves. Reportedly the slaves were subjected to torturous medical experiments that went on unbeknownst to the New Orleans community until a fire broke out and neighbors rushing to rescue discovered the gruesome scenes. The LaLauries fled the country due to the backlash, and the home passed through several owners, each who claimed to hear mysterious screams and see apparitions of the tortured slaves.
At one point actor Nicolas Cage owned the home, and while he said he never saw any ghosts, he wasn't immune to the home's sinister vibes; he lost the property to foreclosure in 2009.
Whaley House
San Diego, Calif.
In 1857, an entrepreneurial Thomas Whaley took advantage of a deeply discounted property in San Diego's Old Town neighborhood that once held the area's hangings. He tore down the gallows and proceeded to build his Greek Revival brick home. However, soon after Whaley and his family moved in, they reported hearing heavy footsteps moving about the house. Even after the Whaleys moved out, various tenants reported seeing ghosts and hearing the footsteps.
Today the historic home is a museum and is open daily for tourists to see if they too hear and see the ghostly apparitions.
Franklin Castle
4308 Franklin Blvd, Cleveland, Ohio
Franklin Castle has both a creepy history as well as a creepy exterior. Home to Hannes Tiedemann, the house was reportedly the site of many vicious murders. Built in 1864, the home has all the makings of a haunted mansion: stone tower and turrets, gargoyles and wrought-iron fencing, not to mention sounds of babies crying, doors slamming and footsteps.
According to the property history, the home was last sold for $260,000 in August 2011. No word yet, if the homeowners are having any eerie experiences.
McPike Mansion
Haunted houses -- how about a whole haunted city? Alton claims to be the one of the most haunted areas in America and is home to McPike Mansion, which is host to a number of active ghosts.
There's no specific backstory to the ghostly going-ons, but visitors and residents of the brick manse have claimed to be hugged by an unseen woman, hear the laughter of children and see mysterious mists and orbs of light. As far as hauntings go, not too sinister.
Borden House
240 2nd St, Fall River, Mass.
This home was the site of one of the most infamous crimes of all time: the murders of Andrew and Abby Borden, reportedly at the hands of Andrew's daughter Lizzie. As the nursery rhyme goes, Lizzie Borden took an ax and gave both her father and step-mother whacks. However, Lizzie was acquitted and moved out of the home.
The home of the murder still stands in Fall River and operates as a bed-and-breakfast, where guests report seeing Andrew and Abby wandering about.
Myrtles Plantation
An antebellum home in a voodoo-rich area of Louisiana is the likely place for a haunted home. Built in 1796, Myrtles Plantation was taken over in 1808 by Clark Woodruff, his wife, Sara, and their three children. According to legend, Woodruff had a relationship with one of his slaves, Chloe, who was jealous of Woodruff's wife. Story goes that Chloe baked a birthday cake for Sara and the kids, including poisonous oleander leaves in the treat. Sara and two of their children died. Chloe confessed, but fellow slaves retaliated, hanging Chloe and dumping her body in the Mississippi.
Chloe isn't the only ghost said to haunt Myrtles Plantation. A Civil War solider was murdered on the steps of the home, and an ancient Native American burial ground is said to beneath the house. All this adds up to a home rich in creepy incidences.
Chambers Mansion
2220 Sacramento St, San Francisco, Calif.
Like most haunted homes, there's a bit of confusion surrounding the true story behind Chambers Mansion. Built in 1887, the home was named after its first owner, silver mine tycoon Richard Chambers, who lived in the home with two nieces who reportedly hated each other.
When Chambers died in 1901, the nieces inherited the mansion. One reportedly bought the house next door and moved in while the other sister, Claudia, stayed. Claudia was discovered cut in half in the mansion one day, due to a "farm implementation" accident. However, a ghost expert has claimed that Claudia was in fact murdered, and still haunts the Pacific Heights home today.
Related: