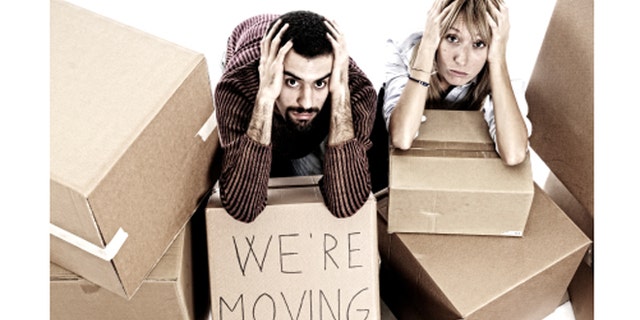 Moving is stressful enough, but you can make it even tougher on yourself by falling for some common pitfalls. Here are ten mistakes that people make when they move and how you can avoid them.
Didn't Label It: Unpacking can take days or even weeks, but you'll want to have access to important stuff right away. So make sure all the boxes are clearly labeled to avoid a fruitless search through stacks of boxes.
Doing It All In One Day: Get an early start on your move. If you have the keys to the new place before you have to be out of your old one, start moving your stuff over one carload at a time. A few boxes a day really adds up and can help take the pressure off on moving day. To make things even easier, avoid the busy moving days if possible, like the first of the month or weekends.
Not Paying For Insurance: When hiring a moving company, it can be tempting to go with the cheapest offer. But before you sign a contact to move your stuff, make sure that discount moving company offers to insure items, a service that often comes with a higher cost. While you'll pay a little more, at least you'll be covered if any of your stuff is damaged in transit.
Failing to Make an Inventory List: A crucial tool for movers, the inventory list will ensure that you know what goes on the truck and what comes off. If something ends up missing, you can start tracking it down right away.
Losing Track of the Important Stuff: The middle of a move is a bad time to lose track of important documents, like your new mortgage papers, or irreplaceable items, like photo albums. Pack invaluable items into a few boxes that you'll take over to the new place yourself and put them somewhere where they won't get lost on moving day.
Not Getting a Petsitter: Pets can be a nuisance during a move. And with people coming and going all day, they are liable to escape through an unwatched open door. Make sure you have a plan on how to handle your pets. Kennel them or get a friend or family member to look after them for the day.
Not Getting a Visual Estimate: While some moving companies will give you a rough estimate over the phone, a visual or in-home estimate is going to be far more accurate. Once they tell you what it will cost, make sure to get it in writing to avoid getting stuck with higher costs on moving day.
Not Giving an Honest Estimate: An estimate is a two-way street. If you conveniently forget to mention a bunch of furniture or underestimate the number of boxes that need to be moved, you'll likely get dinged with extra fees. Save yourself the trouble and be up front during the estimate.
Falling Into Common DIY Traps: Many people choose to go the DIY route, which can be a great way to save money. But it is also fraught with pitfalls. If you plan on renting a moving truck and doing the job yourself, make sure you have enough boxes to pack up your stuff and plenty of blankets or padding to prevent scratching furniture.
Skipping the Final Walkthrough: Before you vacate your old place, don't forget to do a final walkthrough. You want to make sure you know exactly what condition you leave things in before the new tenants move in. The same goes for the new place. Do a quick inspection for any damage. Whether you're a renter or owner, you don't want to be on the hook for someone else's damage.