10 Home Improvement Projects You Can Do in a Day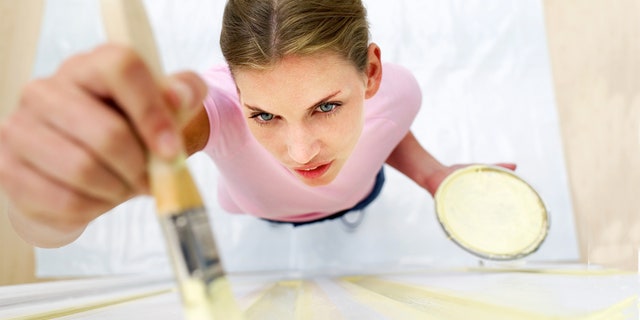 To the uninitiated, home renovations sound daunting and conjure up painful images of burning cash. But don't let that scare you. Many projects can be done in a day, and if you're smart about it, says Kerrie Kelly, founder of Kerrie Kelly Home Design Lab, they'll boost curb appeal without breaking your budget.
"Whether it's something you leave on a list for a handyman to do or you do it yourself, which is always gratifying," she says. Here are few of her favorites.
1. Switch the hardware
Sometimes it's easiest to begin with the front of the house rather than what's inside, Kelly says, especially if you're on a tight budget. To that end, changing the front doorknob and lock is a quick update that only takes a few minutes and can complement the style of the house. Add a kick plate for a touch of glam or go gold for a traditional feel.
2. Brighten the lights
Another quick, simple way to brighten your home is by changing the lights in the front yard. Feel free to purchase new ones, or better yet, clean the ones you already have. Your home will look far less spooky at night, and you'll actually see where you're walking.
3. Paint the door
If scrubbing bug-infested front yard lights isn't your thing, put a new coat of paint on your front door to freshen it up. Go for something that complements the house's exterior or be bold and opt for a pop of color, Kelly says, which will set the right tone.
4. Upgrade your house numbers
House numbers and address plaques are another quick update that can make a big difference. With the proper placement, they can make your house easier to find -- not a bad thing when trying to sell -- and the right style of numbers can help play up its architecture.
5. Plant a vertical garden
Beautify a blank wall by planting a vertical garden. "It can add architecture to the side or back of a home and be more structural" if you opt for, say, hanging planters, stacked crates, or a lattice, Kelly says. And the plants can be anything, from herbs used for cooking to bright gerbera daisies and vines.
6. Update kitchen or bath fixtures
Nothing modernizes a bathroom or kitchen quite like changing the fixtures. If you're starting from scratch, you may want to coordinate with the rest of the room, although Kelly says she's been seeing a lot of mixed metal and mixed wood. "People are more forgiving [of a lack of cohesion], and it seems more livable in our eyes," she says.
7. Paint a piece of furniture
A fresh coat of paint can make old furniture feel new, Kelly says. Anything from bookcases to shelves to nightstands is an easy project, and if you mess up, so what? Just paint it again. "It's not such a commitment, which is nice," she says.
8. Install a fan
Installing a fan doesn't take more than a few hours and is an inexpensive way to add interest to a room. Just remember to keep it "sleek and simple," Kelly says, as low-profile fans are the best. "Don't get too cute with it since it can quickly become dated."
9. Change the cabinet hardware
"Changing the actual cabinet hardware can make a huge difference," says Kelly, who recommends going with nickel for a more modern look. "It can dress up the cabinet." Clear knobs are another option for a timeless and elegant feel, plus, they match nearly everything.
10. Add light dimmers
These days, homeowners are adding light-control dimmers and switches for the energy efficiency, not just the drama, Kelly says. "[Dimmers] are very affordable and create mood and ambiance," plus you can use them with the lights that you already have. For a dramatic look, they work great in the dining room and bedroom.
As you start to plan your home improvements, it's helpful to set a budget so you don't overspend. If you can avoid going into debt to spruce up the abode, all the better. Carrying a high amount of debt on your credit cards -- relative to your credit limit -- can have a negative impact on your credit scores. However, if you do access credit for your home improvement projects, be sure to come up with a plan to pay it off (and follow it). You can see how your debt is affecting your credit by getting your free credit report summary on Credit.com, and you can calculate how long it will take to pay off your credit card debt using this free calculator.
-- -- --
This article was written by Kali Geldis and originally published on Credit.com.
How Much House Can You Afford? Check Your Credit Before Buying a Home How to Get Pre-Approved for a Mortgage Home Loan