Wu Discussing Options With Family, Attorney as Pelosi Seeks Probe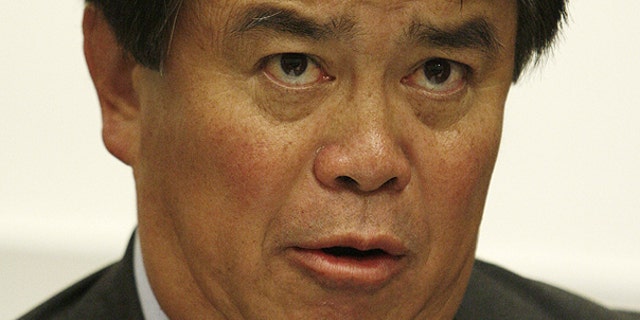 NEWYou can now listen to Fox News articles!
Embattled Rep. David Wu is discussing his options with his family and attorney, a source familiar with the situation told Fox News, as he faces a call from party leadership for an investigation into accusations that he had a forced sexual encounter with a young woman last year.
Wu has not yet made a final decision about his future, though the Oregon Democrat earlier told party leaders he does not plan to resign. However, he is not planning to run for reelection in 2012.
Senior Democrats are gently applying pressure as he weighs his options.
House Democratic Leader Nancy Pelosi said in a statement Sunday night that the House Ethics Committee should "initiate an investigation" into Wu.
"With deep disappointment and sadness about this situation, I hope that the Ethics Committee will take up this matter," Pelosi said. She followed up with a letter Monday to the panel formally requesting the probe.
House Assistant Minority Leader Jim Clyburn, D-S.C., without saying what Wu should do, said he planned to speak with the congressman once he arrives in Washington Monday afternoon.
"I would hope that he would do what's in the best interest of himself, of the Congress and of the American people," Clyburn told Fox News, adding that he knows Wu "very well."
Wu's spokesman Erik Dorey said he couldn't respond immediately to Pelosi's call for a probe, but that Wu might make a statement Monday.
A Democrat who has challenged Wu in next year's primary, state Labor Commissioner Brad Avakian, said Wu should see Pelosi's calls for an ethics investigation as a signal to step down immediately.
"An ethics investigation would result in a long drawn-out distraction and prolong the public pain" for the unidentified woman who has accused Wu, Avakian said through his spokesman, Jake Weigler. "For the sake of our community and this young woman and her family, as well as his own family, David Wu should do the right thing and step aside now."
Another Wu challenger in the Democratic primary, state Rep. Brat Witt, said an ethics investigation is needed so "we get to the bottom of the allegations and determine what the facts are."
Wu's only response so far has been a brief statement late Friday: "This is very serious, and I have absolutely no desire to bring unwanted publicity, attention or stress to a young woman and her family."
Party members said they hoped Wu would respond directly to the allegation reported by the Oregonian newspaper. The paper quoted sources who said a young woman left voicemail at Wu's Portland office earlier this year accusing him of an unwanted sexual encounter three weeks after last year's election.
Citing anonymous sources, The Oregonian reported that Wu told senior aides that the sexual encounter with the young woman in California was consensual. The paper reported Facebook notes indicate she graduated from high school in 2010 and that she registered to vote in California last August.
The paper said the woman decided not to press charges because there were no witnesses and it would have been her word against Wu's.
Wu has won seven terms. In 2004, he won despite acknowledging a decades-old college incident in which he tried to force a former girlfriend to have sex. Voters said they disliked an opponent's attempt to use that against Wu.
In January this year, seven staffers resigned because of behavior that included sending a photo of himself in a tiger costume to a staff member and an angry public speech. Wu attributed those to a period of mental health challenges that began in 2008 as marital issues led to separation from his wife.
The Associated Press contributed to this report.