With Party Leadership in Question, Limbaugh Flexes Clout in GOP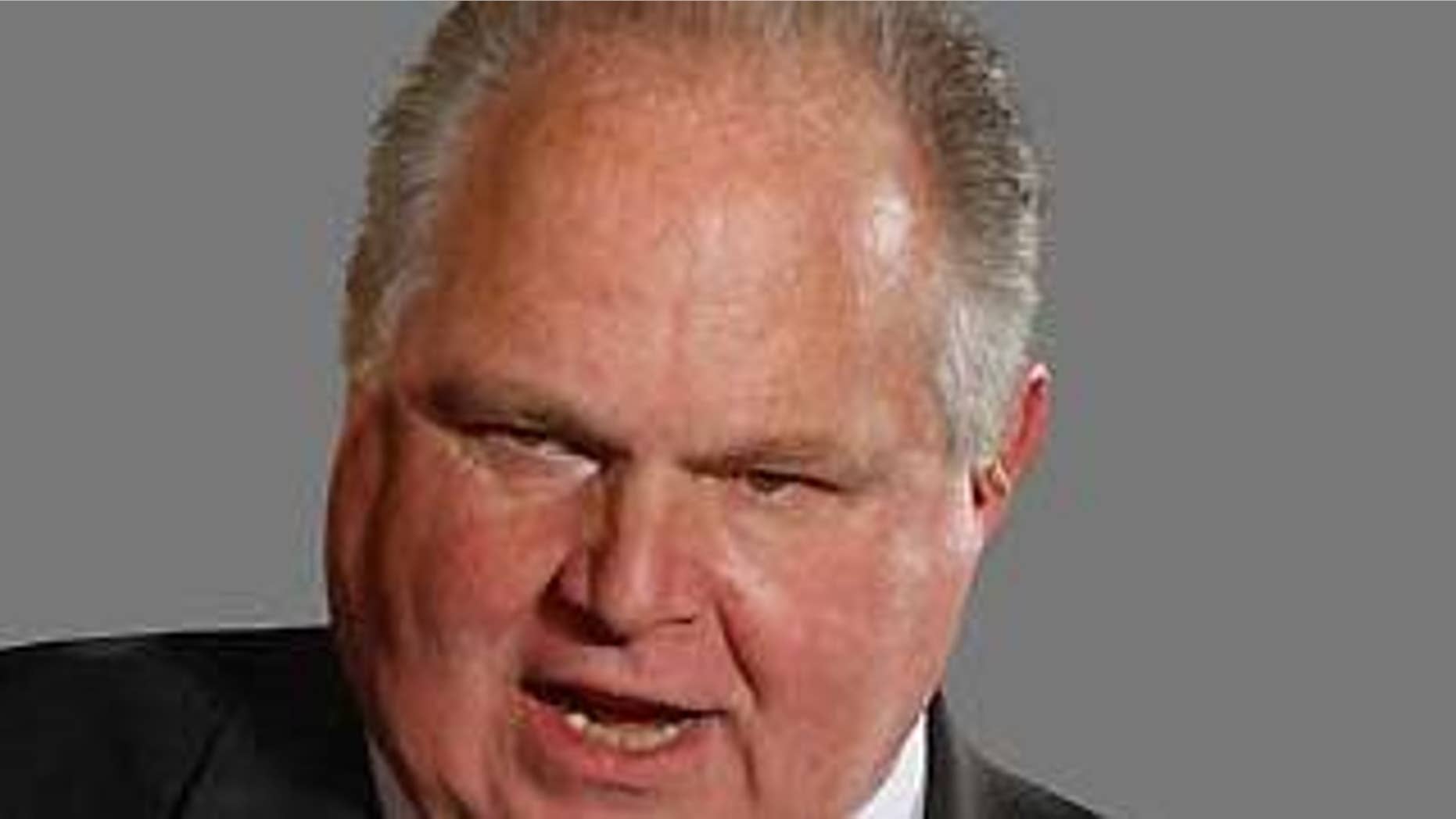 Conservative mega-host Rush Limbaugh disavows talk that he is running the Republican Party -- and party members generally laugh off the idea that a radio jockey is telling them what to do -- but efforts by Democrats to cast the talkmeister as the man in charge may be starting to stick.
"It seems like Rush Limbaugh is the kind of he-who-must-be-obeyed these days in the Republican Party," Democratic National Committee Chairman Tim Kaine told FOX News on Tuesday.
Kaine and the DNC are hammering the theme that Limbaugh can't be crossed, seizing on the apology Republican National Committee Chairman Michael Steele made to the radio host on Monday.
Steele apologized after drawing Limbaugh's wrath over the weekend by calling the host's on-air style "incendiary" and "ugly." His criticism was aimed at Limbaugh's statements about wanting President Obama to fail.
"As (Steele) then apologized ... it left a lot of us wondering who's really in charge," Kaine said, initially calling Steele "courageous" for standing up to Limbaugh.
Limbaugh said on his radio show Tuesday that he's not in charge of the Republican Party and doesn't want to be. "I would be embarrassed to say that I'm in charge of the Republican Party in the sad-sack state that's it's in," he said. "I might get out the hari-kari knife because I would have presided over a failure that is embarrassing to the Republicans and conservatives."
But as Democrats cast Limbaugh as enemy No. 1 and Republicans repeatedly decline dares to cross him, Limbaugh appears to have no obstacles in his path should he choose to steer the GOP ship.
Seizing the bully pulpit for the moment, Limbaugh is steering what some call the "party of no" into the "party of hell, no" -- urging conservatives to dig in on their principles, and to root the Democratic administration to fail.
"The John McCain experiment of moderation clearly does not work," said fellow talk show host Mike Gallagher. "We better stop this conciliatory reaching-across-the-aisle malarkey."
On Tuesday, Limbaugh told his audience that he wants Obama's brand of "socialism" to fail -- not the country itself.
"I don't want the economy to fail. That is why I am sticking my neck out here. ... I am the one that is truly worried about this," he said.
The question of leadership in the Republican Party is a common and sensitive one, heightened by the stumbling of so many potential leaders.
Conservatives say the moderate and tepid message by Sen. John McCain ruined his bid for the presidency last year.
Rising stars like Minnesota Gov. Tim Pawlenty and Florida Gov. Charlie Crist scored at the bottom of a straw poll asking who should be the 2012 GOP nominee for president -- held Saturday at the Conservative Political Action Conference that Limbaugh headlined.
Former Massachusetts Gov. Mitt Romney won the poll with 20 percent. But he won it last year, too -- although he failed to win the hearts of primary voters. He won the straw poll right after he dropped out of the presidential race.
Louisiana Gov. Bobby Jindal ranked second in this year's poll despite being panned for last week's lackluster rebuttal to Obama's address to Congress. Jindal had been hailed as another rising star and possibly Republicans' answer to Obama.
"I'm a policy guy," Jindal told reporters Monday as he defended himself against charges that he flunked the audition.
Alaska Gov. Sarah Palin inspired the base as McCain's running mate, but she was dogged by accusations that she was unqualified and out of her league. She came in third in the straw poll, tying with Rep. Ron Paul, whose ultra-libertarian message makes many mainstream Republicans shudder.
In the CPAC straw poll, participants overwhelmingly picked Limbaugh as their favorite media personality. He was presented with the "Defender of the Constitution Award" at the event.
South Carolina GOP Chairman Katon Dawson, who ran unsuccessfully against Steele for RNC chairman, said leadership in the Republican Party is clearly spread out among many people, not a single individual.
"I've always said that you're not going to have one person lead the Republican Party. It takes the Glenn Becks, the Rush Limbaughs, the Sean Hannitys ... to help articulate the message," he said. "We've got a lot of people out there."
Dawson said governors like Palin and Jindal are still drawing a lot of interest and support. And Romney, with his business background, is in a position to come out on top given the big-government reaction to the recession.
"Look out for Mitt Romney. He's in an 'I told you so' position," Dawson said.
Dawson said Limbaugh is no "kingmaker," but Steele would be misguided to think the party's leader has the recognition to make or break the GOP.
"You can only name a handful of RNC chairmen," he said.
Limbaugh said on his show that Steele is not in charge despite his declaration over the weekend that he is the "de facto leader" of the party.
"Michael, you are head of the RNC. You are not head of the Republican Party," Limbaugh said as he launched a lengthy on-air excoriation of the newly elected chairman. "Tens of millions of conservatives and Republicans have nothing to do with the RNC and right now they want nothing to do with it, and when you call them asking them for money, they hang up on you."
Limbaugh ridiculed Steele for trying to be a "talking head pundit" and "media star" and relegated him to the level of GOP bureaucrat. He said Steele "took the bait" of the liberal media by attacking him.
So did Steele err by going after Rush in the first place?
No question, said Gallagher.
"It's a joke to pretend ... that Rush Limbaugh isn't one of the most prominent Republican voices in American today," he said. "There's a reason Michael Steele is now falling all over himself to apologize, because he made a mistake."
He, too, said the GOP has room for more than one voice. But Steele's authority is not in question.
"Rush is a prominent voice, Michael Steele is the chairman of the Republican National Committee. They're not mutually exclusive," Gallagher said.
Democratic strategist Maria Cardona said Steele should never have apologized because his criticism of Limbaugh is appealing to the moderate audience his party needs.
"What he said about Rush Limbaugh, a lot of people actually agree with," she said. "His apology hurt him."