With lessons learned from 2008, Hillary Clinton takes Iowa more seriously this time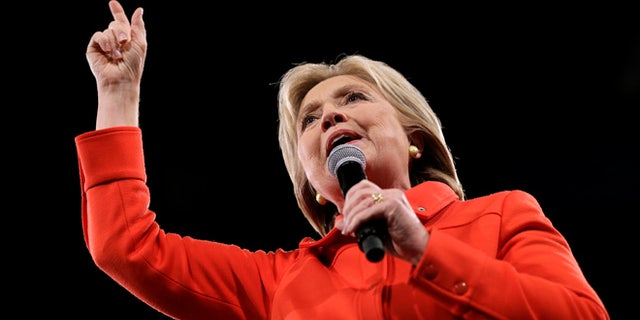 Just a few weeks out from Iowa's first-in-the-nation presidential contest, Hillary Clinton – mindful of the bruising she got there when running for the Democratic nomination in 2008 – is leaving nothing to chance.
She has spent far more time in Iowa, shaking hands, holding town hall meetings, and going to gatherings in private homes, than she did when she ran against then-Sen. Barack Obama, at the time preferring to hold impersonal, less frequent event-style functions that turned off many in the Hawkeye State.
"I need you," she said during a recent appearance in Iowa as she shook hands with residents and posed for selfies.
And, indeed, she does need Iowa quite badly this time around.
Her lead over her rival, Sen. Bernie Sanders of Vermont, among Iowans has narrowed, from one of double-digits months ago to roughly 9 points most recently.
In 2008, Clinton campaigned like an inevitability, and Iowans resented it, flocking to caucuses – for the first time for many of them – and choosing Obama as their choice. Clinton, in fact, came in third, behind Obama and Sen. John Edwards, of North Carolina.
Obama got nearly 38 percent of the vote, Edwards got 27.7 percent and Clinton got 29.4.
Now, having learned from Obama's well-organized ground infrastructure and presence in Iowa in 2008, Clinton has a solid campaign organization there, and at virtually any time, either she or a surrogate of her campaign is visible in the state.
"We can't take anything for granted," Clinton said Monday night at Des Moines' State Historical Museum, a replica of a massive wooly mammoth looming off to the side as she spoke. "It doesn't happen just because we wish it. It doesn't happen because it's inevitable."
"I know if I get off to a good start in Iowa, we're halfway home," Clinton said, according to Politico.
Former President Bill Clinton was appearing in Cedar Rapids and Dubuque on Thursday on behalf of his wife, and is certain to return. Her team is also dispatching backers like Virginia Gov. Terry McAuliffe, a top adviser during her 2008 campaign, and actress Lena Dunham of HBO's "Girls" in the coming days.
"Nobody's complacent because of the 2007 and 2008 experience. This is not a done deal," said Agriculture Secretary Tom Vilsack, a former Iowa governor who introduced Clinton at events on Monday. "I like what she's doing — she's reminding people what's at stake here. That's a motivating factor."
Sanders lacks the kind of statewide presence in Iowa that Clinton has, though he is a favorite among younger caucus-goers.
A Fox survey showed the senator leading Clinton among caucus-goers under the age of 45 by more than 30 points — 56 percent to 34 percent. Clinton leads among caucus-goers older than 45 years old, who are more likely to go to the caucuses.
With Sanders being led by Clinton in New Hampshire by just a few points, experts say it is particularly crucial that Clinton nail Iowa.
She has been pushing her experience, and herself as having the best shot at being elected.
"I think I'm the only candidate with the experience to fill that job description," she said at a town hall in Osage.
Much of Clinton's message revolves around defending Obama's legacy. She warns that a Republican president would repeal Obama's health care law, slash taxes on the wealthy and undercut executive actions on gun violence and pollution.
Part of her goal is to make a personal connection with voters over issues, as she puts it, "that keep families up at night." In Sioux City on Tuesday, she rolled out a new initiative to provide more federal resources for 3.5 million Americans with autism.
Last month, she announced a $2 billion plan to address Alzheimer's during a stop in Fairfield, Iowa, and she frequently talks about substance abuse and mental health problems at events.
Democrats say Sanders appears to have made a more emotional connection with his supporters.
"He seems more genuine," said Dan McCarthy of Bettendorf, a defense worker who spoke about Sanders as he sat with his mother before a Clinton event in Davenport. "I don't like the idea of having the same people over and over again. You're not going to change anything."
McCarthy said he was supporting the Vermont senator while his mother, Joan, said she was still assessing the Democratic field.
But Clinton's argument brought at least one fence-sitter onto her side in Des Moines.
"To me, it's who is more electable," said Al Hart, a retired social studies teacher from Ankeny who said he decided to support Clinton after listening to her speech at the museum. "I think she's got the fire in belly to get elected. She's been through this before."
Grant Woodard, a Des Moines lawyer and veteran of several Democratic campaigns, said the size of the caucus would play a major role given Sanders' attempt to attract college students and first-time caucus-goers. Most expect it to fall somewhere between 2008's record of about 240,000 and the 125,000 who participated in 2004.
"Sanders people are more motivated but I am not sure there's enough of them," Woodard said.
As for Clinton, he said the challenge was simple: "How do you keep them motivated when folks think this is in the bag?"
The Associated Press contributed to this report.
Like us on Facebook
Follow us on Twitter & Instagram