Wife of Israel prime minister charged with fraud over alleged misuse of public funds
Sara Netanyahu, the wife of Israeli Prime Minister Benjamin Netanyahu, on Thursday was charged with a series of crimes, including fraud, over alleged misuse of public funds.
Netanyahu, 59, was also charged with breach of trust in connection with the "Prepared Food Affair," the Jerusalem Post reported.
Netanyahu was accused of misusing about $100,000 of public funds for catering services at the prime minister's Jerusalem home while falsely stating there were no cooks on staff, the justice ministry stated.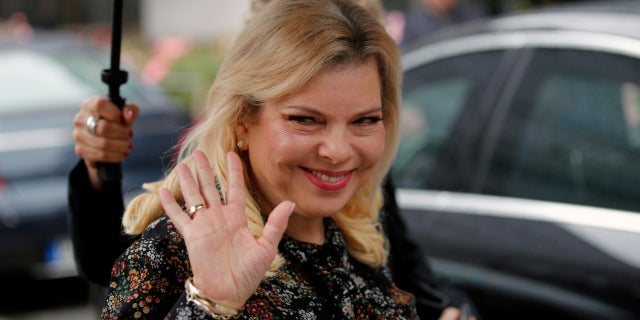 Prosecutors alleged in the "Prepared Food Affair" that Netanyahu, along with then-deputy director-general Ezra Seidoff, claimed the prime minister's residence did not have a cook although one was working at the home. She allegedly ordered that the cook's employment be kept secret and "she was aware that ordering meals from the outside for the residence when it employed a cook was a violation of the rules," Haaretz reported.
Seidoff was also charged with "falsification by a public servant."
Sara Netanyahu acted "to circumvent the rules and conditions" governing the official residence "in order to fraudulently obtain state funding for various expenses for the accused and her family that were not supposed to be financed in this manner," the indictment said.
The indictment came after Netanyahu refused to pay for the outside meal charges despite a number of attempts to reach an agreement.
Netanyahu has long faced allegations of abusive behavior and living extravagantly in a manner out of touch with the general public.
In 2016, a court ruled she abused an employee and awarded the man $42,000 in damages. Other former employees have accused her of mistreatment – charges the Netanyahu's have vehemently denied.
If convicted, she could face a maximum sentence of five years behind bars. It was not immediately clear when her trial would start.
Netanyahu's attorney's released a statement saying, "The indictment is absurd and delusional. This is the first time in Israel that a first lady is indicted on take-away food. There was no fraud nor breach of trust or any other wrongdoing..."
"Now there is a chance to shed light on the facts. We are certain that at the end of the day justice, truth and logic will prevail," the statement concluded.
Prime Minister Benjamin Netanyahu also faces several police investigations into alleged corruption. Netanyahu has denied any wrongdoing, dismissing the accusations against him and his wife as a media witch hunt. In one instance, Netanyahu and family members were suspected of receiving jewelry, cigars and champagne worth about $285,000. He was also suspected of giving special treatment to Arnon Mozes, the publisher of the Yediot Ahronot daily, and in return, the newspaper would give him favorable coverage. The couple's eldest son, Yair, has also been questioned and interrogated in the past for various suspicions all related to fraud and breach of trust.
Benjamin Netanyahu was not named in the case.
Fox News' Kaitlyn Schallhorn, Yonat Friling and the Associated Press contributed to this report.