Who is Hope Hicks? 3 things to know about Trump's communications director
A former model and public relations consultant, Hope Hicks quickly rose up the ranks during President Trump's 2016 campaign to become one of his most loyal staff members. So it came as a surprise Feb. 28 when Hicks announced she would be leaving her role as White House communications director to explore new opportunities.
"There are no words to adequately express my gratitude to President Trump," Hicks announced. "I wish the president and his administration the very best as he continues to lead our country."
At 29, she was the youngest communications director in the history of the White House – and one of Trump's longest serving aides.
The president described her as "smart" and "thoughtful," adding that she is "truly a great person."
"Hope is outstanding and has done great work for the last three years," Trump said in a statement provided by the White House. "I will miss having her by my side but when she approached me about pursuing other opportunities, I totally understood. I am sure we will work together again in the future."
White House Chief of Staff John Kelly echoed Trump's sentiment, adding that Hope is "poised and wise beyond her years."
The announcement came a day after Hicks met with lawmakers on the House Intelligence Committee for nine hours as part of the investigation into alleged Russian interference in the 2016 election. During the meeting, Hicks acknowledged that she has occasionally told "white lies" for Trump, but said she has not lied about anything relevant to the Russia investigation.
Hicks informed the committee that one of her email accounts had been hacked, an intelligence source told Fox News. According to the source, it was an old account she had since college -- not an email address related to her White House role.
Here's are 3 things you should know about Hicks as she prepares to depart the White House in the next few weeks.
Growing up
The daughter of Caye Cavender and Paul B. Hicks III, Hicks grew up in Greenwich, Connecticut.
Her parents were involved in politics. In fact, that's how they met.
Her mother was a legislative aide for Rep. Ed Jones, D-Tenn., in Washington, D.C., according to a 1982 wedding announcement in The New York Times. And her father served as chief of staff for former Rep. Stewart McKinney, R-Conn.
"[They] met by chance when they were both working in Washington, and both were guests in 1981 at a speech by President Ronald Reagan to a joint session of Congress," the Hartford Courant reported.
Unlike her parents, Hicks shied away from the political arena. Instead, she followed in the footsteps of her sister, Mary Grace, and began modeling, most notably working for Ralph Lauren.
She played various sports in high school, including lacrosse and swimming, before she graduated in 2006. She then attended college at Southern Methodist University, where she graduated in 2010.
Hicks' history with the Trumps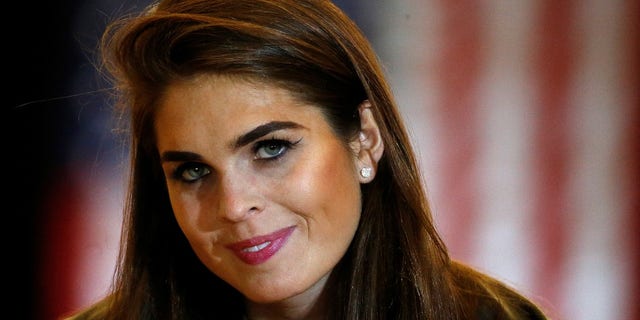 Hicks has known the Trump family for years.
Her first job out of college was at a small New York PR firm founded by Matthew Hiltzik, "a hard-core Democrat who worked in 2000 on Hillary Rodham Clinton's campaign for U.S. Senate," the Courant reported. It was there Hicks met President Trump's eldest daughter, Ivanka.
She joined the Trump Organization in 2012, working under Ivanka. Hicks was tasked with expanding the Ivanka Trump Collection, working on the public relations team and occasionally modeling new clothing and accessories from the Ivanka Trump Collection.
"As Hicks ingratiated herself to Ivanka, she won over The Donald as well—helped by the eager-to-please disposition she'd displayed since childhood," GQ wrote in a June 2016 profile of Hicks.

Hicks' role: From the campaign to the White House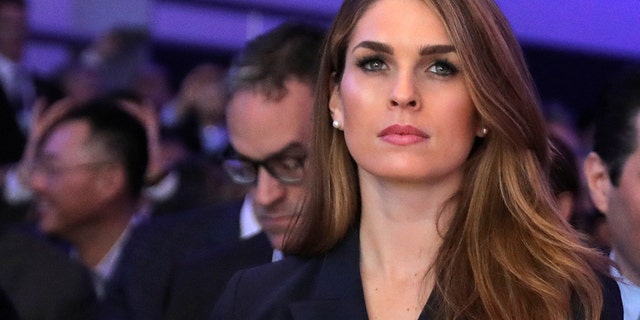 Hicks had no political background when Trump asked her to serve on his campaign as press secretary. The New York Times said she was "arguably the least credentialed press secretary in the modern history of presidential politics."
Throughout the 2016 campaign, Hicks famously avoided publicity. She never went on camera, and was known for her "no comment" responses.
She joined the White House after the campaign, and was promoted in the summer to director of communications — a title that only partly captured her more expansive role as the president's gatekeeper to the press.
Hicks, who occupied the desk closest to the Oval Office in the West Wing, has since been a central participant in or witness to nearly every milestone and controversy of the Trump administration.
"She became a trusted adviser and counselor and did a tremendous job overseeing the communications for the President's agenda, including the passage of historic tax reform," Kelly said. "To say that she will be missed, is an understatement."
The Associated Press contributed to this report.