White House Western Swing Take Two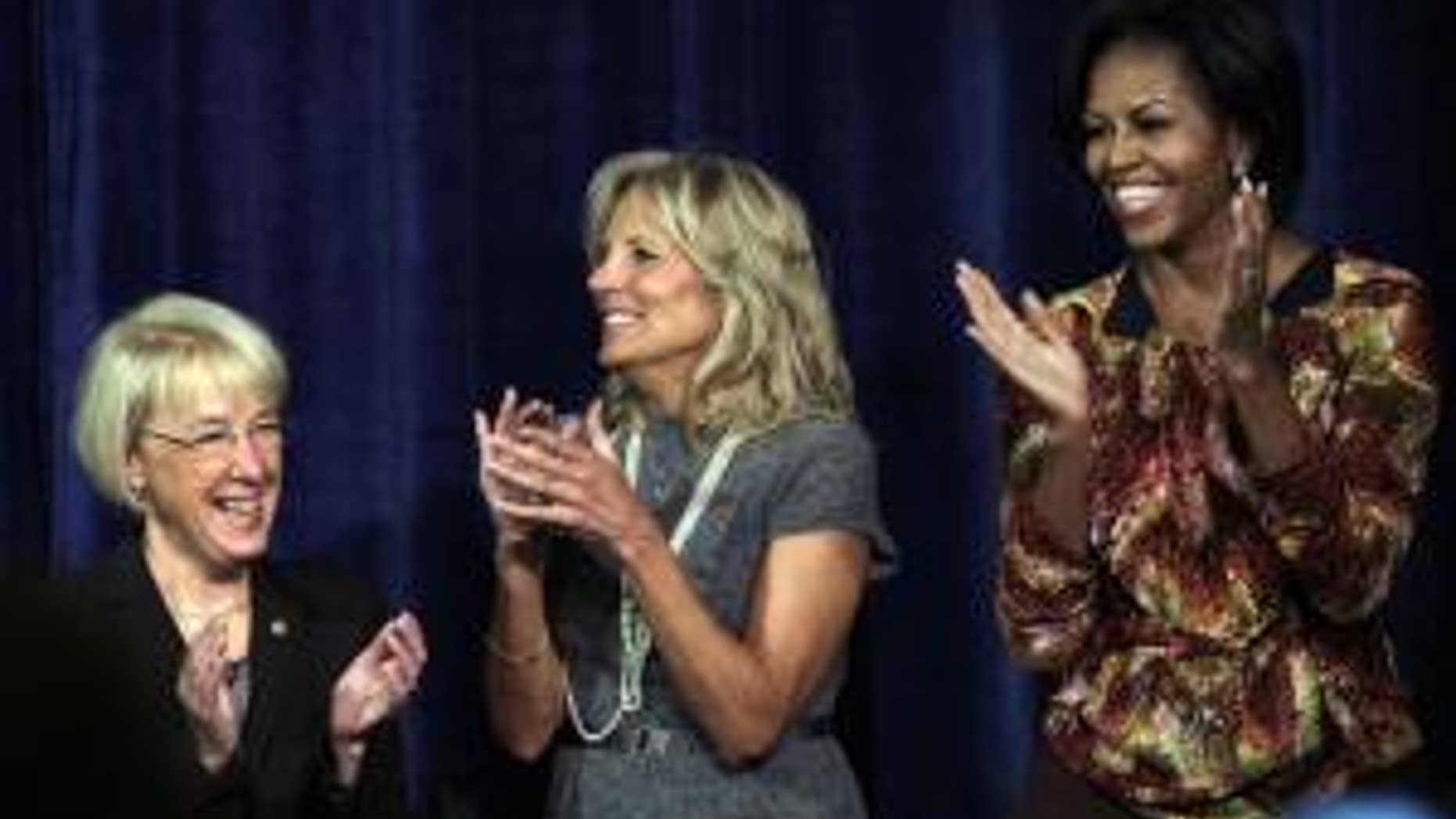 With less than a week until mid-term elections, the White House is sending out all its principals to campaign for democratic candidates, but noticeably absent from the road this week is the president himself while his wife makes her way through a West Coast swing that is very similar to a trip taken by Mr. Obama just last week.
First lady Michelle Obama and Dr. Jill Biden were in Seattle and San Francisco Monday, campaigning for Senator Patty Murray and House Speaker Nancy Pelosi. Tuesday, the two ladies are in Los Angeles, speaking at The Women's Conference, an event run by California First Lady Maria Shriver. They will then both appear on "Ellen." It's a very public image for the first lady, who has spent most of the first two years of her husband's presidency out of the campaign spotlight, but experts say it's a good time to use Mrs. Obama's popularity -which hovers around 60 percent.
"She's very popular right now and less polarizing [than President Obama] and you often see this with first ladies," says Democratic strategist and Fox News Contributor Joe Trippi.
While the president just completed his own trip out west Trippi says the White House is probably trying to keep interest high during the final push.
But republicans say the doubling up of the president and first lady shows there's a real awareness by the White House there are groups of voters they need to work extra hard for to garner their votes.
"Many of these Democratic candidates in tight races are trying to mobilize women voters in the closing days as part of their turnout model," says former Mitt Romney campaign spokesman Kevin Madden. " They see that demographic as critical to the margin of victory. Patty Murray and others are hoping that Michelle Obama can persuade any remaining undecided women voters or mobilize those who may have been inclined to stay home on Election Day."
For her part, Mrs. Obama continues to play up the "mom-in-chief" idea, telling the audience in Seattle on Monday that what Murray has done for Seattle is what moms do for families. "She came to this work as a mom - as a mom in tennis shoes - because she wanted to help people. She came to this work because she wanted to solve problems," Obama said. "That is what we do as moms, and that is what Patty has been doing every day for the people of this state," Mrs. Obama said.
The campaign appearances by Mrs. Obama and Dr. Biden are a chance for the White House to reinforce what the president has been saying on the trail - he needs help from voters to get democrats back into Congress while admitting all the change talked about on the 2008 campaign still hasn't arrived for most Americans. "I know that a lot of folks are still hurting, I know that for a lot of folks, change hasn't come fast enough. Believe me it hasn't come fast enough for Barack ... or any of us," Mrs. Obama said at the Murray event in Seattle."But the truth is, it's going to take us a lot longer to dig out of the hole than any of us would like."
The metaphor of 'digging out' is a familiar one to anyone covering the mid-term elections. The president frequently talks about democrats digging out of a ditch the republicans backed them into during the years of failed policy. And Mrs. Obama is echoing her husband in other ways too, talking about how hard it's been for this White House to deliver the change promised. "He told us that change is hard. He told us that change is slow. We have to push past the cynicism because there is too much at stake right now," Mrs. Obama said in San Francisco on Monday evening.
Meanwhile, on the east coast at a fundraiser for democratic candidates, the president was saying almost the same thing. "You know what, actually delivering change is very hard. I warned you," Obama said. "But I want everybody to understand we're just in the first quarter. We got a whole game to play. We've got a whole game to play. We've got a whole game to play. "
The final push by both the president and first lady could end up working out to the democrats advantage."They know what they're doing," says Trippi. "The president is going to do everything he can to make the democrats win."