White House reacts to Macron's claim France 'convinced' Trump to keep US troops in Syria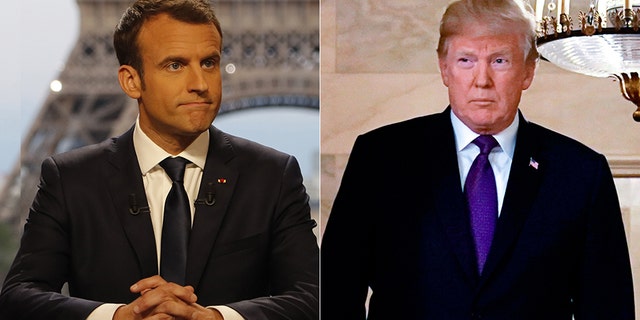 The White House reacted Sunday night to France's claim that it "convinced" President Donald Trump to maintain the U.S. military presence in Syria, shortly after the two allies took part in airstrikes against the Assad regime.
"Ten days ago, President Trump wanted to withdraw from Syria. We convinced him to remain," French President Emmanuel Macron said live on French television BFM and online investigative site Mediapart.
White House Press Secretary Sarah Sanders said in response: "The U.S. mission has not changed — the president has been clear that he wants U.S. forces to come home as quickly as possible. We are determined to completely crush ISIS and create the conditions that will prevent its return. In addition we expect our regional allies and partners to take greater responsibility both militarily and financially for securing the region."
The U.S., France and the U.K. launched the airstrikes early Saturday in a joint operation, saying it was in response to the deadly chemical attack on Syrian civilians — an attack they linked to Syrian President Bashar al-Assad.
Macron said the U.S., Britain and France had "full international legitimacy to intervene" with the strikes, to enforce international humanitarian law.
"It was retaliation, not an act of war," Macron said in justifying the operation a day before the French parliament was set to debate it.
He also claimed France was the most active country in the diplomatic arena and at the United Nations, and said his country wanted to include Western powers, Russia and Turkey in a new diplomatic initiative to find a sustainable political solution in Syria.
Macron also offered to play the role of intermediary between the United States and Russia, whose relationship has been on edge over the chemical attack and amid allegations that Russia tried to interfere in the U.S. 2016 presidential election.
The French leader, described as centrist and pro-free-market, is set to make a state visit to the U.S. next week and is scheduled to travel to Russia next month.
Many leaders around the globe also voiced support and understanding for the airstrikes against Syria, but warned against allowing the seven-year conflict to escalate.
"Strikes by US, France and UK make it clear that Syrian regime together with Russia & Iran cannot continue this human tragedy, at least not without cost. The EU will stand with our allies on the side of justice," European Council President Donald Tusk tweeted.
European Union Commission President Jean-Claude Juncker said: "The international community has the responsibility to identify and hold accountable those responsible of any attack with chemical weapons. This was not the first time that the Syrian regime has used chemical weapons against civilians but it must be the last."
The NATO alliance gave its full backing; NATO Secretary-General Jens Stoltenberg said the attack was about ensuring that chemical weapons cannot be used with impunity. Stoltenberg said: "Before the attack took place last night, NATO allies exhausted all other possible ways to address this issue to the U.N. Security Council but ... were blocked by Russia ... I am not saying that the attacks … solved all problems but compared to the alternative to do nothing, this was the right thing to do."
While Trump declared success, the Pentagon said the pummeling of three chemical-related facilities left enough others intact to enable the Assad government to use banned weapons against civilians if it chooses.
"We support the fact that our U.S., UK and French allies took on responsibility in this way as permanent members of the U.N. Security Council. The military strike was necessary and appropriate in order to preserve the effectiveness of the international ban on the use of chemical weapons and to warn the Syrian regime against further violations," German Chancellor Angela Merkel said.
U.S. Ambassador to the U.N. Nikki Haley made clear the United States would not pull troops out of Syria right away, saying U.S. involvement there "is not done."
Haley said the three U.S. goals for accomplishing its mission have been making sure chemical weapons are not used in a way that could harm U.S. national interests, defeating the Islamic State terror group and having a good vantage point to watch what Iran is doing.
"We're not going to leave until we know we've accomplished those things," she said.
Haley said the joint military strike "put a heavy blow into their chemical weapons program, setting them back years" and reiterated that if Assad uses poison gas again, "the United States is locked and loaded."
Fox News' Jenny Buchholz and The Associated Press contributed to this report.