White House physician: Trump is in excellent physical and mental health
The White House physician said Tuesday that President Trump is in excellent physical and mental health, adding he has "absolutely no concerns about the president's cognitive ability or his neurological function" after conducting a medical examination of the president last week.
"All clinical data indicates the president is healthy and that he will remain so for the duration of his presidency," Dr. Ronny Jackson, a rear admiral in the Navy, said during a Tuesday briefing with reporters.
The president underwent a physical exam Friday at Walter Reed National Military Medical Center.
WHITE HOUSE PHYSICIAN: TRUMP IN 'EXCELLENT HEALTH'
Speaking to reporters Tuesday, Jackson listed a variety of tests that indicate "the president's overall health is excellent." But he said he recommends that the 71-year-old Trump, who stands 6-foot-3 and weighs 239 pounds, do more dieting and exercise.
Jackson said Trump doesn't have a daily exercise routine. He said Trump's blood pressure was 122 over 74, and his total cholesterol was 223, which is higher than recommended.
"I think a reasonable goal over the next year or so is to lose 10 or 15 pounds," Jackson said. "We talked about diet and exercise a lot. He's more enthusiastic about the diet part than the exercise part, but we're going to do both."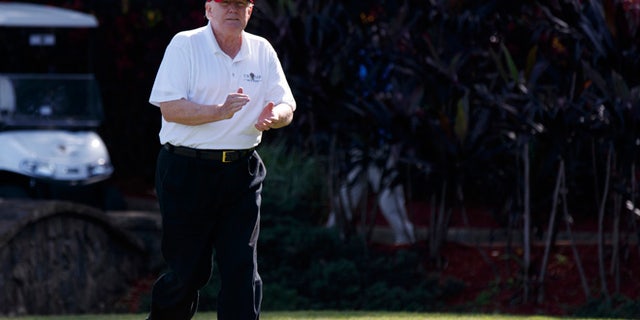 When a reporter asked how Trump is healthy, despite eating fast food and not exercising, Jackson replied: "He has incredibly good genes."
Jackson, who said he sees Trump nearly every day, added he had no intention of doing a cognitive exam because he had no existing concerns about the president. But Trump – who has recently slammed the media for raising questions about his mental fitness -- asked him to do one.
"The president did exceedingly well on it," Jackson said. "That was not driven at all from any concerns I have. It was driven by the president's wishes and he did well on it."
Jackson said Trump's heart exam was normal, with regular rhythm and no abnormal sounds.
He said Trump does not drink or smoke -- something that has had a big impact on his health.
Trump also has no heart disease and no family history of it.
Presidents aren't required to get a checkup, but modern presidents do so regularly and release a doctor's report on the findings.
Jackson was named White House physician in 2006, working as then-President Obama's doctor. Previously, he was deployed in Iraq, where he practiced emergency medicine for the Surgical Shock Trauma Platoon in Taqaddum, according to his online biography.
In the past, Trump had medical exams conducted by his personal physician, Dr. Harold Bornstein, who memorably claimed in 2015, "If elected, Mr. Trump, I can state unequivocally, will be the healthiest individual ever elected to the presidency."
The Associated Press contributed to this report.