White House 'deeply concerned' over reports of renewed ISIS advance against Yazidis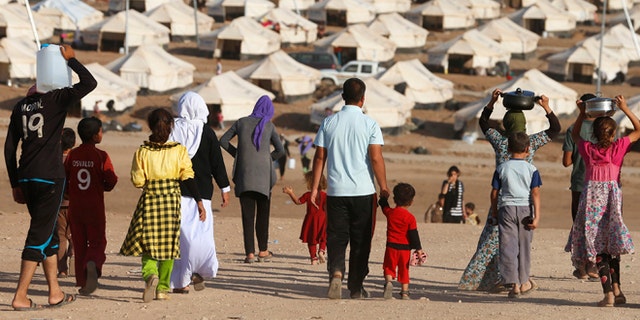 The White House said Wednesday it is "deeply concerned" by reports that Islamic State militants are advancing on the same Yazidi community in Iraq whose plight prompted the U.S. military to intervene two months ago in an attempt to save the religious minorities from "genocide."
The airdrops of supplies and military intervention in August were credited with helping Yazidis trapped in and around Mount Sinjar escape a siege by Islamic State forces. But new reports claim members of the religious sect are calling anew for U.S. help as Islamic State militants seize villages and once again force them to seek refuge on the mountain.
The developments come as the U.S.-backed coalition focuses on the fiercely contested Syrian border town of Kobani, launching airstrikes and airdropping weapons in support of Kurdish fighters.
Asked Wednesday about the attacks near Mount Sinjar, National Security Council spokesman Alistair Baskey told FoxNews.com the Obama administration is "deeply concerned by reports of ISIL's increasingly intense attacks against communities near and on Mount Sinjar, including against [Yazidis] who are attempting to protect the remaining civilian population."
Baskey added: "We are looking into these reports and continue to assess the situation and what assistance we may be able to provide to those in need."
Pentagon spokesman Rear Adm. John Kirby also was asked at a briefing Tuesday about the Yazidis' situation, but could not provide details on reports that villages had been seized.
"That said," Kirby said, "we certainly have been tracking ISIL's interest in and around Mount Sinjar. And you've seen of late -- there's been a couple of airstrikes done in and around there, so we're watching that."
Islamic State advances on that community would represent a setback for the U.S.-led effort. The Yazidis' plight was a major factor in President Obama's decision to launch aid drops – and military action – in Iraq, before eventually expanding that campaign into Syria. Eventually, thousands of Yazidis were able to escape from Mount Sinjar.
But Reuters reports that ISIS militants advanced on the mountain on Tuesday, attacking Yazidi residential areas and forcing them up Mount Sinjar, again.
"We are outnumbered and outgunned," one Yazidi volunteer told Reuters.
The Washington Post reported that the militants had seized villages and were blocking roads, as the volunteers protecting the area for more than two months were forced to pull back.
A U.N. official was quoted telling reporters on Tuesday that the actions against the minority group may amount to "attempted genocide."
Reuters also quoted a Yazidi lawmaker questioning why U.S. planes were hitting ISIS positions in Kobani but not around Mount Sinjar.
Kobani increasingly has drawn the resources of the U.S.-led coalition, which has used the amassing of ISIS fighters in the border town as an opportunity to take out large numbers of targets.
The U.S. reportedly is collaborating more closely with Kurdish commanders, though, to save Kobani from falling to Islamic State militants.
The U.S. launched more strikes near Kobani on Tuesday, as well as a dozen strikes in Iraq near the Mosul Dam.
Earlier this week, the U.S.-led coalition also airdropped weapons to Kurdish fighters in the Kobani area. Following claims, though, that one of those bundles ended up in ISIS hands, the Pentagon acknowledged Wednesday this may be the case.
Pentagon spokesman Col. Steven Warren said one bundle "went astray and was destroyed." But, he said, "we have determined that a second bundle also went astray and probably fell into enemy hands."
He said they have "no reason to doubt" that a web video claiming ISIS got the bundle is "legitimate," but "the fact that one or two bundles went astray is not of any real concern to us."
Fox News' Justin Fishel contributed to this report.