Washington city councilman under fire for anti-Latino Facebook post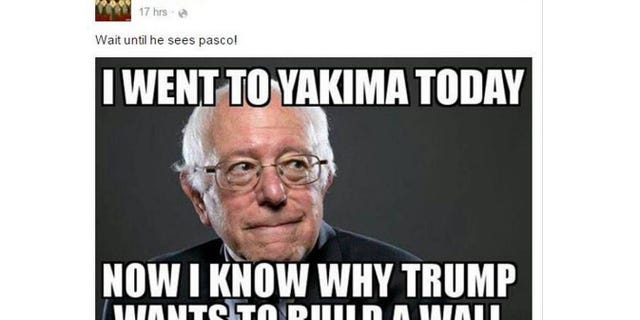 NEWYou can now listen to Fox News articles!
A city council member in Washington state has come under fire over a Facebook post that some say disparages the Latino community.
Bob Parks, a council member in the city of Kennewick, put up a Facebook post Thursday with a photo of Democratic presidential candidate Bernie Sanders. The caption on the post said: "I went to Yakima today. Now I know why [Republican presidential candidate Donald] Trump wants to build a wall."
Then, Parks added on the post: "Wait until he sees pasco!"
Sanders stopped in Yakima on Thursday to rally supporters before Saturday's Washington Democratic caucuses. Both Yakima and Pasco have a booming Latino population, though Pasco's Hispanic population is slightly larger. About 48 percent of Yakima's population is Hispanic while 56 percent of Pasco's population is Latino, according to the Seattle Times.
The post, which was public but later taken down, set off a series of nasty exchanges between Parks and Pasco Mayor Matt Watkins, according to the Times.
"You managed to trash Yakima, Pasco and Latinos all at once. That's lame Bob," Watkins wrote on Facebook.
Parks then brought up a police shooting death of an unarmed Mexican immigrant in Pasco that stoked racial tensions in the community. Hundreds of Hispanic activists protested in the street for days and weeks following the 2015 shooting death of Antonio Zambrano-Montes, who was killed after police said he threw rocks at them and he refused to obey multiple orders to stand down.
"You let it happen as the mayor, your problem. I try not to go the either city's. at least without rocks," Parks responded.
Parks later told the Tri-City Herald that he had a right to speak his mind. He was even, he told the website, enjoying the uproar.
"I still have an opinion. I still have my First Amendment rights even if I'm on the City Council," he told the Herald. He said he is even reconsidering his decision to step down after his term ends.
"I might run again to give them something to do," he said.
Kennewick Mayor Steve Young told the Herald that he Parks' comments in no way reflect how the majority of the city feels.
"We've told council members when you're an elected official, you don't have a personal life," Young told the Herald. "When you say something, people believe that's reflective of policy and how people think."
Like us on Facebook