Warren accuses Trump of 'disrespect' to Native Americans for 'Pocahontas' nickname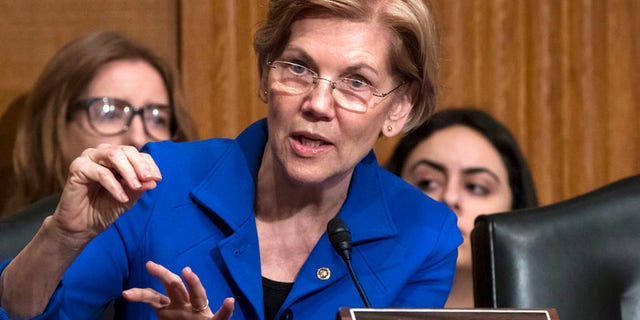 NEWYou can now listen to Fox News articles!
Sen. Elizabeth Warren has had it with the whole "Pocahontas" thing.
The Massachusetts Democrat used a surprise appearance Wednesday before a Native American audience to launch a fiery -- albeit belated -- counter-attack against President Trump for using that nickname as far back as the 2016 campaign.
In the D.C. address, Warren accused Trump of engaging in the "disrespect of Native people" by using the term -- while doubling down on her past claims of American Indian ancestry that earned her the moniker in the first place.
"Now I've noticed that when my name comes up, President Trump likes to talk about Pocahontas," Warren said in a speech to the National Congress of American Indians.
Speaking of Trump, the potential 2020 Democratic presidential candidate said: "Now we have a president who can't make it through a ceremony honoring Native American war heroes without reducing Native history, Native culture, Native people to be the butt of a joke. The joke, I suppose, is supposed to be on me."
TRUMP SLAMS ELIZABETH WARREN AS 'POCAHONTAS' DURING OVAL OFFICE MEETING WITH NAVAJO CODE TALKERS
She added: "Our country's disrespect of Native people didn't start with President Trump."
Trump has repeatedly mocked Warren for past claims she has made about being part Native American – claims contested by opponents during her Senate runs.
During her run for the Senate in 2012, it was revealed Harvard once touted her as a minority hire, citing Native American ancestry even though she hasn't referred to herself that way in more recent years. She had claimed to be part Cherokee. But she did not provide documentation, and one report at the time estimated she could be just 1/32 American Indian.
"I get why some people think there's hay to be made here," Warren said Wednesday. "You won't find my family members on any rolls, and I'm not enrolled in a tribe. ... I respect that distinction."
Defending herself, she said: "I never used my family tree to get a break or get ahead. I never used it to advance my career."
But she stood by her ancestry claim, saying "my mother's family was part Native American."
Warren said the story her parents lived "will always be a part of me. And no one — not even the president of the United States — will ever take that part of me away."
During her speech Wednesday, Warren also pivoted to "talk about Pocahontas" -- and then told the story of "Pocahontas's real journey."
"Not Pocahontas, the fictional character most Americans know from the movies, but Pocahontas, the Native woman who really lived, and whose real story has been passed down to so many of you through the generations," she said.
Warren said "in reality, the fable is used to try to bleach away the stain of genocide."
Warren also called it "deeply offensive" that Trump keeps a portrait of former President Andrew Jackson in the Oval Office, "honoring a man who did his best to wipe out Native people."
Despite her condemnation, Warren spoke at a "Jefferson-Jackson-Bailey" dinner for Connecticut Democrats in 2015.
In November, the president memorably revived the "Pocahontas" nickname during a White House event to honor Navajo code talkers.
"We have a representative in Congress who they say was here a long time ago. They call her Pocahontas," Trump said at the time, spurring criticism for using the event to swipe at Warren.
Fox News' Mike Emanuel, Judson Berger and Brooke Singman contributed to this report