Vladimir Putin Not Only Leader Angry At U.S.; Mexico, Brazil Outrage Over NSA Allegations Also Mars G-20 Summit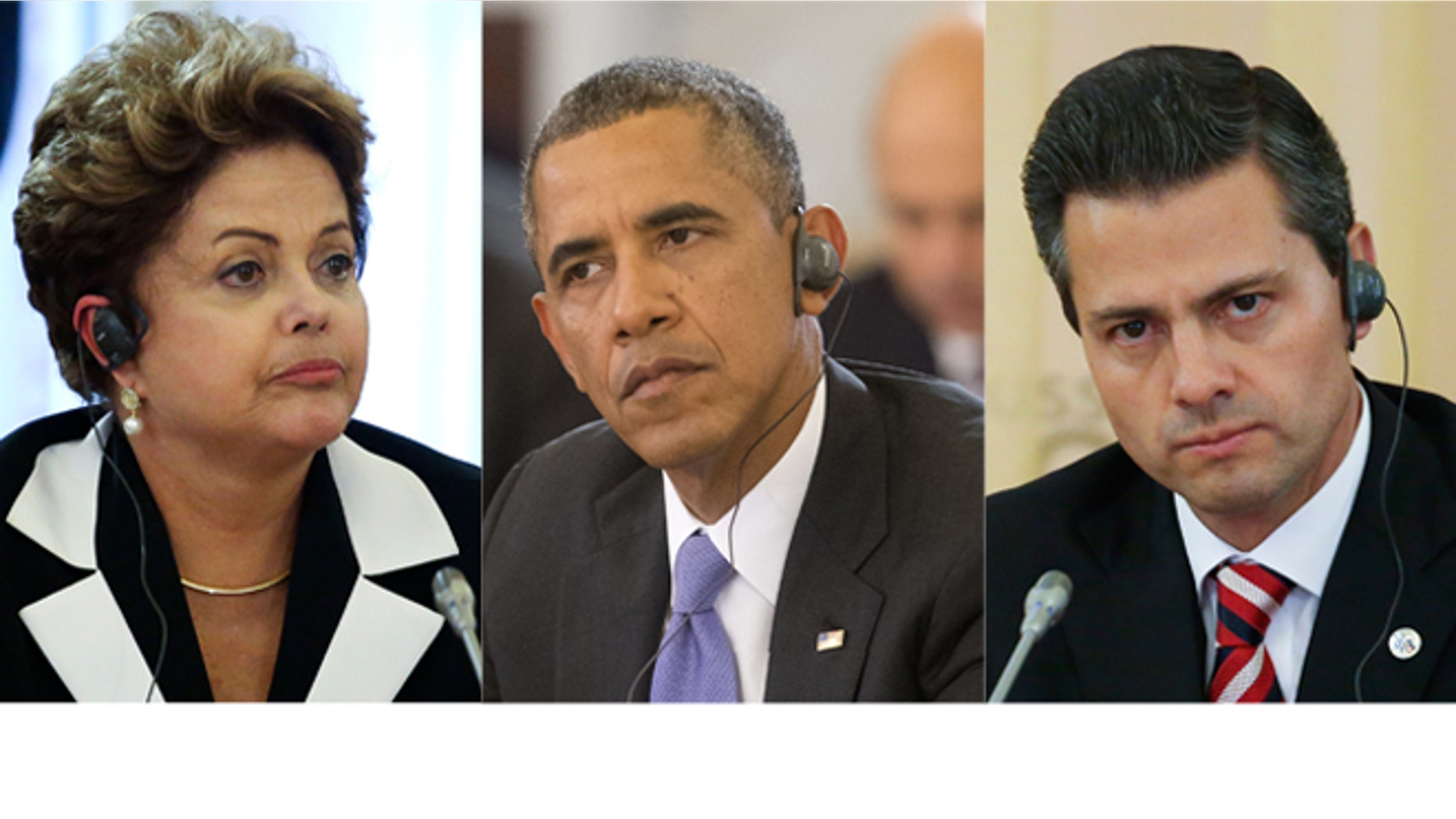 The proposed U.S. military strike against the regime of Syrian leader Bashar Assad following an alleged chemical weapons attack by government forces in late August has dominated talk surrounding the G-20 summit in Russia this week.
As world leaders descend on St. Petersburg, however, the heads of state of some Latin American countries have another agenda they want to discuss with the U.S. President Barack Obama: the National Security Agency scandal that revealed U.S. surveillance operations in a number of Latin American countries. The information came to light following the release of documents by NSA leaker Edward Snowden, who is currently living in Russia under temporary asylum.
Relations between the U.S. and both Mexico and Brazil have soured sinceBrazilian media conglomerate Globo TV revealed that the NSA program was monitoring President Dilma Rousseff and Mexican President Enrique Peña Nieto before he was elected in July 2012.
Speaking to a reporter at Canada's Gander International Airport in Newfoundland on a stopover during his trip to Russia, Peña Nieto demanded the United States investigate the allegations and said that "if proved ... it is an act outside the law." Mexico has historically been Washington's closest ally in Latin America.
Echoing Peña Nieto's comments, the Mexican Embassy in Washington D.C. sent a statement to Fox News Latino calling for an investigation into the allegations.
"Without prejudging the accuracy of the information contained in the reports, the Mexican Government categorically rejects and condemns any efforts to spy on Mexican citizens in violation of international law," the statement said. "This type of practice is contrary to the United Nations Charter and to the jurisprudence of the International Court of Justice."
Mexican media reported on Thursday that Peña Nieto spoke to Obama over the phone, where the U.S. president pledged his support in investigating the NSA spying allegations.
Despite the allegations and uproar, analysts claim that the allegations appear to be no more than a bump in the road in relation to U.S.-Mexican relations.
"The US-Mexico relationship is too deep, multifaceted, and important for both countries for this to really rattle relations," said Shannon O'Neil, a senior fellow for Latin America Studies at the Council of Foreign Relations, told Fox News Latino in an email. "For instance, while many in Brazil are calling for Dilma Rousseff to cancel the fall state visit to the United States, no one has suggested that Vice President [Joe] Biden shouldn't come in two weeks to begin the high-level economic dialogue."
But she said it will have some sort of impact.
"The revelations won't help those pushing for a more open agenda and greater integration with the US, as they provide fodder for those more suspicious of US interests and actions," she said.
Officials in Brasilia also expressed indignation at the revelations and demanded a written explanation from Washington.
"From our point of view, this is an inadmissible and unacceptable violation of Brazilian sovereignty," said Brazilian Foreign Minister Luiz Alberto Figueiredo, according to O Globo.
Speaking aboard Air Force One earlier Thursday, U.S. Deputy National Security Advisor Ben Rhodes said that the U.S. is taking a "comprehensive look" at the allegations and that Obama will have a chance to meet Rousseff at the G-20 to discuss the issue. Surveillance like this is carried out by the NSA across the globe and should not hamper diplomatic relations with other nations, he added.
"[W]hat we're focused on is making sure the Brazilians understand exactly what the nature of our intelligence effort is," Rhodes said. "We carry out intelligence like this in just about every country around the world. If there are concerns that we can address consistent with our national security requirements, we will aim to do so through our bilateral relationship."
The NSA scandal has not only cast a shadow over Obama's trip to Russia, but also Rousseff's planned visit to the U.S. next month.
Rousseff's office confirmed that cancellation of a trip to Washington by a team of aides preparing for her scheduled visit, though her trip itself apparently remains on the schedule.
Officials at the Brazilian Embassy in Washington D.C. did not immediately respond for comment, but U.S. Embassy spokesperson in Brasilia Dean Cheves told Fox News Latino that the cancellation of an advance team abroad is a common thing in diplomatic circle.
"We reschedule advance teams pretty regularly ourselves," he said.