Venezuelan Opposition Leaders Agree To Meet With Government's Representatives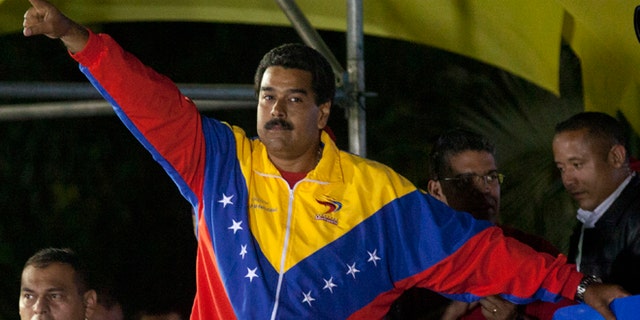 CARACAS, Venezuela (AP) — Leaders of Venezuela's opposition have agreed to meet with President Nicolas Maduro's government to discuss ways to defuse the country's political crisis.
Opposition leaders said they agreed to a preliminary meeting after being assured by a mission of South American diplomats that the socialist government is open to discussing a four-point agenda it's put forth as a starting point for talks.
Their proposals include an amnesty for jailed government opponents, the creation of an independent truth commission to determine who is to blame for violence and the disarmament of groups loyal to Maduro.
It's not clear if the meeting will usher in formal talks aimed at reconciliation. It's set to take place later Tuesday and may be attended by Maduro.
Still, just the opposition's willingness to sit down with the government represents a potential breakthrough that could help ease tensions on the streets especially after two months of deadly protests that have rocked Venezuela but so far pose little threat to Maduro's rule.
Ramon Guillermo Aveledo, executive secretary of the opposition Democratic Unity alliance, reflected the considerable skepticism over Maduro's motives that still ripple through the opposition by stating, "This isn't the start of the dialogue."
"It's an exploratory meeting in which we came to see, at the invitation of the South American foreign ministers, whether the conditions for dialogue exist," he said.
Ecuadorean Foreign Minister Ricardo Patino said both sides agree that any formal dialogue should be open to the public and include a representative of the Vatican or another mutually-acceptable outside observer. He was one of the diplomats who traveled to Caracas in a bid to bring the opposition and government together.
The government says at least 39 people have been killed and hundreds more injured and arrested since students and mostly middle-class opponents of Maduro took to the streets in early February to condemn rampant crime, galloping inflation and record shortages of basic goods after 15 years of socialist rule.
The U.S., which has sided with the opposition in criticizing Maduro's crackdown on the protests and jailing of critics, is supporting efforts to bring about dialogue.
Testifying Tuesday before the Senate Foreign Relations Committee, Secretary of State John Kerry pushed back against calls by Florida Republican Marco Rubio that the U.S. impose sanctions against the Maduro government for alleged human rights abuses, saying that with negotiations a possibility, now isn't the time for taking a tougher stance.
"This is a very delicate time," Kerry said. "I don't want to do something today that provides cannon fodder for them to use against me or us."
Follow us on twitter.com/foxnewslatino
Like us at facebook.com/foxnewslatino