Venezuelan-Americans are newest political group making an impact in Florida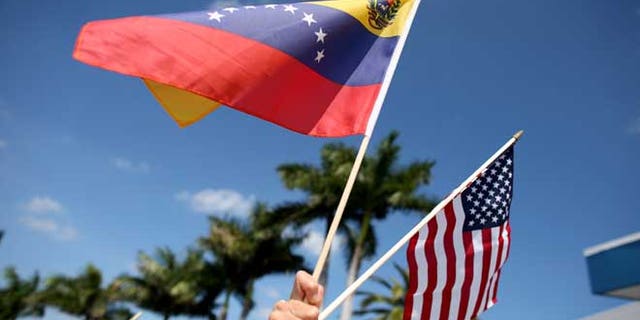 MIAMI – The growth of the Latino community in central Florida due to a large influx of Puerto Ricans has drawn a lot of attention in the press. But there's another group migrating here in significant numbers that is adding to the cultural, economic and political milieu – Venezuelans.
They tend to be well-educated and middle-class. Many have arrived in the U.S. on visas and seek political asylum from the oppressive government of Nicolás Maduro and his predecessor, Hugo Chávez.
Although they cannot vote from the moment they step on U.S. soil the way Puerto Ricans can, Venezuelans are quickly assimilating to an American way of life. For those who become U.S. citizens, political parties and candidates consider them important enough to court actively.
Some political operatives like to say that Venezuelans are the Cuban exiles of today, in terms of socioeconomics and the potential for them to become a political powerhouse.
"You are seeing both Democrats and Republicans reaching out to Venezuelan-Americans for their vote," said Evelyn Perez-Verdia, an election strategist specializing in Latino outreach. "In terms of fundraising and grassroots support, they could become as powerful as Cuban-Americans in the next five to 10 years."
Last year, an analysis of 2013 census data by the Pew Research Center found that the number of foreign-born Venezuelans in the U.S. grew a whopping 388 percent. What's more, 42 percent of the 248,000 Venezuelans now in the U.S. reside in Florida.
Researchers also noted that about 4 in 10 Venezuelan immigrants are U.S. citizens, half of them have obtained at least a bachelor's degree, and the rate of Venezuelan homeownership – 49 percent – is slightly higher than the rate for all Latinos, which is 45 percent.
These factors make Venezuelans a formidable constituency, Perez-Vedia noted. "Many come here with a lot of money and they can have an influence in many ways once they become citizens," she said.
From local to national politics, Venezuelans are already starting to make an impact. In 2012, Luigi Boria became the first Venezuelan-born mayor of a U.S. city when voters elected him to the city hall in Doral. The city of about 50,000 people located just west of Miami International Airport, boasts one of the largest Venezuelan populations in the country.
During his re-election campaign two years ago, Florida Gov. Rick Scott openly courted Venezuelan-American voters by criticizing President Barack Obama for ignoring the plight of people back in their home country.
In Washington, D.C., Sen. Marco Rubio and Congressional representatives Carlos Curbelo, Mario Diaz-Balart and Ileana Ros-Lehtinen have championed legislation aimed at undermining Maduro's government.
When it comes to getting politicians to listen, Venezuelan immigrants are not afraid to use their clout, said Ernesto Ackerman, a medical equipment sales executive who co-founded a non-partisan grassroots organization called Independent Venezuelan-American Citizens, or IVAC.
In spring of last year, IVAC helped organize a caravan of nearly 2,500 Venezuelans from Florida, Tennessee and North Carolina to the U.S. Capitol to bring attention to the White House's unwillingness to enact sanctions against the Venezuelan government, Ackerman said.
While they were in Washington, Obama signed an executive order freezing property and assets in the U.S. held by seven Venezuelan officials, including military and intelligence leaders who had been accused of violating human rights, stifling dissent, limiting press freedoms, using violence and carrying out arbitrary arrests in response to anti-government protests. The order also banned Americans from doing business with the seven individuals.
"Because of our presence, the president had to act," Ackerman said. "The Venezuelan community demonstrated that we already are a force to be reckoned with."
Just like Cubans, Venezuelans are coming from an oppressive, socialist regime – so they tend to favor a hardline on foreign policy issues.
And when it comes to recruiting Venezuelans, Republicans are faring better than Democrats, Perez-Vedia said.
"Republicans, especially Cuban-American congressional leaders, are more vocal in their support of Venezuelans because they experienced a similar fight over Cuba," she said. "I don't see it as strong on the Democratic side."
For instance, Ackerman is a conservative who is president of the Miami-Dade Latin American Republican Club, as well as a volunteer for Rubio's presidential campaign.
"I believe in small government and that the private sector should create more jobs than the public sector," Ackerman said. "This country has moved too far to the left."
Ackerman said he backs Rubio because he is the only Republican candidate who has spoken up against Maduro. "He has always been about helping Venezuela," Ackerman said. "From Day 1, he supported our campaign to sanction the corrupt government of Venezuela."
Although many Venezuelans agree with Ackerman, the sentiment is by no means universal within the community.
Carlos Pereira is a Venezuelan-American who registered as Democrat in 2012, a year after he became a U.S. citizen. In addition to voting for Obama, during the 2014 Florida gubernatorial race, he worked for the Democratic Charlie Crist-Annette Taddeo ticket.
That same election year, Pereira ran against Carlos Trujillo, a Cuban-American incumbent state representative for parts of Miami-Dade, Broward and Collier counties. For a first-time candidate, Pereira garnered a respectable 39 percent of the vote.
"When it comes to going to the polls, a Venezuelan will show up 100 percent of the time," Pereira said. "But we still haven't grasped the dynamics of how this political system works. We need more representation in Tallahassee and Washington, D.C."