Vegas shooting victim finds strength to stand when Trump enters hospital room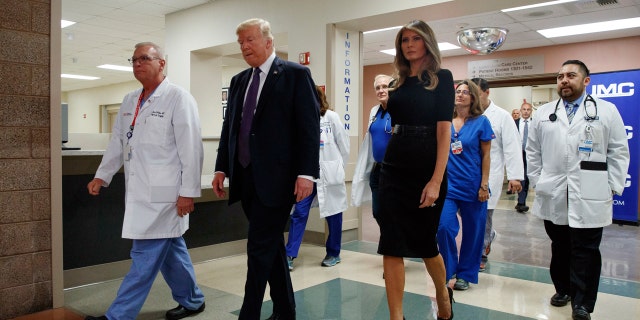 Despite being shot in a leg during Sunday night's rampage in Las Vegas, Thomas Gunderson found the strength to stand Wednesday when President Donald Trump and first lady Melania Trump visited his hospital room.
"Hi, Thomas. How are you? No, don't get up. Don't get up," Melania Trump can be heard saying in a video as Gunderson attempts to get out of bed.
The president entered the room shortly afterward and shook Gunderson's hand.
"Hey, this guy looks tough to me," the president said.
The 28-year-old from Newport Beach, California credited two off-duty female police officers with saving his life.
Gunderson later wrote in a Facebook post: "I will never lie down when the President of this great country comes to shake my hand!"
He added: "There may be plenty of issues in this country, but I will always respect my country, my president and my flag. Shot in the leg or not, I will stand to show my President the respect he deserves!"
The president and first lady flew to Las Vegas on Wednesday in the wake of the county's deadliest mass shooting to visit with survivors, victims' families and praise the "bravery" of first responders.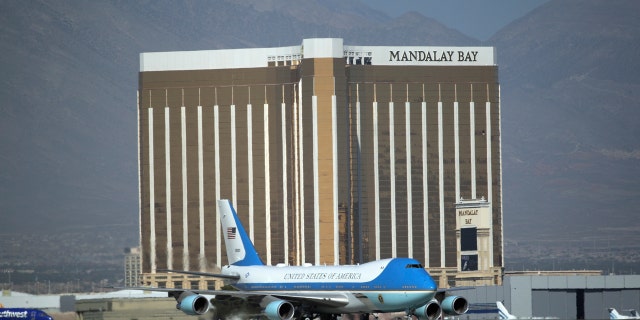 "Words cannot describe the bravery that the whole world witnessed on Sunday night," the president said during a brief speech at the Las Vegas Metropolitan Police Department Command Center. "Americans defied death and hatred with love and with courage."
Trump also recognized the "incredible" job that doctors and nurses did in treating hundreds of injured people after the shooting.
The president consoled the victims and reminded them that "we have a great country, and we're there for you."
In addition, he said he invited some patients to come to Washington to visit the White House.