Use of license-plate scanners expands amid privacy concerns, court battles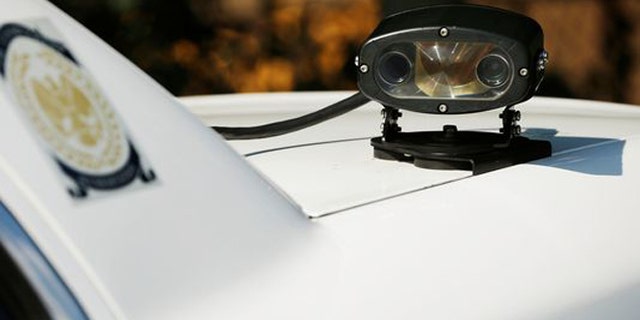 NEWYou can now listen to Fox News articles!
A law enforcement push for more license-plate scanners is gaining steam, with a popular East Coast beach destination announcing plans to deploy the technology at essentially every point of entry and the scanners being credited elsewhere for helping fight crime.
With the expansion, though, comes mounting privacy concerns as critics continue to raise questions about law-enforcement agencies' legal authority to collect and store the data.
The latest to join the ranks of U.S. municipalities expanding the technology was Maryland's Ocean City. Officials last week said they would deploy the scanners at all major entry points, with the addition of a second and third camera by next year -- town officials argued they are needed to fight a persistent heroin-trafficking problem and other crimes.
They are joined by other advocates who say the technology has helped reduce and solve an array of other crimes -- including by helping cut the number of nationwide auto thefts and assisting in the capture last week of the man who killed two Virginia journalists during a live broadcast. The killer later died in the hospital after shooting himself.
But civil liberties groups are skeptical.
In May, the American Civil Liberties Union filed suit against a northern Virginia police agency on behalf of a resident who argued his privacy rights were violated because his license plate was scanned twice in the prior roughly 12 months. Lawyers for the plaintiff argued the information was kept in a 364-day database, despite his plate failing to immediately match a "hot list" of plates either stolen or connected to other crimes.
On Aug. 28, a circuit court in Virginia's Fairfax County denied the police department's request to dismiss the case on the argument that collected data is not personal information and therefore does not violate the state's Government Data Collection and Dissemination Practices Act.
In response to the judge's decision, Virginia ACLU Executive Director Guthrie Gastanaga acknowledged plate scanners are a valid police asset, and also noted that one in fact helped locate the ex-reporter who committed the Aug. 26 murders in Virginia.
"When used correctly, modern technology can be used to make us safer," she said. "Our client is not asking for the Fairfax County Police Department to stop using automatic license plate readers for active criminal investigations. … He's just asking that the department stop using automatic license plate readers to collect everyone else's data, too."
This is not the first time questions have been raised about whether the technology infringes on Americans' privacy rights.
The FBI, in fact, appeared several years ago to have halted the purchase of plate-scanners because agency lawyers were "wrestling with privacy issues" and apparently wanted to draft a more clean-cut policy to protect civil liberties, according to documents obtained in May by the ACLU.
The FBI declined Wednesday to comment on the situation but recently told Bloomberg News that the agency still uses the readers but only in "fully predicated investigations."
Beyond the concerns about governments taking pictures of vehicles regardless of the driver's connection to any criminal activity -- and what officials might do with the data of the vehicle owner -- critics say the technology can create a profile to predict when and where Americans come and go.
In a widely reported incident, California resident Mike Katz-Lacabe acquired police records in 2012 apparently showing his two vehicles were photographed more than 100 times from roughly 2008 to 2010, including one shot of him and his daughter apparently exiting a Toyota Prius in their driveway.
"You can tell who your friends are, who you hang out with, where you go to church, whether you've been to a political meeting," Katz-Lacabe said at the time.
He told FoxNews.com on Wednesday that subsequent requests for such information have been denied.
Another major concern is the use of such technology by private companies -- including those that repossess vehicles and the surveillance firms that sell the plate scanners and store the data.
About a dozen U.S. states permit license-plate scanning, with about half also allowing it for private companies, according to a 2014 report by CarandDriver.com.
The data collected in Ocean City will go to the Maryland Coordination and Analysis Center -- one of dozens of such agencies created in the wake of the 9/11 terror attacks to help federal, state and local agencies gather, analyze and share intelligence.
Neither the center nor the town police department returned a request for comment on how long the information will be stored.
The first camera installed last month in Ocean City was paid with a $124,635 federal grant, administered by Maryland GOP Gov. Larry Hogan's Heroin and Opioid Emergency Task Force.
FoxNews.com's Joseph Weber contributed to this report.