US urges South Korea to cut Iran oil imports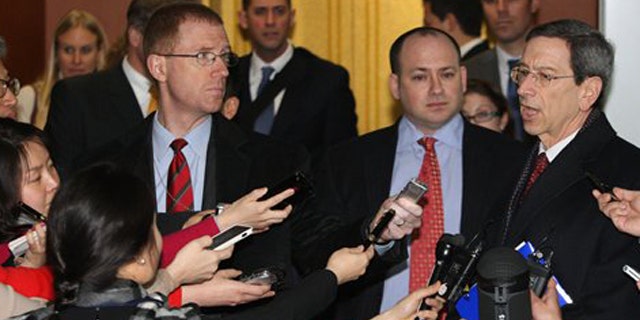 SEOUL, South Korea – A senior U.S. official urged South Korea on Tuesday to reduce its crude oil imports from Iran, ratcheting up pressure on Washington's close ally to help confront Tehran over its nuclear program.
South Korea restricts financial dealings with more than 200 groups and individuals with suspected links to Iran's nuclear program. But Seoul, which relies on Iran for up to 10 percent of its oil supplies, hasn't yet said whether it will buy less crude oil from Iran.
The United States has increased its diplomatic pressure on its allies as it seeks a unified front over suspicions that Tehran is pressing ahead with nuclear arms development.
Washington recently imposed sanctions targeting Iran's central bank and, by extension, refiners' ability to buy and pay for crude. Last week, Japan pledged to cut crude purchases from Iran, and the European Union is also weighing an embargo on Iranian oil.
"We're urging all of our partners to help us, to work with us in putting pressure on the government of Iran, to get it to negotiate seriously," Robert Einhorn, the State Department's special adviser for nonproliferation and arms control, told reporters in Seoul after a meeting with senior South Korean Foreign Ministry officials.
"In particular, we're urging them to reduce their purchases of crude oil from Iran. We're urging them to unwind their financial dealings with the central bank of Iran," he said.
Einhorn also visited Seoul last month to push South Korea to stop buying Iranian petrochemicals. South Korea says it is advising companies on the current political ramifications of buying petrochemical products from Iran.
South Korea's Foreign Ministry said the government hasn't decided yet on the U.S. request to cut oil imports from Iran.
Washington remains sensitive to the stability of the international oil market and to its allies' economic interests, Einhorn said.
"We're confident ... we can do it without the adverse effects that I know many in South Korea are concerned about," he said.
South Korea reportedly hopes that a loss in Iranian oil imports could be compensated for by imports from other countries.
South Korean Deputy Foreign Minister Kim Jae-shin said that Seoul will closely cooperate with Washington to "minimize adverse effects" to the South Korean economy.
"Many Koreans are quite worried that further strengthening sanctions against Iran may at this time destabilize the international market of crude oil," he told reporters, Einhorn standing by his side.
South Korea also said in a separate statement Tuesday that it understands the purpose of U.S. sanctions against Iran and that it will cooperate to the best of its ability for the peaceful resolution of the Iranian nuclear problem.
Iran says its nuclear program is for peaceful purposes. But a U.N. nuclear agency report suggests it is working toward development of atomic weapons.
China, the world's biggest energy consumer, remains unwilling to back an oil embargo against Iran. A Chinese deputy foreign minister said last week that China's trade with Iran has nothing to do with Iran's nuclear program.
Einhorn also said that the situations in Iran and North Korea are related and that progress in one country will help achieve progress in the other. International negotiations aimed at getting North Korea to abandon its nuclear ambitions have been stalled since early 2009.