U.S. Will Withhold Funds For U.N. Agency After Vote to Grant Membership to Palestinians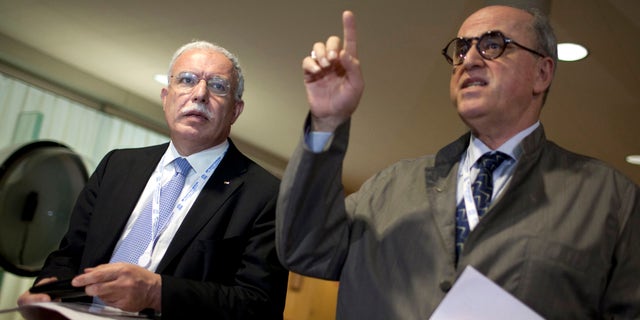 The United States will not pay $60 million to a U.N. cultural and educational agency after it voted Monday to accept the Palestinian mission as a full member, triggering a U.S. requirement to cut off funds.
"We are not going to be able to continue contributing to the budget," State Department spokeswoman Victoria Nuland said. "Palestinian membership as a state in UNESCO triggers longstanding legislative restrictions which will compel the United States to refrain from making contributions to UNESCO."
Washington is required by law to cut off funding to any U.N. agency if the Palestinian Liberation Organization is granted membership in any group at the international body.
The United Nations Educational, Scientific and Cultural Organization voted 107-14 with 52 abstentions on Monday granting Palestinians full membership in the organization. The U.S. voted against the nomination. Eighty-one votes of the 173 UNESCO members were needed for full membership to be approved.
"Long Live Palestine!" one delegate reportedly shouted in French at the meeting.
The U.S. funds about 22 percent of UNESCO's budget, or roughly $80 million annually. Nuland said the $60 million was scheduled to be sent in November.
"We obviously have to comply with U.S. law, to comply with U.S. restrictions. That said, we will have a conversation with Congress on moving forward," she said.
Nuland said that if the U.S. ends up in arrears it could challenge U.S. membership status.
Rep. Ileana Ros-Lehtinen, R-Fla., said this is no time for the U.S. to back down.
"Congress must pass pending U.N. reform legislation to cut off funding to any U.N. entity that grants any upgraded status to 'Palestine,'" Ros-Lehtinen said. "Such strong action is the only way to deter other U.N. bodies from following in UNESCO's footsteps, and to prevent U.S. taxpayer dollars from paying for biased entities at the U.N."
The U.S. rejoined UNESCO in 2002, after having left the organization 19 years earlier.
Ros-Lehtinen, the House Foreign Affairs Committee chairwoman, introduced the legislation that would withhold U.S. contributions from any U.N. agency or program that "upgrades" the status of the Palestinian observer mission at the U.N, whether full membership or not.
Former U.S. Ambassador to the U.N. John Bolton said the U.N. vote signals weakness in U.S. diplomacy, particularly since some of the United States' closest allies voted against U.S. wishes.
"So ineffective was Obama administration diplomacy, that France voted in favor of Palestinian membership, and Britain and Japan abstained. U.S. statutes, dating from 1990, now require a full cutoff of U.S. funding, which Congress should insist occur immediately. Should the administration seek changes in the applicable statutory provisions that would eliminate or weaken the funding cutoff, Congress should reject them," Bolton said.
"UNESCO has made its decision: it prefers Palestinian membership to American participation. Now let the rest of the U.N. specialized agencies make their choice," he added.
Nuland said that the U.S. doesn't think it is "helpful" that the Palestinians sought membership with UNESCO while the "Quartet" of nations working on Mideast peace tries to get the Israelis and Palestinians back to the negotiating table to create a two-state solution.
"We considered that this was, as I say, regrettable, premature, and undermined the process of getting where we want to go," she said. "It creates tensions when all of us should be concerning our efforts to get the parties back to the table."
Israel's ambassador to UNESCO Nimrod Barkan told Reuters that the vote is a tragedy.
"UNESCO deals in science, not science fiction," he reportedly said. "They forced on UNESCO a political subject out of its competence."