U.S. Weighs Releasing Taliban Commander From Gitmo as Part of Peace Talks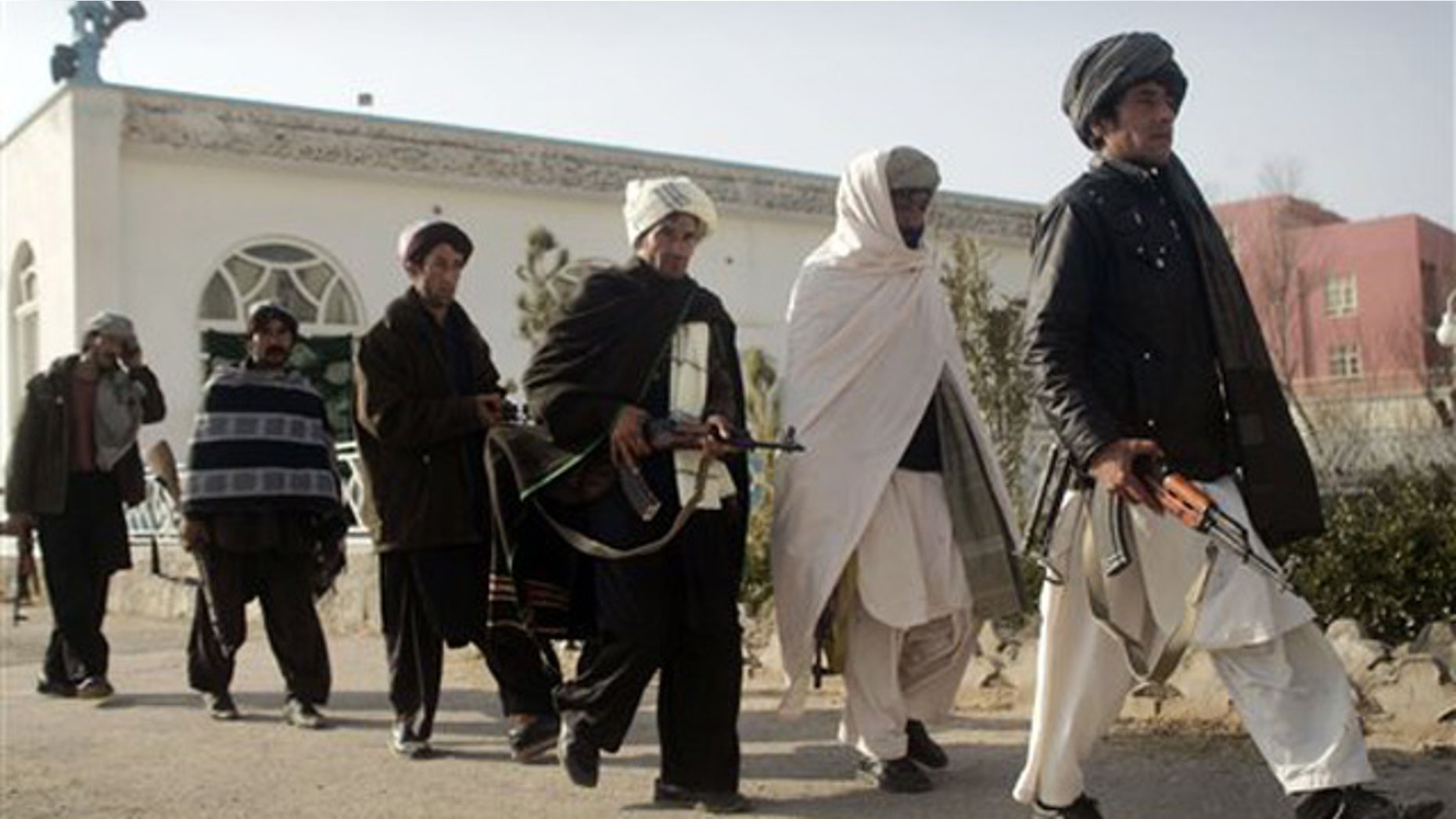 WASHINGTON – The U.S. is considering a proposal to transfer a top Taliban commander out of the detention facility at Guantanamo Bay as part of a potential step toward peace talks with the Taliban insurgency in Afghanistan.
A senior U.S. official confirmed to Fox News that Mullah Mohammed Fazl is among the prisoners being considered for release. Held at Guantanamo Bay since 2002, Fazl was suspected in sectarian killings of Shiite Muslims before the U.S. invasion that toppled the Taliban government in Afghanistan in 2001.
The U.S. alleges he was a top Taliban official who at one point commanded thousands of troops.
According to Reuters, WikiLeaks documents also placed him at the scene of a 2001 prison riot where CIA officer Johnny Micheal Spann was killed, though it's unclear whether Fazl was involved.
Any prisoner transfer would be part of a trust-building effort to renew peace talks next year with the Taliban that had reached a critical point before falling apart this month because of objections from Afghan President Hamid Karzai.
One goal of renewed talks with the insurgents would be to identify cease-fire zones that could be used as a steppingstone toward a full peace agreement that stops most fighting, a senior administration official told The Associated Press -- a goal that remains far out of reach.
U.S. officials from the State Department and White House plan to continue a series of secret meetings with Taliban representatives in Europe and the Persian Gulf region next year, assuming a small group of Taliban emissaries the U.S. considers legitimate remains willing, two officials said.
The proposed trust-building measures were a Taliban headquarters office and the release from the U.S. military prison at Guantanamo Bay, Cuba, of about five Afghan prisoners considered affiliated with the Taliban. Those steps were to be matched by assurances from at least part of the Taliban leadership that the insurgents would cut ties with Al Qaeda, accept the elected civilian government of Afghanistan and bargain in good faith.
The Taliban office idea is seen the most likely to regain traction next year, but it's unclear when it might open. A political office in a neutral third country would be authorized to conduct talks on a peaceful end to the 10-year war.
Karzai remains opposed to the more difficult prisoner transfer plan, which is further complicated by new congressional restrictions on any prisoner transfers.
The U.S. tentatively had agreed to transfer a handful of Afghan prisoners to house arrest in a third country, probably Qatar, before the deal unraveled, U.S. officials said.
Aside from Fazl, another prison to be transferred under the proposal is Khairullah Khairkhwa, former Taliban governor of Herat.
Karzai's own advisers seeking peace with the Taliban had named those men among several Afghan Taliban prisoners it wanted released from Guantanamo as a goodwill gesture, but Karzai wants the prisoners to come to Afghanistan, not a third country, a senior Afghan official in the region said.
Sending Afghans to an Arab country could offend Afghans' sense of sovereignty and suggest that the U.S. does not think Afghanistan is fit to hold or try the men, officials said.
Pentagon spokesman George Little said Friday that the United States is pursuing an "Afghan-led process" when it comes to reconciliation with insurgents.
"We and the Afghan Government have been clear about the conditions that would need to be met -- insurgents would need to break from Al Qaeda, abandon violence, and abide by the Afghan Constitution, including its provisions on respect for the rights of all Afghans, including women and ethnic minorities," Little said.
U.S. and Afghan officials have pointed to Karzai's longstanding unease with what he sees as a rush by the U.S. to broker deals ahead of the planned exit of U.S. combat forces by 2015. Karzai has political problems at home, including newly resurgent militias, and the assassination of his chief peace negotiator in September clouds his own outreach to the Taliban.
The U.S. once swore off direct talks with the Taliban until the insurgents essentially were beaten but shifted position as the war dragged on in near stalemate. Participants said they still consider a peace deal a long shot, and the insurgent leadership has shown no sign it wants to stop fighting a guerrilla war it thinks it can sustain until after most foreign forces depart.
The U.S. goal is to midwife talks between the insurgents and the U.S.-backed Afghan government led by Karzai, who frequently has felt sidelined by the U.S. as it pursues talks with his enemies. He bills peace talks as an Afghan-led process, which the U.S. insists is also its goal.
The U.S. outreach is meant to jump-start negotiations, U.S. officials have said, but they acknowledge that their efforts can feed the perception that Karzai is not fully in charge.
Although the Karzai government shares the goal of outreach and eventual political reconciliation with the Afghan Taliban movement, he resents the insurgents' demand only to speak with what they call American occupiers. He has argued that the U.S. undercuts his leverage, and his inner circle derailed initial U.S.-Taliban talks earlier this year, several officials previously told the AP.
Karzai has supported the general idea of an office, preferably in Afghanistan, but he balked when the plan for Qatar appeared to have been settled without him, officials said. Earlier this month, Kabul recalled its ambassador to Qatar for consultations over reports that the Taliban was planning to open an office there.
An Afghan official, who could not be identified because of the sensitivity of the issue, said at the time that the ambassador was recalled because Qatar had not consulted with them throughout the process. The Afghan government supports the establishment of an office for the Taliban only as a facilitative step in the peace process, not as any kind of a concession to them, the official said.
On Tuesday, Karzai backed down. He said his government would accept the Qatar office to hold peace talks, although Saudi Arabia or Turkey would be preferable venues.
If the United States insists that the insurgents establish a liaison office in Qatar, "we are agreed," Karzai said in a presidential statement.
Fox News' Jennifer Griffin and The Associated Press contributed to this report.