U.S. Senators in Israel Say No to U.N. Resolution on Palestinian Statehood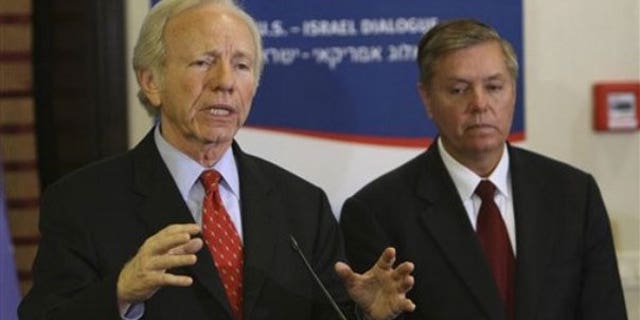 NEWYou can now listen to Fox News articles!
Any United Nations resolution calling for unilateral statehood for Palestinians would be "dead on arrival," Democratic Sen. Ted Kaufman of Delaware said Monday while visiting Jerusalem.
Speaking during a press conference at the Saban Forum on Monday, Kaufman, who was joined by Sen. Joe Lieberman, ID-Conn., said any effort to present a U.N. resolution that would eliminate Israel's role in the two-state solution is a "waste of time."
Lieberman said the U.S. will likely veto any resolution presented to the United Nations that unilaterally declares a Palestinian state. He added that the only way to resolve the long-standing dispute between the Israelis and Palestinians is through bilateral negotiations.
"I hope and presume that the United States would veto such a move if it ever came to the Security Council," said Lieberman.
The Palestinians officially asked the European Union on Monday to back a move to have the U.N. Security Council recognize an independent Palestinian state without Israeli consent.
The idea of seeking U.N. intervention has been gaining steam in the Arab world as the impasse in peacemaking drags on. The Palestinians seek a state in the West Bank, Gaza Strip and east Jerusalem.
"We will seek the support of all members of the international community," Saeb Erekat, a top adviser to Palestinian President Mahmoud Abbas, told reporters in Ramallah. Besides the EU, the Palestinian Authority also plans to seek U.S. approval, Erekat said.
Erekat accused Israel of spending nearly two decades trying to "impose facts on ground by stealing Palestinian lands and build settlements and barriers aiming to finish off the two-state project."
Meanwhile, Israeli Prime Minister Netanyahu warned Palestinians that declaring a state without concluding a peace agreement would lead to Israeli counter-measures that could include annexation of more of the occupied West Bank.
U.S. State Department spokesman Ian Kelly reaffirmed U.S. support for a Palestinian state, but prefers one that "arises as a result of a process between two parties."
"The thing we have to do is get the two parties to sit down and that is what we're putting all our efforts behind," Kelly told reporters during a news conference Monday. He said Mideast envoy George Mitchell was in London Monday trying to get talks back on track.
Fox News' Reena Ninan and The Associated Press contributed to this report.