U.S., S. Korea Fail to Reach Free-Trade Deal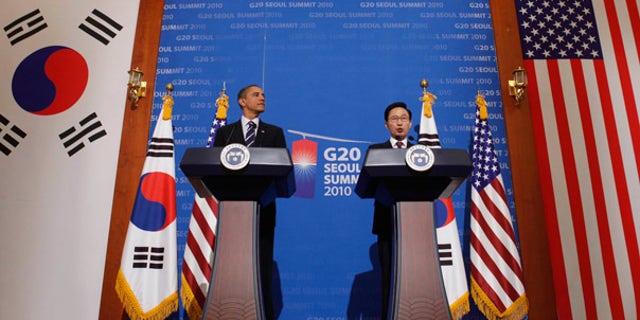 SEOUL, South Korea -- In a stinging setback, the United States and South Korea failed to reach agreement on an elusive free-trade deal but will continue pressing for an accord in the weeks ahead, President Barack Obama said Thursday.
Obama had hoped to announce a deal on the long-stalled pact while in South Korea for meetings of the Group of 20 economic powers, but instead he will return home empty-handed.
"We have asked our teams to work tirelessly in the coming days and weeks to get this completed," Obama said at a joint news conference with South Korean President Lee Myung-bak.
"We don't want months to pass before we get this done," Obama said. "We want this to be done in a matter of weeks."
Prospects for reaching a deal seemed unlikely before Obama's meeting and subsequent appearance with his South Korean counterpart.
At issue is a pact to slash tariffs and other barriers to trade, one that was signed in 2007 when previous administrations were in power. It remains unratified by lawmakers in both countries, and trade between the nations has slipped. Sticking points include access to South Korea's market for American beef and autos. The U.S. also wants the deal to address a trade imbalance before submitting it to Congress.
Ron Kirk, the U.S. trade representative, rejected characterizations that the failure to reach agreement on trade was a setback or defeat for Obama, who suffered huge losses last week when Republicans won control of the House and increased their power in the Senate. Obama is on the third stop of a four-country visit to Asia seeking greater access to the region's markets for American goods, something he hopes will help spur job creation at home.
"The president's leadership on this has put us much closer to a successful closure," Kirk told reporters.
Kirk said Obama and Lee "wisely made the decision" to give the negotiators more time after it became clear that all the outstanding issues wouldn't be resolved in the final hours.
On North Korea, Obama said the reclusive communist nation must show a "seriousness of purpose" before the U.S. will restart six-party talks aimed at curbing the country's drive to become a nuclear power. He said there would be "an appropriate time and place" to resume those negotiations, but offered no clarity on when that would be.
Earlier in the day in a speech marking America's Veterans Day, Obama condemned North Korea for continuing on "a path of confrontation and provocation" that he says deepens its isolation from the world and worsens the poverty of its people.
"We're not interested in just going through the motions with the same result," Obama said.
Obama said at the news conference with Lee that the world would be ready to assist North Korea if it takes the steps necessary for talks to resume, including setting an "irreversible" path toward ending its nuclear program.
"You will see a South Korea, a United States and an international community that can get them substantial assistance to help them develop their country and improve their security," Obama said.
Obama is in Seoul to attend meetings Thursday and Friday of the Group of 20 economic powers. He pledged that the G-20 nations will reach broad consensus on how to achieve balanced, sustainable economic growth.
He again defended as prudent and stable steps by the U.S. to climb out of its deep economic slump. But he declined to comment on the recent decision by the U.S. Federal Reserve to buy $600 billion in bonds, which angered many trading partners.
Obama stressed that a strong U.S. economy was essential for a global recovery.
"The most important thing that the United State can do for the world economy is to grow because we continue to be the world's largest market and a huge engine for all other countries to grow," he said in a pointed rejoinder to critics.
He declined to comment on proposals released Wednesday in Washington by a deficit commission he created, choosing to wait for a final report. But he said "tough choices" will be required to reduce the deficit. The commission's bipartisan leaders proposed politically painful cuts in Social Security benefits, deep reductions in federal spending and higher taxes for millions of Americans to stem a flood of red ink that they said threatens the nation's future.
From halfway around the world, Obama shot back at critics -- even in his own party -- who attacked the commission's recommendations.
"Before anybody starts shooting down proposals, we need to listen, we need to gather up all the facts, we have to be straight with the American people," the president said.
"If people are in fact concerned about spending, debt, deficits and the future of our country, then they're going to need to be armed with information about the kinds of choices that will be involved, and we can't just engage in political rhetoric," Obama said.
Back home, House Speaker Nancy Pelosi, D-Calif., a top Obama ally, said the commission proposals were "simply unacceptable."
On the economic front, Obama also was making his case directly to Chinese President Hu Jintao after lavishing attention on China's rising rival, India, for three days. The U.S. and China enjoy an economic partnership but continue to clash over currency, with the U.S. contending that China's undervalued yuan gives it an unfair edge in the flow of exports and imports.
The U.S. president made the point again in a letter to fellow leaders gathered here for the G-20 summit of established and emerging economies. Warning of unsustainable balance sheets, with some countries holding surpluses and others swimming in debt, Obama pushed for exchange rates based on the market and no more "undervaluing currencies for competitive purposes."
Speaking at the begining of a meeting with Hu, Obama said both countries have "special obligations" to ensure nuclear stability and strong, stable economic growth. Hu said China stood ready to work with the U.S. to create dialogue and increase cooperation.
Obama held a meeting with Lee and also planned to sit down with German Chancellor Angela Merkel, whose government also has been outspoken against the move by the Federal Reserve to boost the U.S. economy.
His upcoming agenda is packed with economic sessions and one-on-one meetings in South Korea through Friday and this weekend in Japan.