U.S. Negotiations With Russia on Missile Defense May Doom Nuclear Treaty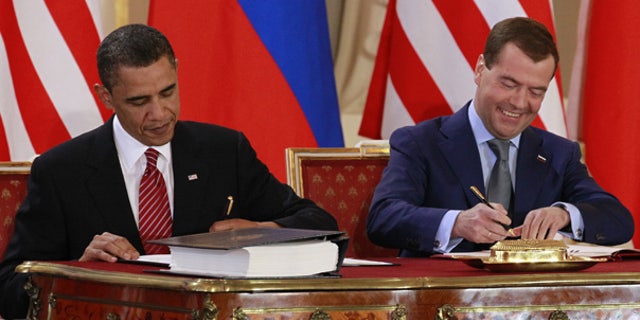 A Republican senator alarmed by the Obama administration's cooperation with Russia on a missile defense agreement says he has the votes to reject a nuclear arms reduction treaty that has been a top priority of the White House.
An aide to Republican Sen. Jon Kyl of Arizona told Fox News on Wednesday that the Strategic Arms Reduction Treaty won't pass during the lame-duck session, potentially dealing a death blow to the deal, which faces Republican opposition in the Senate that is expected to grow next year when the party gains six seats.
Many Republican lawmakers are concerned that Obama has improperly linked missile defense and arms control.
Kyl and five other GOP senators are awaiting a response from Secretary of State Hillary Clinton to a letter they sent last month that warns that the administration does not have the authority to limit U.S. missile defenses outside of a treaty that currently does not exist.
The letter notes that any negotiations undertaken by the Arms Control and International Security Working Group headed by Undersecretary of State Ellen Tauscher, a former Democratic congresswoman, must not "limit U.S. and allied missile defense development and deployment in any fashion whatsoever."
Obama needs support from at least nine Republican senators to reach the two-thirds majority, or 67 senators, required to ratify a treaty.
The treaty would reduce U.S. and Russian strategic warhead arsenals and renew inspections after the Reagan-era pact expired last year. If there's no ratification, analysts fear that Russia may be less cooperative in enforcing strong sanctions on Iran, securing loose nuclear material from terrorists or helping the U.S. equip troops in Afghanistan.
In September 2009, Obama announced plans to abandon a Bush-era deal for a missile defense system in Eastern Europe in favor of creating a system designed to block Iranian rockets. The move appeared to appease Russia as it renegotiated START.
Vice President Biden, in an opinion article published Wednesday in the Wall Street Journal, pushed the Senate to ratify START II. He cited the support of European nations at NATO's summit in Lisbon last weekend for the administration's missile defense plans.
"President Obama has shown that missile defense and arms control can proceed hand in hand," Biden said.
Indiana Sen. Richard Lugar, the top Republican on the Foreign Relations Committee and one of the few in his party who support the deal, defends the administration's negotiations with Russia, saying Obama's appearance with Russian President Dmitry Medvedev at the summit signaled how open they've been.
"That didn't look very secret to me," an aide to Lugar told FoxNews.com.
But some say that this week's artillery battle between North and South Korea suggests the president's priorities are misplaced.
"President Obama has already cut 44 percent of our missile defense force that would protect the United States from Iran but primarily a North Korean threat," said James Carfano of the Heritage Foundation.
In addition to assurances on missile defense, Kyl has demanded the administration spend billions more than it planned to modernize the U.S. nuclear arsenal in exchange for his vote on START. But he's never been a big fan of the treaty.
Aides to Kyl are working on another letter requesting more details of Tausher's dealings. Kyl and other Republicans fear that the administration has already agreed to limit U.S. missile defenses in exchange for the nuclear treaty, which they say could be a violation of law.
Fox News' Bret Baier and Wendell Goler contributed to this report.