U.S. Diplomat Holbrooke Still in Critical Condition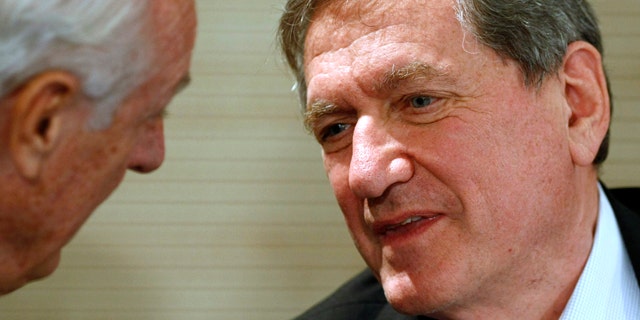 NEWYou can now listen to Fox News articles!
WASHINGTON -- Veteran diplomat Richard Holbrooke, a special U.S. envoy on the Afghanistan war, remained in critical condition Sunday after surgery to fix a tear in the large artery that moves blood from the heart.
President Barack Obama said in a statement that he and first lady Michelle Obama were praying for Holbrooke's recovery. He called Holbrooke "a towering figure in American foreign policy" who has been a critical player in developing the administration's policy on Afghanistan.
The 69-year-old Holbrooke underwent an additional procedure Sunday to improve circulation. The State Department said he received calls from Afghan President Hamid Karzai and Pakistani President Asif Ali Zardari.
Holbrooke was meeting with Secretary of State Hillary Rodham Clinton about midmorning Friday at the State Department when he collapsed.
"Many people would have succumbed to that. Richard is fighting through. Anyone who knows him, and I was with him Friday morning before this happened, knows how tough and resilient he is and we're all praying that that quality sees him through now," Obama adviser David Axelrod told CNN's "State of the Union" on Sunday.
Doctors at George Washington University Hospital worked more than 20 hours through the day Friday and overnight to repair the tear in Holbrooke's aorta. The surgery was completed Saturday morning, said State Department spokesman P.J. Crowley.
A torn aorta is a condition in which a rip develops in the inner wall of the aorta allowing blood to enter the vessel wall and weaken it. If not corrected the condition can lead to rapid death. As blood enters the wall it reduces blood flow just as if there were a severely bleeding wound, leading to serious internal bleeding, a loss of blood flow and possible complications in organs affected by the lack of blood, according to medical experts.
Even if the surgery has stabilized Holbrooke's condition, recovery is likely to be lengthy.
Holbrooke's illness comes just days before the Obama administration is expected to roll out the results of its review of the Afghanistan war, on Thursday.
Gen. David H. Petraeus, commander of U.S. and NATO forces in Afghanistan, Mark Sedwill, NATO's senior civilian representative and Ashraf Ghani, special adviser to Karzai, said in a joint statement that they "wish him a full and fast recovery."
Holbrooke's prolonged absence could effect the administration's ability to put in place -- and also sell to a skeptical Congress -- its push for Afghan forces to assume a greater role in the fighting, allowing U.S. troops to come home. It is a transition in which Holbrooke was expected to play an important part. He has made many visits to the region and developed relationships with leaders in both Afghanistan and Pakistan.
The feisty and sometimes abrasive diplomat -- whose forceful style earned him nicknames such as "The Bulldozer" or "Raging Bull -- is perhaps best known for helping broker the 1995 agreement that ended the war in Bosnia.
He served as ambassador to the United Nations during the Clinton administration. He also was ambassador to Germany from 1993 to 1994 and then assistant secretary of state for European affairs.
Holbrooke's career with the foreign service dates back to his posting in South Vietnam in 1962 and included time as a member of the U.S. delegation to the Paris Peace Talks on Vietnam.