U.S. asks U.N. for help screening migrants from Central America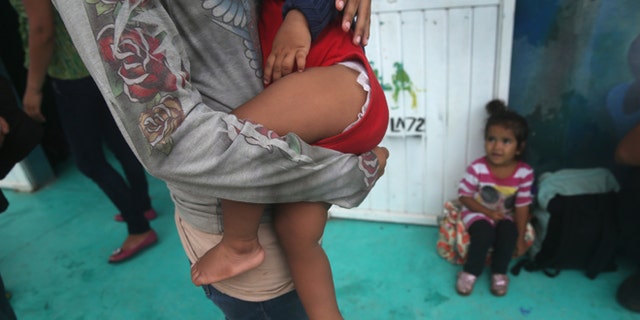 In an attempt to stem the tide of Central American migrants crossing the United States' southern border with Mexico, the White House has asked the United Nations to set up processing centers throughout the region to screen people fleeing violence-torn nations.
The New York Times is reporting that U.S. Secretary of State John Kerry is expected to announce on Wednesday the new refugee resettlement program concerning migrants from El Salvador, Honduras and Guatemala – the three countries in Central America most plagued by violence. The program calls for the U.S. and the U.N. to set-up processing centers where U.N. officials would help determine if the migrants are eligible for refugee status.
While administration officials said that as many as 9,000 migrants from the three Central American nations could end up settling in the U.S., some refugees would also be resettled in nearby countries.
The new program will allow any adult claiming to be fleeing persecution to apply to the United Nations for refugee status, but U.S. laws determining eligibility will not change. The plan is instead supposed to offer an alternative to migrants who pay smugglers to ferry them on a dangerous trip to the U.S. through Mexico and also to stem the flow of illegal entries into the U.S.
"We want to do our utmost to honor humanitarian claims but also to protect the border," one senior administration official told the Times.
Officials have not named the countries where temporary centers would be set up as processing way station – citing that negotiations are still underway – but people briefed on the plans said Belize, Costa Rica and Mexico are all under consideration.
The resettlement program comes only a few weeks after major backlash by Democratic lawmakers and immigration activists over a series of deportation raids across the country.
The number of Central American families and unaccompanied minors arriving at the border this fall more than doubled from the year before, according to the most recent figures. The numbers could go even higher beginning in February and early spring, when arrivals traditionally increase, potentially eclipsing the levels that produced the 2014 crisis.
Such concerns helped prompt the Department of Homeland Security, with the close involvement of the White House, to initiate crackdowns on migrants in several states over the holidays, picking up 121 people for deportation. In some instances, people were detained during surprise early-morning home raids that have spread fear across immigrant communities and infuriated the president's Democratic allies.
"Having people afraid to open their doors to strangers, not going to work, etc., is not a healthy development," said Democratic Rep. Zoe Lofgren of California.
The raids also turned the Democratic presidential candidates against the Obama administration, with former Secretary of State Hillary Clinton, Vermont Sen. Bernie Sanders and former Maryland Gov. Martin O'Malley all decrying the actions.