Transfer out of Costa Rica of Cuban migrants headed to U.S. begins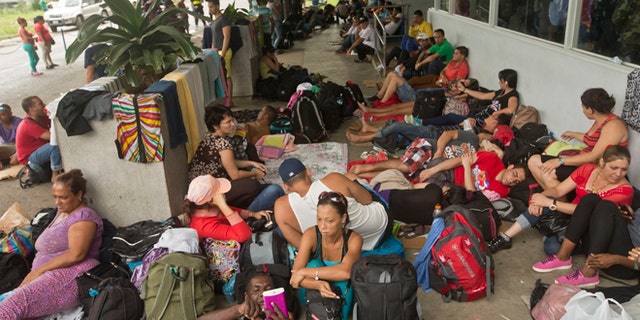 The first flight of Cuban migrants who were stranded in Costa Rica since November took off from the country's Daniel Oduber airport in the northern city of Liberia late Tuesday night as part of a regional agreement to overcome Nicaragua's refusal to let them through by land.
As many as 8,000 Cubans trying to get to the U.S. have been in makeshift refugee camps for two months in Costa Rica after a decision by Nicaragua to close its border to them.
The difficult conditions the Cuban families have been living under sparked comments from Pope Francis and an eventual agreement between Central American nations for their transport. The complicated travel arrangements will be overseen by the United Nations International Organization for Migration, with the Cuban government responsible for payment for the flights as well as exit visas.
Nicaragua's leftist government closed the border to the Cuban migrants on Nov. 13. Most Cubans came to Panama and Costa Rica via a well-worn air bridge through Ecuador, before that South American country began demanding visas for Cubans in December.
The test flight carried the Cubans on a charter aircraft to El Salvador, and from there they will be put on buses across Guatemala to the Mexican border. In Mexico, they will receive 20 day visas and have to find their own way to the U.S. border.
There has been an exodus of migrants from Cuba in recent months after the communist-run country loosened requirements for leaving. Many potential migrants in Cuba are also worried that the re-establishment of relations between the United States and Pres. Raúl Castro's government could end special treatment that allows them to stay in the country once they reach U.S. soil.
Six of the lucky ones selected for the first flight were staying at a shelter at the La Cruz bilingual school, about 12 miles from Costa Rica's border with Nicaragua.
Lislenia Fernández is one of them. She arrived in Costa Rica from Panama on Nov. 8 with her husband Yordani Casanova, but because she had to wait at that border for a transit visa, she didn't get to the border with Nicaragua until it had already been closed.
"They told me four days ago, and I still don't believe it. I didn't expect to be in the first group," Fernández told the Associated Press. "I'm happy because I can travel with my husband."
Fernández hopes to get to Miami, where her brother-in-law lives, but she had to leave behind her sons aged 4 and 8. "We are going to look for a way to bring them over."
Not all the migrants, however, are happy with the arrangements.
"You have to pay $555 dollars when you used to make it to the United States with $300, so what's humanitarian about that?" Cuban National Joan Marcel told Fox News.
"I have seen all the traps, all the ways the United States uses to make money off the migrants, thinking Cubans come with ten thousand, twenty thousand dollars."
Arnobis Tellez left behind three children and a grandchild in Cuba. He was also selected for the first flight but still must make the uncertain and dangerous crossing through Mexico. He says he doesn't know how he will do it.
"These last months have been terrifying, because nobody thought this was going to happen," Tellez said. "We thought that by this time we would all be in the United States."
In Cuba, the migrants' families were also waiting for word of the first group to fly out.
The family of Randy Salabarria, 40, waits to get word of when he will leave Costa Rica.
"He calls me and tells me not to worry. He says he is well and wants to go to the United States," said his mother, Miriam Crespo, who lives in the Cuban town of Bahia Honda.
The number of Cuban immigrants to the U.S. has spiked in the year since the Washington and Havana began renewing diplomatic relations. Forty-three thousand Cubans came to the U.S. in 2015, up almost 80 percent from the year before.
There are widespread concerns in Cuba that closer relations with the U.S. could mean an end to the favorable immigration policy that allows Cubans who reach U.S. soil to claim refugee status and apply for permanent residency in one year.
The Associated Press contributed to this report.
Like us on Facebook
Follow us on Twitter & Instagram