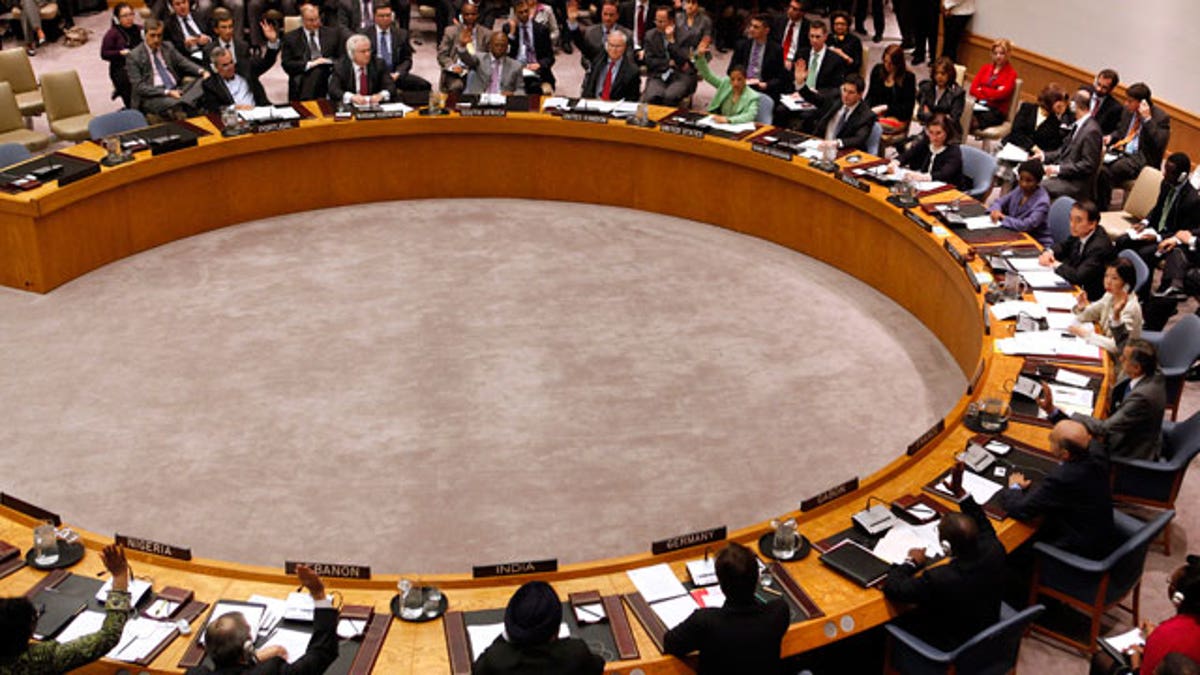 The United Nations Security Council approved a resolution Thursday evening authorizing a no-fly zone over Libya and other military action against Libya, as the Obama administration worked to ready plans to enforce a no-fly zone with help from Arab and European allies.
The vote was 10-0 with five abstentions, including Russia, Germany and China.
Libya, in turn, said the security council decision was not worth the paper it was written on, reported Al Jazeera according to Reuters.
The United States, France and Britain pushed for speedy approval because Muammar al-Qaddafi's forces are advancing toward opposition-held Benghazi. The Libyan leader vowed Thursday night to oust the rebels from their eastern stronghold.
French Prime Minister Francois Fillon said if the resolution was approved, France would support military action against Qaddafi within hours. The U.S. said it was preparing for action.
Susan Rice, the U.S. ambassador to the U.N., said the decision sends a "strong message" to Qaddafi that the violence against his own people must stop.
"This resolution was designed to do two important things," she said after the vote. "Protect civilians as well as strengthen the pressure on the Qaddafi regime through a substantial tightening of sanctions."
Congressional officials, speaking after a briefing for members of the Senates, said they expected the U.S. effort to enforce a no-fly zone and ground Qaddafi's air force could begin within a few days.
In an interview broadcast just before the Security Council voted, Qaddafi dismissed its actions. "The U.N. Security Council has no mandate. We don't acknowledge their resolutions," he told the Portuguese public Radiotelevisao Portuguesa. He pledged to respond harshly to U.N.-sponsored attacks. "If the world is crazy, we will be crazy too, he said.
Earlier Thursday, Libya's defense ministry warned that any military action against the Qaddafi regime will be met with retaliatory strikes on air and sea traffic in the Mediterranean region.
Reuters reported that a statement by the regime of Qaddafi broadcast on Libyan television warned that "the Mediterranean basin will face danger not just in the short-term, but also in the long term."
Secretary of State Hillary Clinton said Thursday that a U.N. no-fly zone over Libya "requires certain actions taken to protect the planes and the pilots, including bombing targets like the Libyan defense systems."
The move comes as Qaddafi forces have made "significant strides" against the rebels in Libya. Qaddafi forces said it would cease military operations on Sunday to give rebels a chance to surrender, without giving further details about the offer, Reuters reported, citing Al Arabiya TV.
The Obama administration had said it would not act without Security Council authorization, though it would be willing to cooperate on measures "short of boots on the ground."
Russia and China have expressed doubts about the U.N. and other outside powers getting involved and either one could have vetoed a resolution.
That possibility spurred concerns by Sen. Marco Rubio, R-Fla., who in particularly blunt terms questioned Undersecretary of State Williams Burns at a Senate Foreign Relations Committee Thursday about whether the U.S. would have the wherewithal to take action absent approval from other nations. During the tense exchange, Rubio said Russia and China aren't interested in trying to end the violence in Libya, and asked if the U.S. doesn't step in, who would.
Burns responded that he is confident the U.N. Security Council will pass a resolution.
"I'm not assuming that it's going to fail," he said. "I think we can produce a resolution. I hope we can today."
The undersecretary noted that forces loyal to Qaddafi are roughly 100 miles from the rebel stronghold of Benghazi. Burns said Qaddafi is taking full advantage of his military firepower in turning back rebels in Libya.
Libyan rebels shot down at least two bomber planes that attacked the airport in their main stronghold on Thursday, according to residents who witnessed the rare success in the struggle against Qaddafi's superior air power.
Meanwhile, Sen. John McCain, who has been pushing the Obama administration to impose a no-fly zone for weeks, questioned Air Force Chief of Staff Gen. Norton Schwartz at the committee hearing on why that move would now be too little too late.
Schwartz did not say that the U.S. military should have implemented a no-fly zone but he did agree that if one were to be imposed now it would require additional military action.
"A no-fly zone would not be sufficient," Schwartz said.
"As opposed to a few weeks ago when it would have been," McCain replied.