Two Sides Spend Big in Battle Over Same-Sex Marriage in New Jersey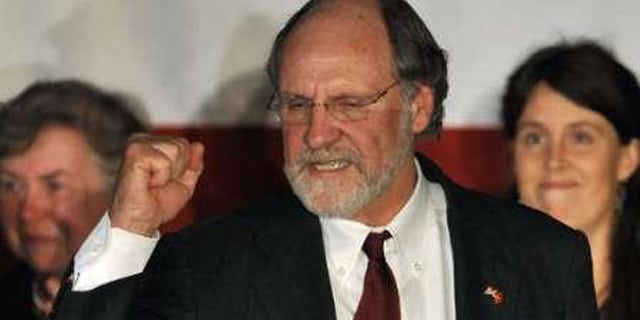 The race is on in New Jersey -- in both lobbying and spending -- as advocates on both sides fight try to gain advantage in the latest same sex marriage battleground before the new chief executive takes office.
Supporters of gay marriage are frantically pushing to get a bill to outgoing Democratic Gov. Jon Corzine before he leaves office next month. His successor, Republican Gov.-elect Chris Christie, has vowed to veto any such measure passed by the Legislature after he takes office Jan. 19.
But if Corzine can sign the bill into law before then, Christie and opponents of same sex marriage will have to wait at least until the next state legislative elections in 2011 to fight back.
"This is the whole ballgame," said Brian Brown, executive director of the National Organization for Marriage, which has spent more than $600,000 in radio and TV ads and robo-calls against same-sex marriage.
"If it's signed into law, we have a long hard slog to shift the nature of the Legislature," he said. If we win this vote, this is dead for the next four years."
The state Senate canceled a vote scheduled for Thursday at the request of the bill's sponsors amid growing worries that it would have gone down in flames.
A handful of senators acknowledged late Wednesday that the bill lacked the 21 votes it needs to pass the Senate.
The bill now goes to the General Assembly, where it also faces an uphill climb.
While it's not clear how much money both sides have spent, Brown said opponents of gay marriage have been "dwarfed" in spending by supporters, whom he estimates have spent more than $1 million in the last year.
The lead group campaigning for same sex marriage in New Jersey, Garden State Equality, did not return calls seeking comment.
If approved, New Jersey would become the sixth state to allow gay marriages, following in the footsteps of Iowa, Connecticut, Massachusetts, New Hampshire and Vermont.
Sen. Ray Lesniak, a sponsor of the Marriage Equality Act, said Wednesday that the shift in strategy toward the General Assembly is designed to enhance chances for passage.
Supporters held a rally Monday at the State House, where 250 people handed out leaflets and confronted reluctant lawmakers.
Gay activist groups also announced two new radio ads highlighting the stories of gay couples who have been denied health care coverage and other legal and social benefits enjoyed by married couples.
The latest battle on same sex marriage comes one week after New York lawmakers defeated a similar bill. Maine voters also rejected a measure this year, and last year California voters rescinded their law.
Supporters, however, point to Vermont and New Hampshire where lawmakers adopted gay marriage bills this year, while the city council in Washington, D.C. is expected to legalize gay marriage in the next few weeks.
Iowa's Supreme Court also recognized gay marriage this year.
The measure in New Jersey would fulfill a campaign pledge of Corzine's.
"I am confident that through this process, the marriage equality issue will be recognized for what it truly is -- a civil rights issue that must be approved to assure that every citizen is treated equally under the law," Corzine said in a written statement Monday after the measure was voted out of a Senate committee.
Supporters told FoxNews.com that the campaign is not a lost cause even if they ultimately lose in New Jersey.
"You don't win every battle, but the trend and momentum and opportunities are clear," said Evan Wolfson, head of Freedom to Marry. "And I certainly would not trade places with my opponents in which direction America is going."
But Brown called the effort to "ram" the legislation through a lame-duck session "morally and politically wrong."
"What these legislators should be doing is allowing people to have a direct vote," he said.
In a written statement, Brown urged lawmakers not to approve the bill.
"Gay marriage is not the priority of New Jersey voters, and senators in New Jersey should follow New York's lead in rejecting this lame-duck effort to impose gay marriage," Brown said.
He added that the group found in a poll of two swing senate districts that no more than 2 percent of voters considered gay marriage one of their top three legislative priorities for the session
"Why would politicians follow defeated Gov. Jon Corzine's lead off this particular cliff?" he asked.