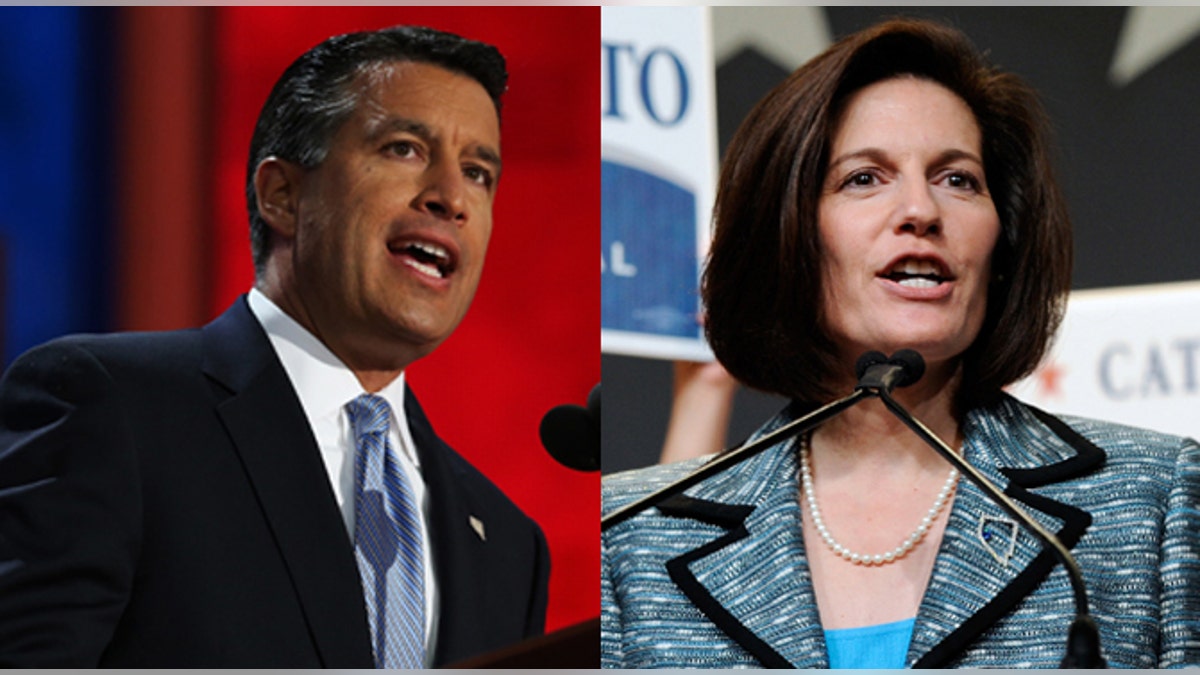 Two people emerging as possible candidates to run for retiring veteran Sen. Harry Reid's seat in Nevada are Latinos — Republican Gov. Brian Sandoval and former Democratic state Attorney General Catherine Cortez Masto.
Shortly after he announced his retirement Friday, Reid, who is 75, endorsed Cortez Masto to run for his seat.
In an interview with KNPR, Nevada's public radio station, Reid said: "Whoever runs against Catherine, I think, will be a loser."
"I hope she decides to run," he added. "If she does, I'm going to help her."
Having Reid's blessing should make her a solid contender for the Democratic nomination.
In the GOP field, Sandoval has received encouragement to run in years past. National Republican leaders had seen him as someone who was capable of mounting a formidable challenge to Reid in a Senate race.
Whether Sandoval, who won re-election last year with a hefty 70 percent of the vote, decides to throw his hat in the ring is uncertain.
He has said he is not interested in running for the Senate and that his priority is to serve out his term as governor.
Nearly 27 percent of Nevada's population is Latino, according to the 2010 Census, making the Hispanic share there the fifth largest in the nation.
Some 16 percent of all of Nevada's eligible voters are Hispanic, the sixth largest Hispanic statewide eligible voter share nationally. Almost 40 percent of the Silver State's Latinos are eligible to vote.
On Friday, many Latinos praised Reid as an advocate of causes dear to them.
"Senator Harry Reid has been one of the fiercest champions for the Latino community in the upper chamber," said Congressional Hispanic Caucus (CHC) Chairwoman Linda T. Sánchez in a statement. "From championing the DREAM Act to comprehensive immigration reform and countless other Latino priorities, Senator Reid has always fought for America's working families. During his tenure, Senator Reid empowered the Latino community to be a strong voice in Nevada. Though the state will lose a much beloved Senator, we know that the Latino community will continue playing a critical role."
"When you combine influence and conviction, Harry Reid has been by far the biggest support of the Latino community on Capitol Hill," said Jose Parra, a Democratic strategist who was Reid's deputy communications director for six years. "He had the ability to get things done. He believed in doing the right thing and not what was politically expedient."
When Reid ran in 2010, some in the party warned him that his support for the DREAM Act – a national measure that called for providing undocumented immigrants who came as minors a path to legal status – would not sit well with white and Independent voters in Nevada.
He forged ahead anyway, pushing for the DREAM Act, and Latinos came out to vote for Reid in droves.
"The polls didn't take into account a large Latino turnout," Parra said. "They came out for him in overwhelming numbers – in a midterm election, as if it were a presidential election."
As Democratic leader, Reid thrived on behind-the-scenes wrangling. He guided the Senate through a crippling recession and the GOP takeover of the House in the 2010 elections, which sparked years of bitter partisan battles and congressional gridlock.
Even from his post in the minority, Reid leveraged Senate rules to exert steely control. He held his 46-member caucus together against attempts by Republicans to pass legislation undoing Obama's executive actions on immigration, forcing Senate Majority Leader Mitch McConnell to back down, and House Speaker John Boehner to follow. The episode left some House Republicans complaining bitterly that Reid might as well still be majority leader.
Some speculate that with Reid's retirement, pressure may mount again on Sandoval to run for his seat.
A poll last year showed Sandoval beating Reid in a 2016 Senate race 53-43 percent.
Sandoval last year helped Republicans regain control of both houses of the state legislature. To be sure, he has plenty of critics, especially for pushing a tax increase to help subsidize education.
Cortez Masto was considered a strong candidate for lieutenant governor and governor in 2014, but did not run.
Efforts are underway by both parties to motivate Latinos in Nevada to vote in the 2016 presidential election. Reid had been focused on working with the national Democratic party to boost turnout among Latinos. Low Latino turnout in last November's mid-term elections were seen as one reason Republican candidates did well there.
For his part, Sandoval lavished praise on Reid on Friday.
"He is one of Nevada's native sons, a pioneer of the West who has always worked tirelessly to fight for Nevadans with a gritty determination," Sandoval said. "Sen. Reid has been an influential voice in Congress on behalf of Nevada's interests, particularly on issues such as Yucca Mountain and renewable energy development. His service to Nevada as a state legislator, lieutenant governor, congressman and senator spans almost half a century and his legacy will last for generations."
The Associated Press contributed to this report.