Trump stares at King of Morocco who appeared to be sleeping during WWI speech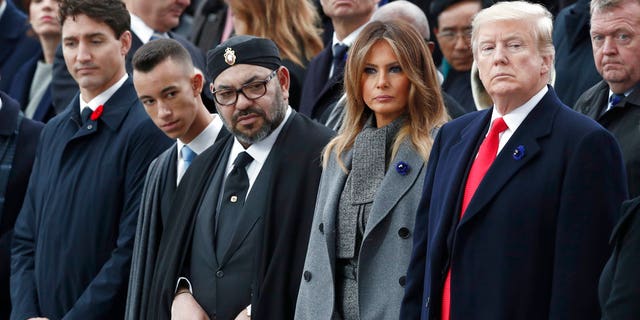 Donald Trump stared down the King of Morocco who appeared to be taking a nap during Emmanuel Macro's moving World War One ceremony speech.
King Mohammed VI of Morocco was seen with his eyes closed as Macron honored the soldiers who died during WWI in a video clip posted to Reddit yesterday.
The U.S. President, who was seated two spaces away from the royal, looked unimpressed as he looked past his wife Melania.
Yesterday's ceremony marked 100 years since the Armistice happened at the Tomb of the Unknown Soldier in front of the Arc de Triomphe in Paris.
Trump was seated between Melania and Germany's chancellor Angela Merkel as Macron also spoke about the dangers of nationalism.
Macron said the "ancient demons" that caused World War I and millions of deaths are growing stronger.
He said: "Patriotism is the opposite of nationalism. Nationalism is treason, if we think our interest may only come first and we don't care for others, it is treason of our values. A betrayal of all moral values, we must remember this.
"It is those values and virtues that motivated those who sacrificed all to defend democracy... It is those values and those virtues that gave them strength because it guided their heart.
"The lessons of the Great War cannot be of vengeance nor forgetting the past. We must think of the future and preserve that which is essential."
The comments appeared to be directly targeting Trump as he recently proudly declared himself a nationalist.
To read more from The Sun, click here.