Trump spokesman says 20-percent tax on Mexican goods could fund wall
President Trump's plan to make Mexico pay for the wall he intends to build on the southern border may have taken shape Thursday, when his spokesman suggested imposing a 20-percent import tax on Mexican goods.
White House Press Secretary Sean Spicer mentioned the possibility to reporters on Air Force One Thursday, as relations between Trump and his Mexican counterpart Enrique Pena Nieto spiraled.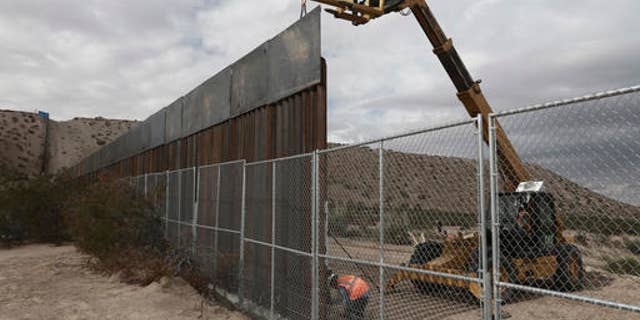 "When you look at the plan that's taking shape now, using comprehensive tax reform as a means to tax imports from countries that we have a trade deficit from, like Mexico," Spicer said.
"If you tax that $50 billion at 20 percent of imports – which is by the way a practice that 160 other countries do – right now our country's policy is to tax exports and let imports flow freely in, which is ridiculous," he said. "By doing it that we can do $10 billion a year and easily pay for the wall just through that mechanism alone. That's really going to provide the funding."
The comments came on another packed day for the Trump administration, and a tumultuous one regarding immigration and Mexico policy. Sources confirmed that Mark Morgan has been removed as head of Border Patrol, in the wake of Trump's executive actions a day earlier boosting the agency and directing the construction of a wall.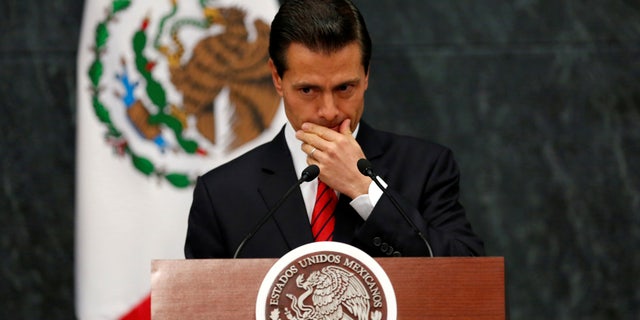 In the wake of those orders, Nieto also canceled a scheduled meeting with Trump later this month.
Trump insisted throughout his successful campaign that not only would he build a wall to secure the border from illegal immigration and drugs, but that Mexico would pay for it. The oft-repeated pledge prompted speculation and even derision in the U.S., and outrage in Mexico. Nieto, while canceling the meeting, also insisted his nation will not fund the project, which could cost $12 billion or more.
Trump responded to Nieto by saying the meeting would be a waste of time, anyway, and tweeting that the U.S. is on the short end of the trading stick with Mexico.
Spicer raised the possibility of a tax after Trump told congressional Republicans that trade revenue from Mexico could finance the wall. That revenue would apparently be a component of a border tax plan that would be part of larger tax reforms.
Talk of a possible tax on U.S. imports from Mexico raised some eyebrows in Asia, where exports to the U.S. drive growth in many economies.
Japanese officials said on Friday they hoped to soon hold talks on trade with U.S. officials. Finance Minister Taro Aso said he hoped to explain the "reality of Japanese employment" in the U.S.
The Japanese government spokesman refused comment on the spat, but said Tokyo would watch for any impact on Japanese companies.
Mexico and the U.S. trade about $531 billion in goods and services each year, with the U.S. running a $58 million trade deficit with its third-biggest partner. Cars, heavy machinery and agricultural products form the bulk of U.S. imports from Mexico.
Imposing the tax would likely require renegotiation of the North American Free Trade Agreement, which Trump has said he intends to do.
The Associated Press contributed to this report.