Trump should reconsider decision to stop military drills with South Korea, Senator Blunt says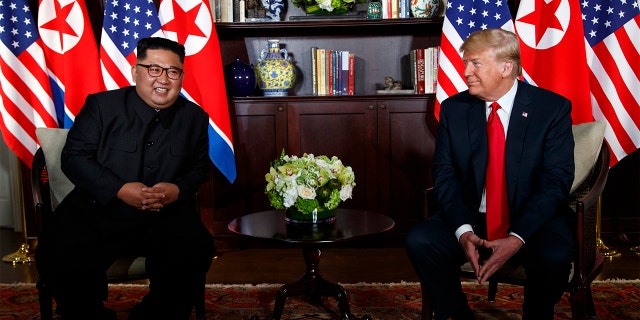 Sen. Roy Blunt said on Sunday that President Trump should reconsider his pledge to stop military drills with South Korea following North Korean leader Kim Jong Un's about-face over the weekend in which he accused the U.S. of making "gangster-like" demands.
Speaking on NBC's "Meet The Press," Blunt, R-Mo., said that while he doesn't think the president in naïve about his dealings with Kim and is optimistic that some sort of denuclearization deal can be worked out between Washington and Pyongyang, he noted that it was a mistake to give up military drills with Seoul.
"One thing I wouldn't give up is presence in South Korea or the ability to interact with our South Korean allies," Blunt said. "The president and [Defense Secretary James] Mattis and [Secretary of State Mike] Pompeo need to reconsider that."
After the historic U.S.-North Korea summit in Singapore, Trump declared the North was no longer a threat and would hand over the remains of Americans killed during the Korean War. Now, three weeks later, the two sides were still at odds on all issues, including exactly what denuclearization means and how it might be verified, after a third visit to Pyongyang by Pompeo. And, the promised remains have yet to be delivered.
Pompeo wrapped up two days of talks in the North Korean capital on Saturday on an optimistic note even without meeting Kim Jong Un, as he had on his previous two trips. He said his discussions had been productive and conducted in good faith, but he allowed that much more work needed to be done. And, he and other U.S. officials said the two countries, still technically at war after the 1950-53 Korean War, had set up working groups to deal with details of an agreement.
Pompeo said he had won commitments for new discussions on denuclearization and announced a Thursday meeting between U.S. and North Korean military officials on the repatriation of the remains. But in a harsh response issued just hours after Pompeo arrived in Tokyo, the North blasted the discussions, saying the visit had been "regrettable" and that Washington's "gangster-like" demands were aimed at forcing it to abandon nuclear weapons.
In a statement carried by the North's official Korean Central News Agency, the foreign ministry said the outcome of Pompeo's talks with senior official Kim Yong Chol was "very concerning" because it has led to a "dangerous phase that might rattle our willingness for denuclearization that had been firm."
"We had expected that the U.S. side would offer constructive measures that would help build trust based on the spirit of the leaders' summit ... we were also thinking about providing reciprocal measures," it said. "However, the attitude and stance the United States showed in the first high-level meeting (between the countries) was no doubt regrettable. Our expectations and hopes were so naive it could be called foolish."
Blunt called the statement from North Korea "déjà vu" and "standard operating procedure," echoing the sentiments of numerous foreign policy experts.
A former top U.S. diplomat for Asia, Daniel Russel, told The Associated Press the setback with North Korea was to be expected and warned Trump he is engaged in a long negotiation that would not produce easy, quick, made-for-television results that the president likely wants.
"Kim can afford to play hardball because it's clear to him that Trump, who has already told Americans they can sleep soundly because the threat is now over, badly wants a deal," said Russel, who was assistant secretary of state for East Asian and Pacific Affairs in the Obama administration. "And when you want it bad, you get it bad. Why should the North Koreans make concessions to one of Trump's aides given the president's record of undercutting them?"