North Korea still believed to be working on nuclear-capable ballistic submarine, lawmaker says
As President Trump's top diplomat arrived in North Korea to discuss denuclearizing the rogue regime, troubling reports Pyongyang is building a nuclear-armed ballistic missile submarine lent credence to fears Kim Jong Un will never truly surrender his doomsday arsenal.

South Korea believes the North is working on the submarine on its east coast, Kim Hack-yong, a South Korean lawmaker who was at the helm of the legislature's defense committee until his term ended a few weeks ago, told The Wall Street Journal on Friday. Kim cited intelligence reports he's viewed to support the claim.
Satellite images revealed workers and materials moving at the port of Sinpo, Kim said. The construction is reportedly being done at an indoor facility.
The report of a potential nuclear-armed submarine comes as officials form the CIA and other intelligence agencies told NBC News on Saturday that North Korea has increased its production of enriched uranium -- despite Kim Jong Un's historic summit with Trump last month.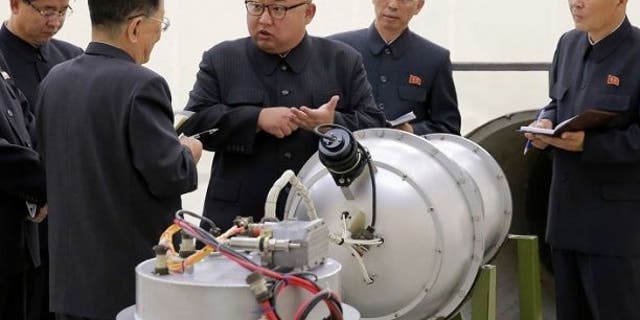 Officials believed North Korea was "positioning itself to extract every concession it can from the Trump administration — while clinging to nuclear weapons it believes are essential to survival," NBC News reported.
One U.S. official said the regime has stopped nuclear and missile tests but "there's no evidence they are decreasing stockpiles, or that they have stopped their production."
Four other U.S. officials said the Hermit Kingdom was purposely trying to mislead the U.S.
So Pompeo's mission in Pyongyang is twofold: to not only negotiate a clear and detailed plan to denuclearize but also to let Kim Jong Un know the U.S. is carefully watching and acutely aware of North Korea's history of cheating on nuke deals.
The first reports that North Korea was pursuing an "aggressive schedule" to construct a nuclear-capable submarine were revealed in November.
Images of Sinpo South Shipyard released by 38 North at the time suggested there were signs of movement and building materials in the area since the start of the year. The shipyard is notoriously known for producing large submarines for the nation's army, according to a new analysis.
Several signs indicated the regime is expanding the site and working on a shipbuilding program to build and deploy a submarine capable of carrying a missile.
The Nov. 5 satellite images showed "two larger circular objects" that could be used as a pressure hull on a submarine. Gantry and tower cranes have been seen moving around the facility, suggesting a "prolonged and ongoing shipbuilding program," according to 38 North.
An object spotted on the service tower at the time appeared to be a launch canister support or launch canister, which wasn't pictured in previous images of the shipyard area. It also replicates how a missile would be launched from a submarine's hull.
It's unclear how much progress North Korea has made on building a ballistic missile submarine. The regime vowed to obtain a submarine capable of launching a long-range ballistic missile before the Trump-Kim summit. State media released a propaganda video in late September depicting a submarine-launched missile striking the USS Carl Vinson.
It was also unclear how much progress Pyongyang has made in its efforts to build the submarine.
Fox News' Kathleen Joyce and Katherine Lam contributed to this report.