Trump says he 'looks forward' to speaking at CPAC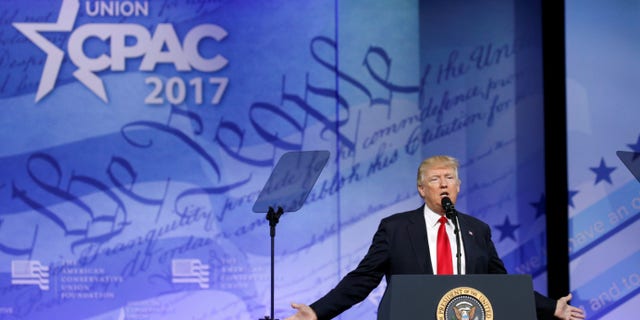 NEWYou can now listen to Fox News articles!
President Trump is heading to CPAC.
The Conservative Political Action Conference, which helped spark Trump's national political profile in 2011, will host the president during the scheduled four-day gathering next week in Maryland.
"The journey to #MAGA began @CPAC 2011 and the opportunity to reconnect with friends and supporters is something I look forward to every year," Trump tweeted Monday afternoon. "See you at #CPAC2018!"
Trump spoke at the event in 2017 after skipping it in 2016 during the presidential primary season.
"You finally have a president," Trump told the packed room at the 44th annual conference, held last year at National Harbor, Md. "It took you a long time. It's patriots like you that made it happen."
"We're checking off the promises we made to the people of the United States," Trump said at the event, adding that he was "not representing the globe," but was instead "representing your country."
Trump hinted at a potential national run during his 2011 appearance, arguing at the time that the U.S. was "missing quality leadership" and that he was "well acquainted with winning," according to the Los Angeles Times.
The conservative conference, according to the event's website, aims to combine "ideas with action to leverage the strength of thousands of grass-roots activists to break through the resistance of Washington's powerful elites."
Dozens of speakers have already been announced for the 2018 conference, including FCC Chairman Ajit Pai, Sen. Ted Cruz, R-Texas and former UN Ambassador John Bolton.
It was not immediately clear when the president would be speaking.
CPAC will be held Feb. 21-Feb. 24 at the Gaylord National Resort and Convention Center in Maryland.