Trump rips Comey as 'untruthful slime ball,' as former FBI director attacks president in new book
President Trump on Friday slammed James Comey as an "untruthful slime ball," as the ex-FBI director's upcoming book and accompanying tour raised anew salacious allegations about Trump first made in an unverified dossier and blasted the president for everything from integrity to his height, skin and hair.
"James Comey is a proven LEAKER & LIAR," the president tweeted. "Virtually everyone in Washington thought he should be fired for the terrible job he did-until he was, in fact, fired. He leaked CLASSIFIED information, for which he should be prosecuted. He lied to Congress under OATH."
In another tweet, Trump called Comey a "untruthful slime ball who was, as time has proven, a terrible Director of the FBI."
"His handling of the Crooked Hillary Clinton case, and the events surrounding it, will go down as one of the worst 'botch jobs' of history," Trump said. "It was my great honor to fire James Comey!"
Comey, who was fired by Trump in May of 2017, is coming out with his "A Higher Loyalty" book next week. Excerpts began surfacing Thursday, as Comey kicks off a media tour to promote the book.
COMEY ATTACKS TRUMP'S INTEGRITY, QUESTIONS HIS MARRIAGE IN NEW BOOK
In an interview with ABC's George Stephanopoulos published Friday morning, Comey drew attention to the salacious claims in the infamous unverified dossier about Trump that the president has denied.
"I honestly never thought these words would come out of my mouth, but I don't know whether the current president of the United States was with prostitutes peeing on each other in Moscow in 2013," Comey told Stephanopoulos. "It's possible, but I don't know."
In his book, according to excerpts, Comey also describes Trump as "untethered to truth" and "ego-driven."
Comey goes so far as to question the strength of Trump's marriage to his wife, Melania, after revealing that Trump asked him to investigate salacious allegations about his actions with Russian prostitutes.
"It bothered [President Trump] if there was 'even a one percent chance' his wife, Melania, thought it was true," Comey wrote,according to the New York Post. Later on, Comey mused: "In what kind of marriage, to what kind of man, does a spouse conclude there is only a 99 percent chance her husband didn't do that?"
The claim was repeated in a dossier compiled by former British spy Christopher Steele and published by BuzzFeed News in January 2017, shortly before Trump's inauguration.
That wasn't the only personal jab at Trump: The AP reported that Comey, who stands 6-foot-8, described the president as shorter than he expected with a "too long" tie and "bright white half-moons" under his eyes that he suggested came from tanning goggles. He also said he made a conscious effort to check the president's hand size -- briefly a subject of mockery among Trump's Republican rivals on the campaign trail -- saying it was "smaller than mine, but did not seem unusually so."
According to The Washington Post, Comey described Trump's presidency as a "forest fire" and wrote that his interactions with the administration recalled "my earlier career as a prosecutor against the Mob.
"The silent circle of assent. The boss in complete control. The loyalty oaths. The us-versus-them worldview," Comey reportedly wrote. "The lying about all things, large and small, in service to some code of loyalty that put the organization above morality and above the truth."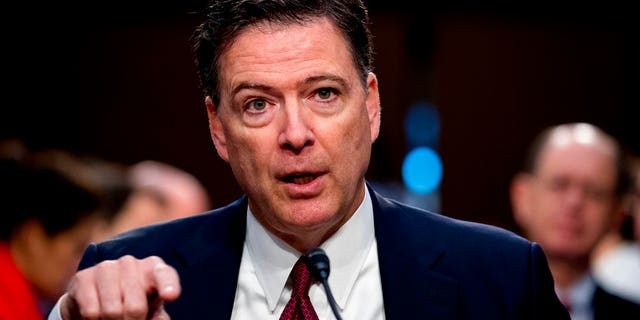 The New York Post reported that Comey returned to the Mafia theme in describing a Jan. 27 dinner with Trump at which, Comey wrote, the president told him: "I need loyalty. I expect loyalty."
"You will always get honesty from me," Comey said he replied, later writing, "The demand was like [mobster] Sammy the Bull's Cosa Nostra induction ceremony."
Trump fired Comey in May 2017, claiming he did so because of Comey's handling of the FBI's investigation into Hillary Clinton's email practices. According to The AP, Comey wrote that he regretted his approach and some of the wording he used in his July 2016 press conference in which he announced the decision not to prosecute Clinton. But, he said he believed he did the right thing by going before the cameras and making his statement, noting that the Justice Department had done so in other high-profile cases.
Fox News' Samuel Chamberlain and The Associated Press contributed to this report.